If you're looking for great hotels in the French Quarter, this post will get you pointed in the right direction.
I've LOVE New Orleans and have stayed here seven times now at fabulous hotels in the French Quarter, right on the edge of the mighty Mississippi River – and some just outside the Quarter, across Canal Street in the business district.
My top tip: stay IN the French Quarter!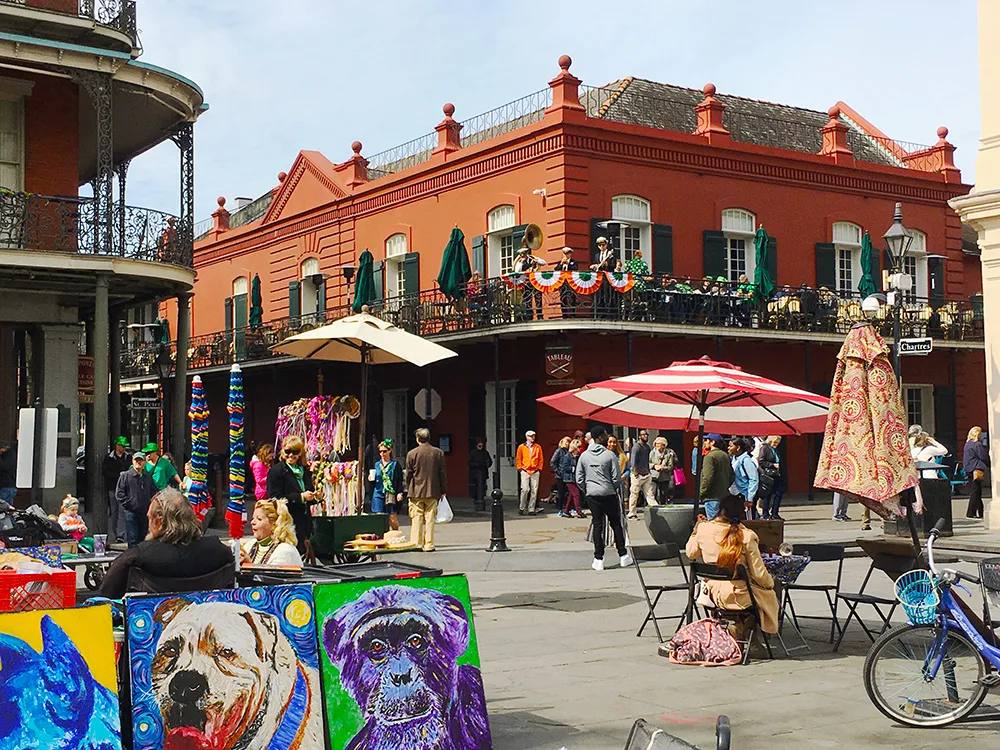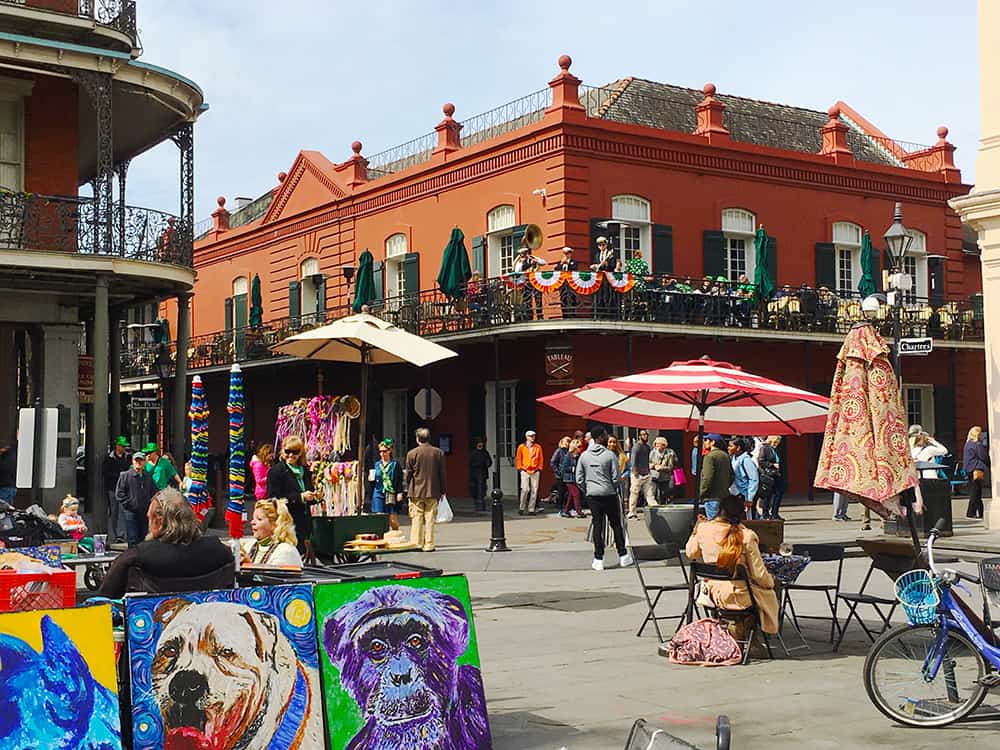 I also wrote this Totally Awesome Guide to New Orleans which includes where to find the best music and some hidden gems I've discovered on my visits.
Here's why you want to stay IN the New Orleans French Quarter!
This is where you'll spend most of your time walking (and walking – bring good shoes) and there's lots of exploring to do here so if your hotel is nice and central you can pop in and out for bathroom breaks or a little lie down when the shopping gets tough!
If you're looking for fabulous hotels on or near Bourbon Street, read on…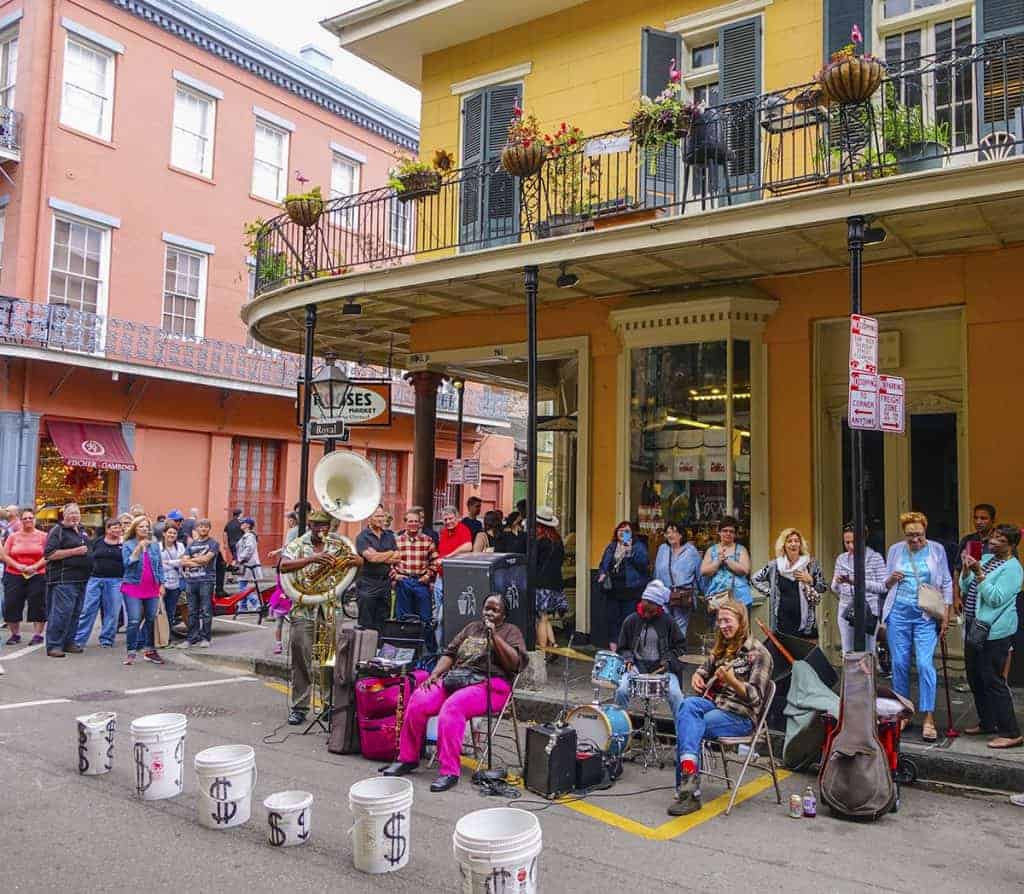 The French Quarter is filled with street musicians that entertain for hours (bring a few bucks to drop in their buckets!). Even the souvenir shopping is fun. Along Royal Street you'll be lured into antique shops and kitchenware stores (I know, weird but true, there's lots of kitchen shops!).
Try the delicious food here in NOLA from po-boys to gumbo to oysters and modern fusion cuisines by celebrity chefs. New Orleans is such a vibrant city and has it all, so you want to be staying in the heart of it.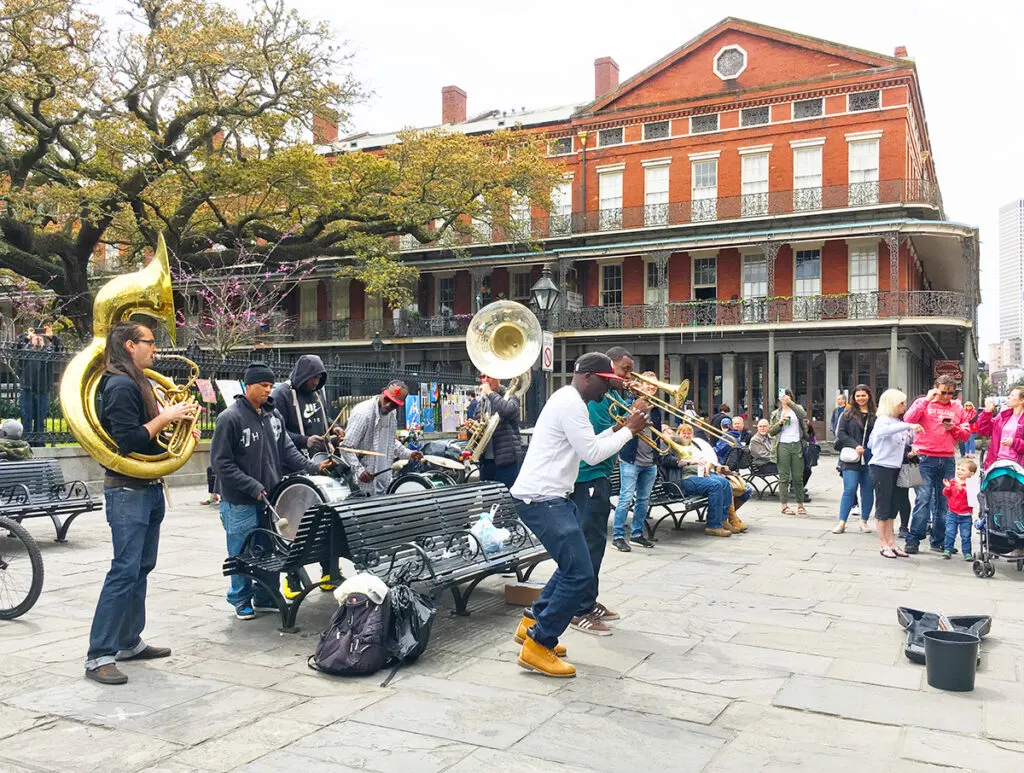 Have a watch of this cool video I took in Jackson Square with some buskers just casually rocking out a banger in effortless style!
Behind the little shuttered windows of gaily painted buildings and wrought iron balcony railings are courtyards, swimming pools, gardens and patios of the boutique hotels hidden from view but right on the doorstep of all the action of the French Quarter.
All these hotels are very near Bourbon Street, one even on the famous street but behind the doors is a luxurious sanctuary.
If you're visiting New Orleans for any of the big events like Mardi Gras or even St Patrick's Day, book early!
Or maybe you're on a music road trip, like I did with my parents a few years ago. We started in Nashville and included Memphis before meeting my brother and his family in NOLA for a few days. Here's our music road trip itinerary if you want some ideas.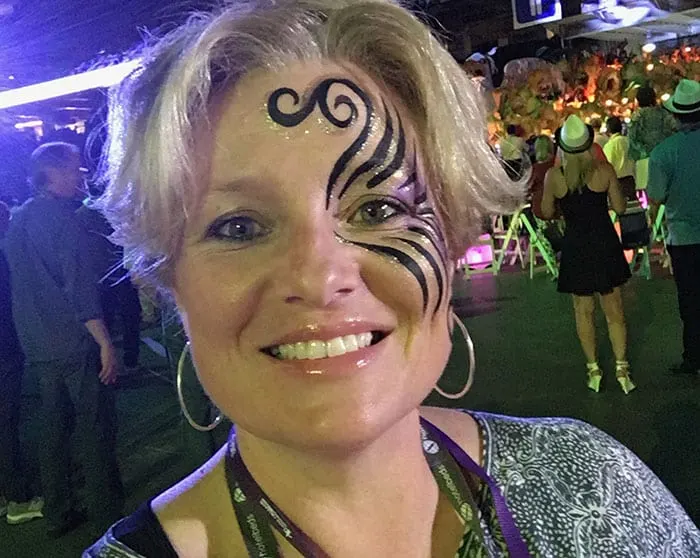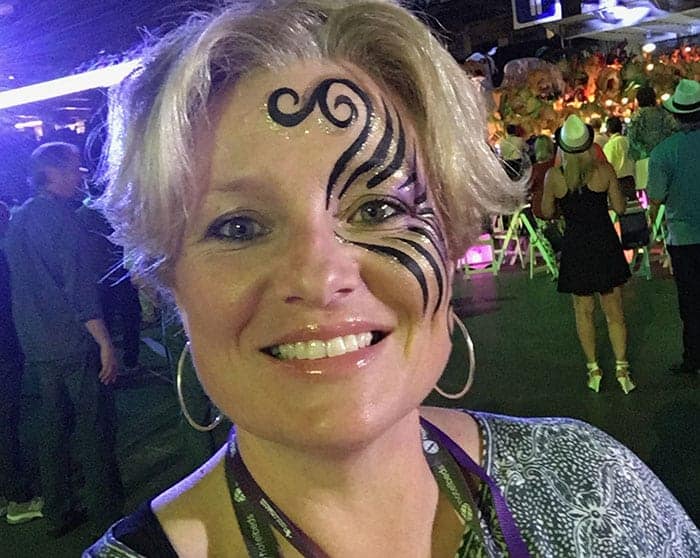 Here are my picks for 7 of the best hotels in the French Quarter of New Orleans…
*This post contains affiliate links. If you make a purchase I may make a small commission at no extra cost to you.
Royal Sonesta
After a multi-million dollar refurb, the Royal Sonesta Hotel on Bourbon Street in the French Quarter is an elegant and luxurious gem of a hotel. It's deceptively huge with 483 rooms hiding a pool in the back surrounded by sun loungers.
Some rooms have French doors onto the balcony overlooking the pool (mine!) I was staying here with my cousin so we loved the two queen beds and huge bathroom with plenty of room to unpack and drop off our constant supply of "show-and-tells" from the surrounding shops all within easy walking distance.
Their jazz lounge is one of my top three music venues in New Orleans. It's a lovely lounge with no cover charge for live music and a drink before bed. Grab a table and order a tipple and some nibbles and end each evening here. You don't have to be staying here to enjoy the bar either.
Directly across the road on Bourbon Street is Cafe Beignet with live music all day and Southern style fast food. It's also just across the road from Hotel le Marais (listed below) and where I'll come back to again!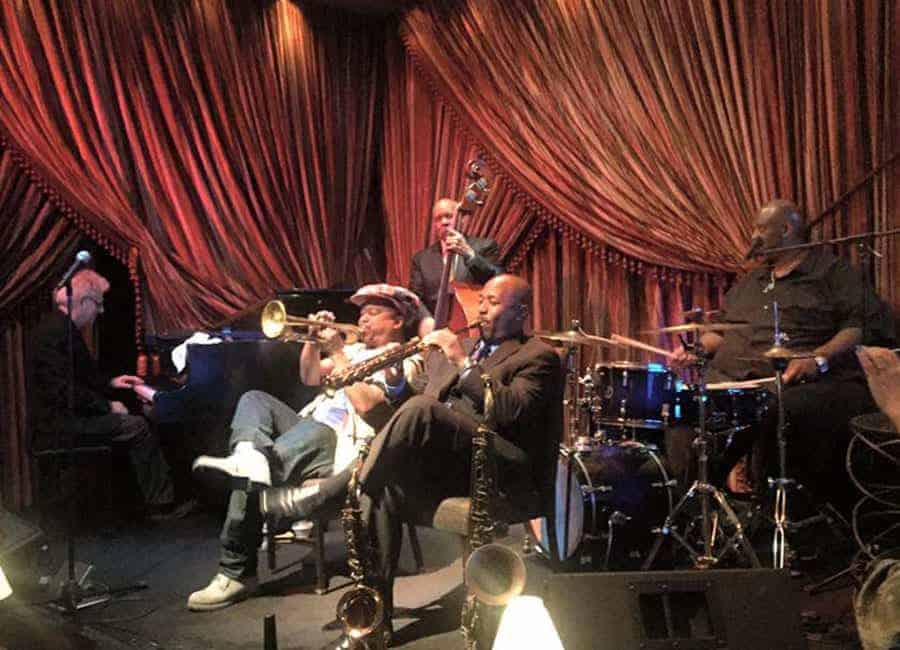 Hotel le Marais
Half a block from Bourbon Street is Hotel le Marais, a trendy, chic boutique hotel in the French Quarter and it is my top pick for affordability and location within easy walking distance to everything.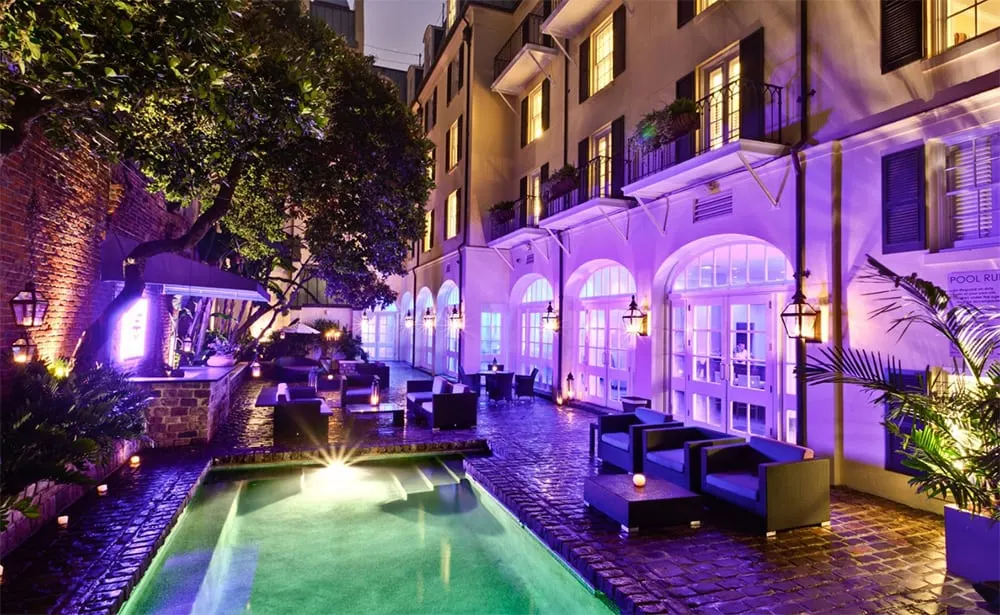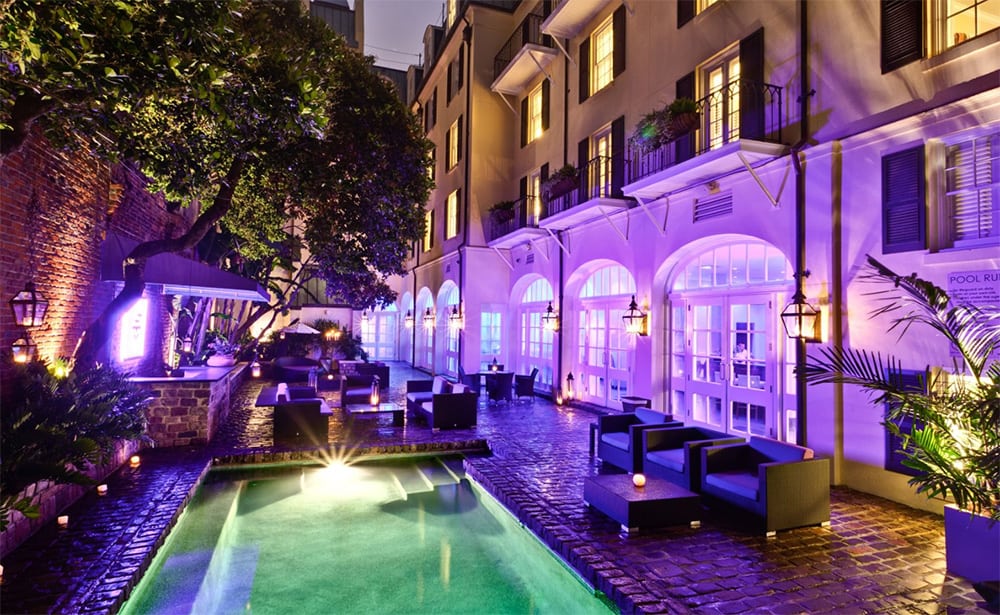 I stayed here on my last visit for four nights when I hosted a small group tour here, and would pick this hotel again. The rooms are spacious and the breakfast is free in the bar area.
On a balmy night you'll love sitting beside the outdoor pool on the lounge furniture – or taking a dip if you don't mind people watching from the floor to ceiling windows all around.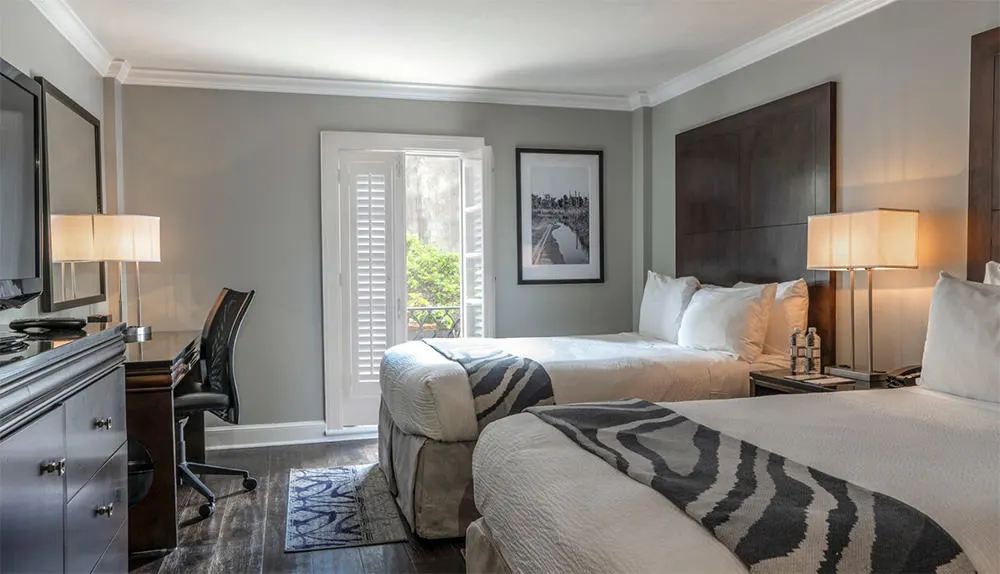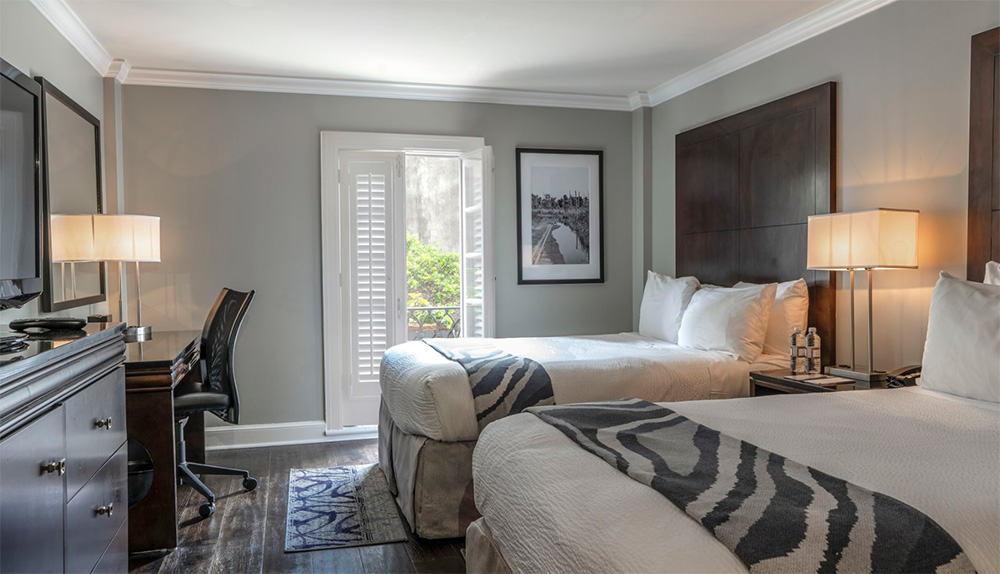 This is where the hipsters stay when they want a stylish 4-star hotel. Every guest gets a voucher for a free drink at the bar. Happy Hour is 5-7pm Monday to Friday where house wines are $5, some cocktails are $4 and domestic beers are $3.
So even if you're not staying, pop in for a drink and a look around. You'll probably choose this hotel next time!
Dauphine Orleans
I stayed in the boutique Dauphine Orleans Hotel in the French Quarter for four nights, and the location is nice and central and the hotel has some (ghostly) stories to tell!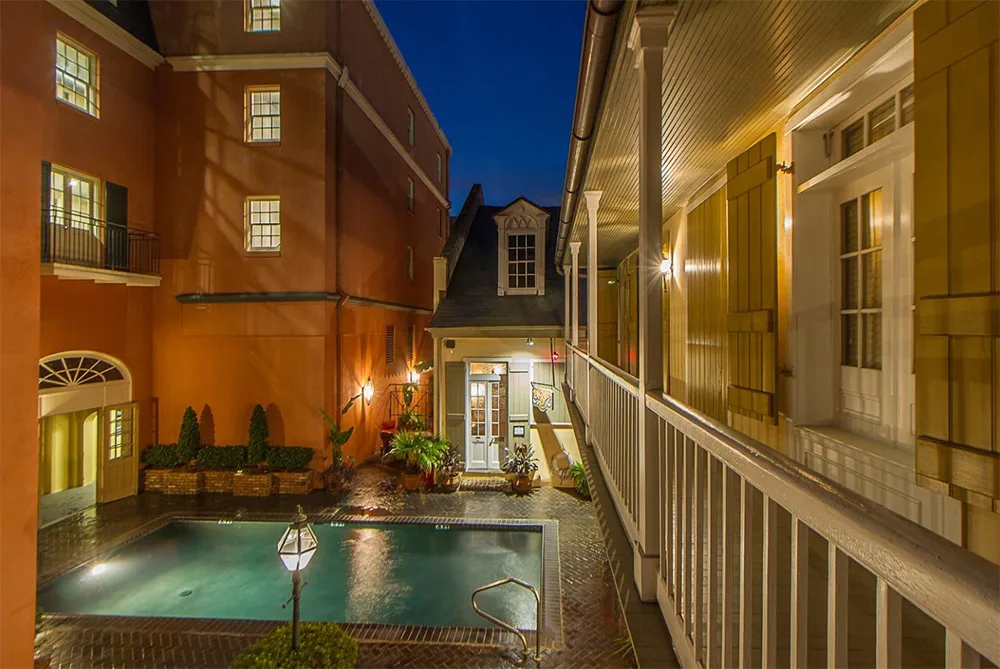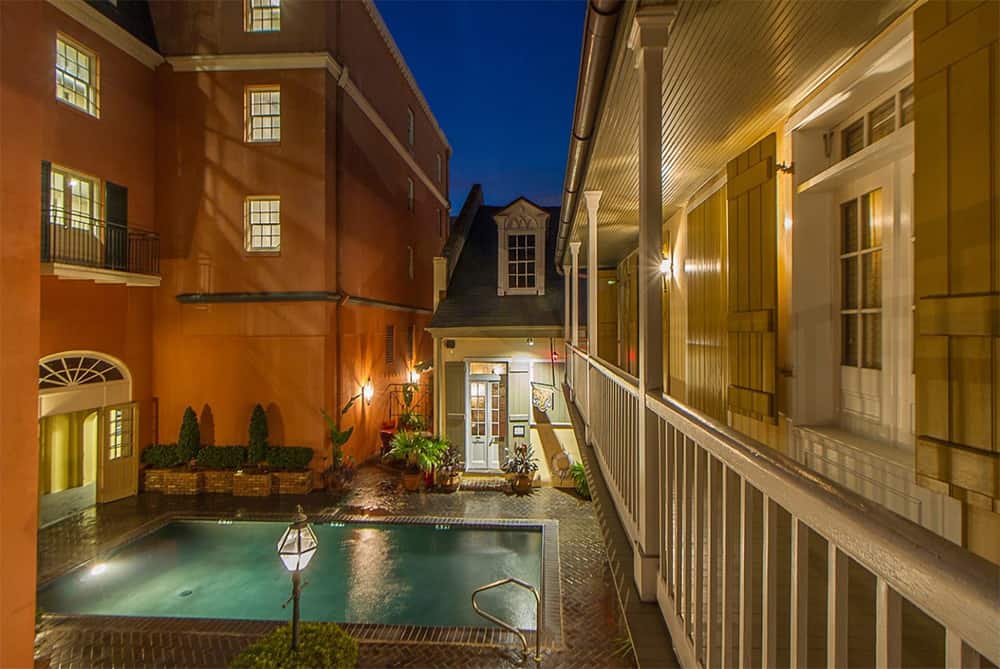 Dauphine Orleans is just one block from Bourbon Street and attached to it is May Baily's bar, a former bordello, for a cheeky splash of wine of an afternoon or a drink before you head out.
The rooms are each uniquely decorated. Breakfast is served in the Audubon room where John James Audubon painted his famous Birds of America series from 1821-22 while residing at the Audubon Cottages next door.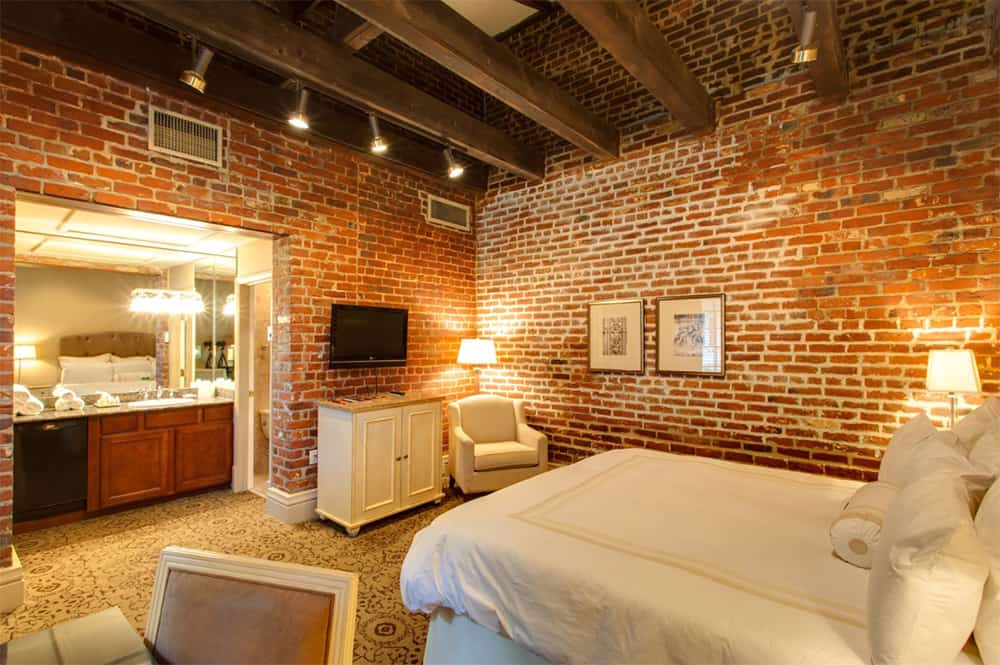 I had a street front room which can be noisy when folks stumble out of nearby bars at 2am. But this is a wonderful character hotel and for the convenience of being within walking distance to said bars, restaurants, shopping, a short stroll to Jackson Square and famous Cafe du Monde (for fluffy sugary beignets), I'd recommend it. They also have a car park with valet parking on site which is very rare in the French Quarter.
Hotel Mazarin
I poked my head through the gates of the Hotel Mazarin to see the beautiful courtyard hidden behind the walls of this luxury boutique hotel in the heart of the French Quarter.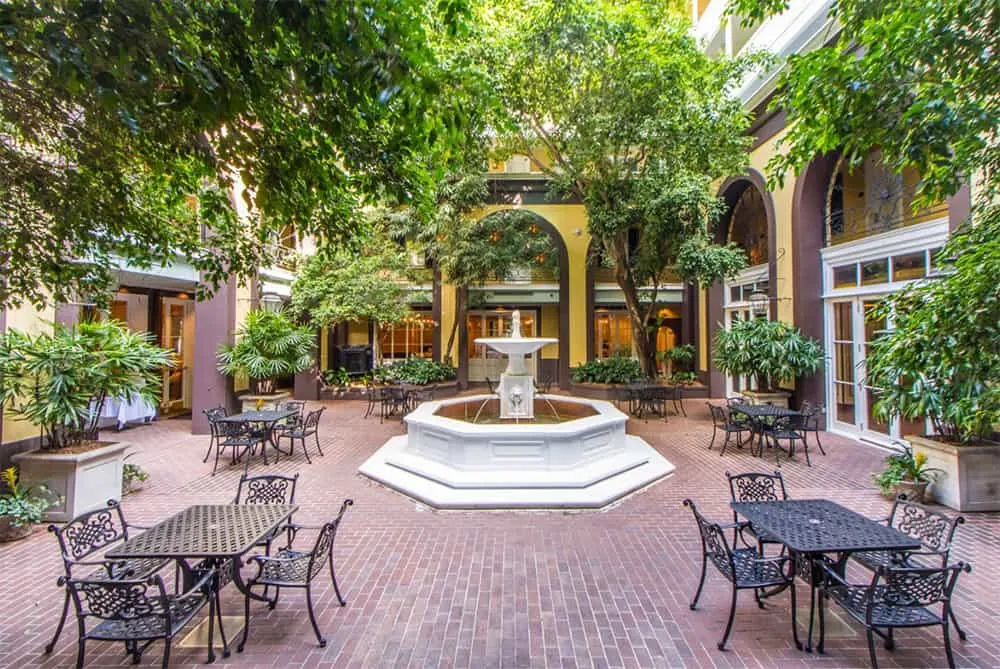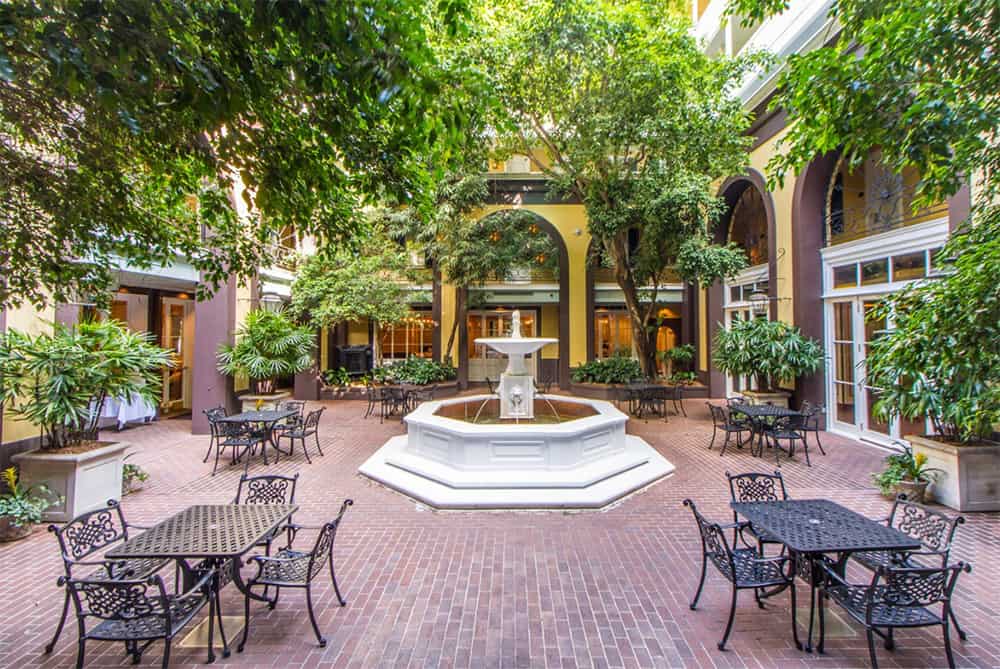 As it happened the presidential suite was available for me to have a squiz through, so through I went!
The owner has classy taste. Not only are the furnishings, amenities and antiques completely covetable, but the rooms are bigger than most in the city, Egyptian cotton bed linens and granite tile in the bathrooms.
This is a five star hotel – and they don't charge for WiFi! Oh and you're half a block from Bourbon and Royal Streets so very easy to walk everywhere.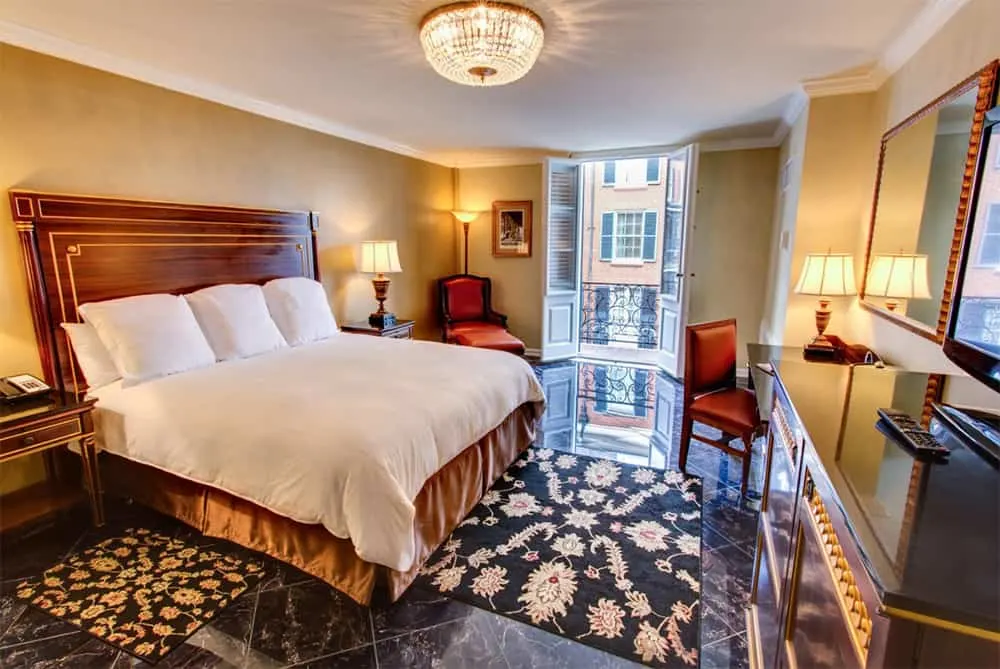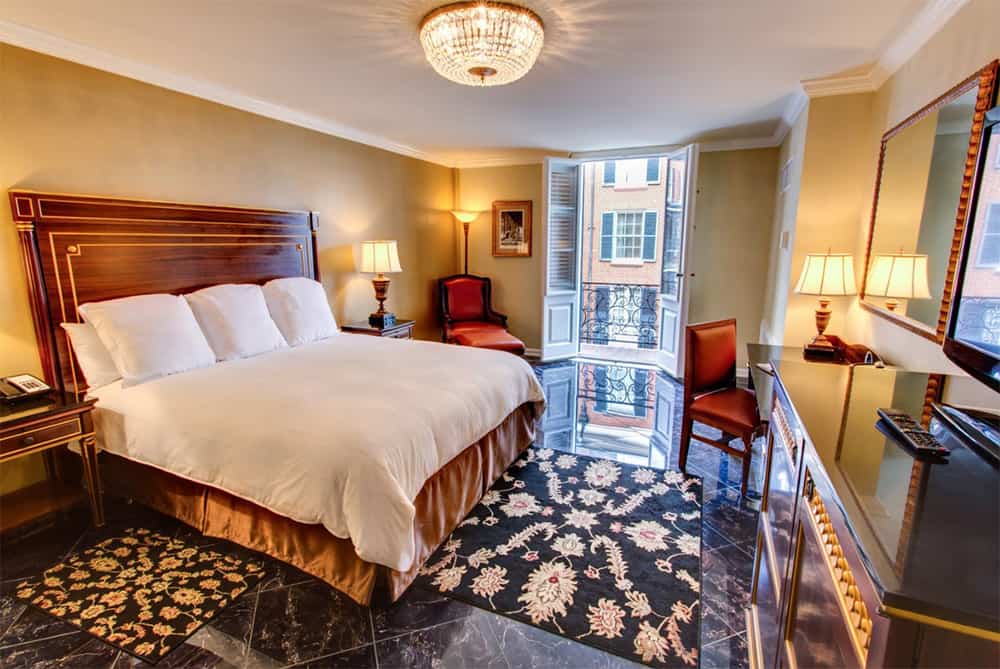 Audubon Cottages
The multi-million dollar renovated Audubon Cottages in the French Quarter are hidden behind a private door in the wall on Dauphine Street (a block from Bourbon Street).
It's leafy and tranquil back here and I had a peek in one of the two bedroom cottages with their own little courtyard. There is a saltwater pool – said to be the oldest in New Orleans.
This hotel would be ideal for a group booking – and often it's snapped up by the many wedding parties that come to New Orleans to tie the knot.
Again, the attention to detail in the furnishings is gorgeous and on the coffee table lies a copy of one of the most expensive books in the world, John James Audubon's book of paintings of American birds. The original sold for $30million!
Bourbon Orleans Hotel
If walls could talk! The Bourbon Orleans Hotel is located at Jackson Square, in the heart of the French Quarter. It was once a ballroom for the rich and famous and then a convent for the Sisters of the Holy Family.
Today you can expect marble and gilded detailing in the impressive lobby after a multi-million dollar refurbishment.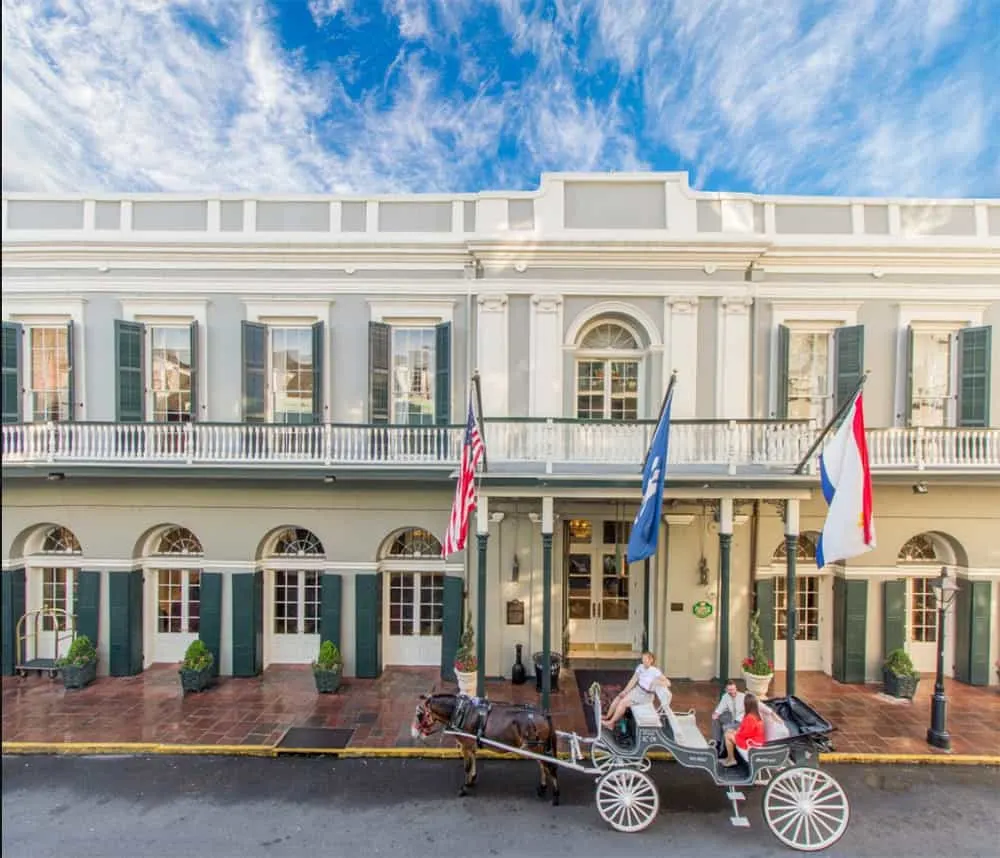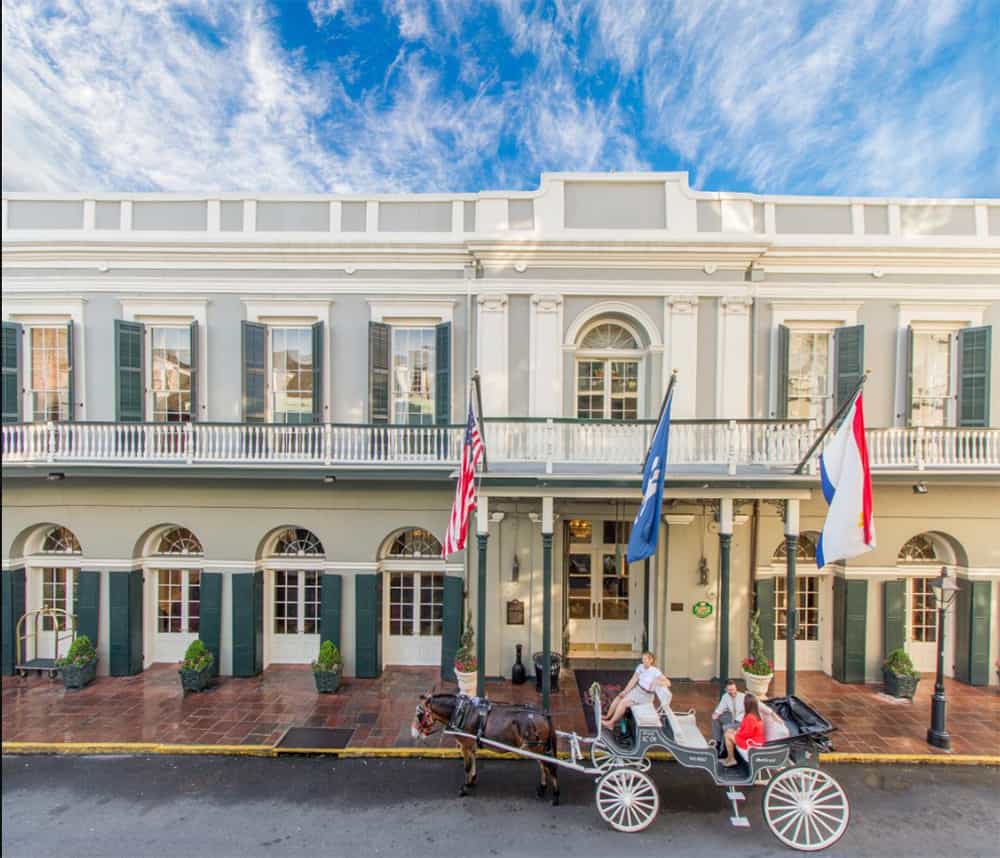 Being right next to Jackson Square, where you'll spend hours enjoying the street musicians and artists – if you can tear yourself away from the salt-water pool in the courtyard.
It has just 25 suites and it's right in the centre of the French Quarter. Just across Jackson Square is Cafe du Monde for a sugary hit of beignets for breakfast.
This hotel is regal and elegant with plush furniture under chandeliers, and it's adjacent to Jackson Square, which is a fantastic place to enjoy street musicians and local artists who hang their wares on the iron railings, you're also only half a block from Bourbon Street.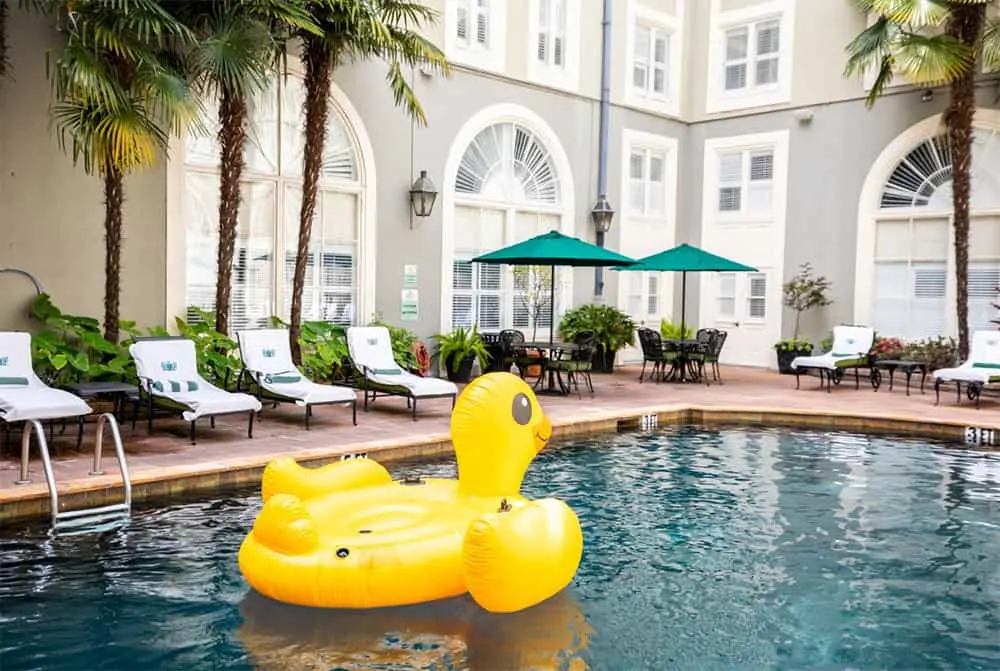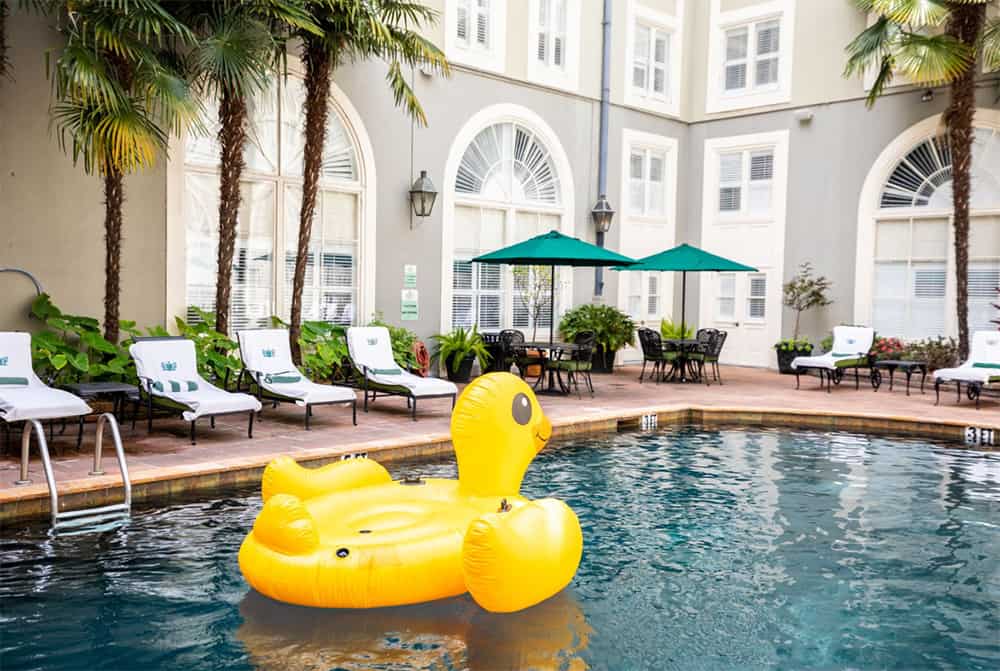 Hotel Monteleone
The only high-rise building in the French Quarter, the Hotel Monteleone is famous for its Carousel Piano Bar in the foyer. It rotates! Good luck getting a seat at the 25-seat bar though, but you need to give it a try for one of their famous cocktails.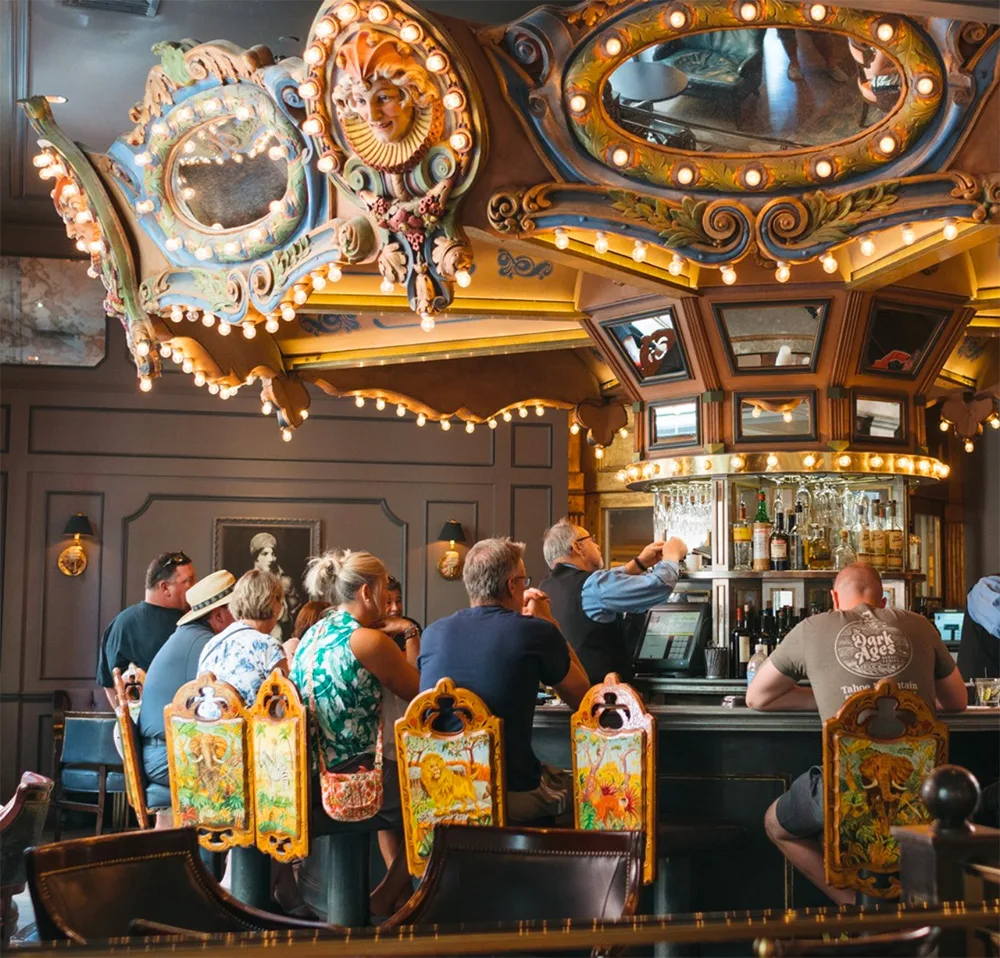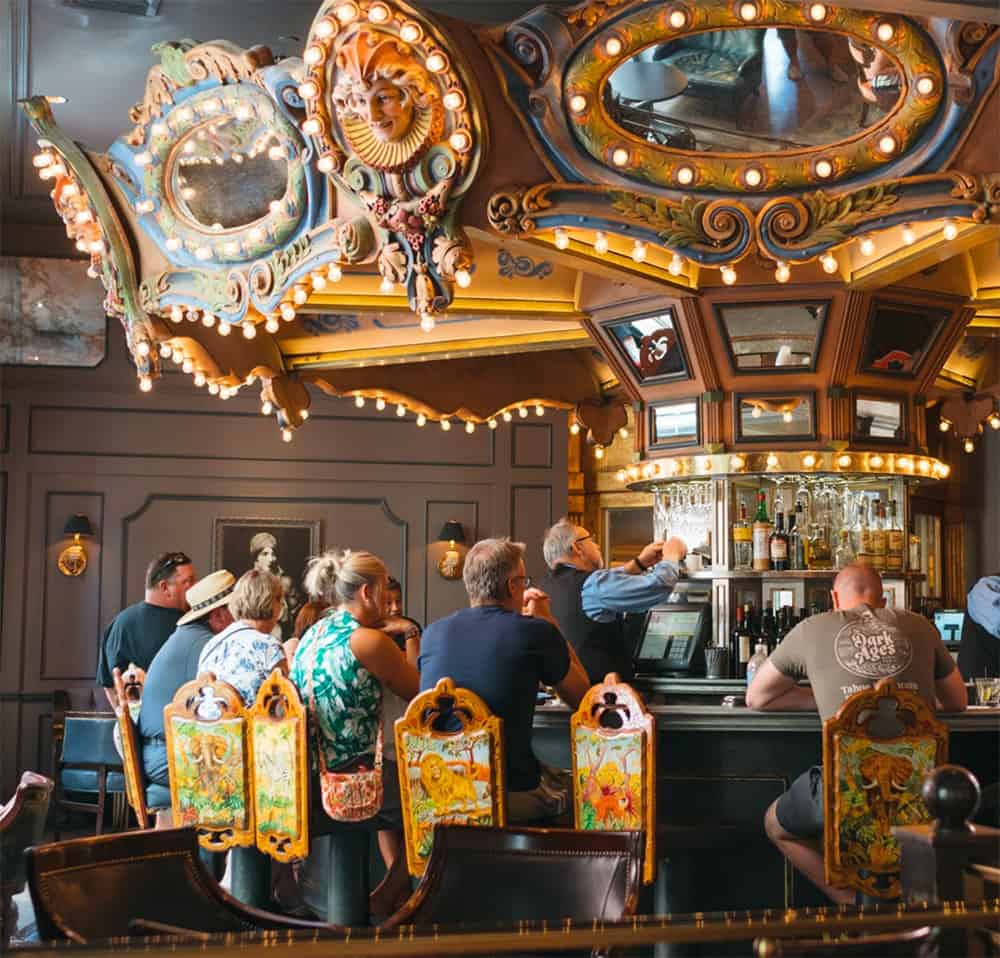 Tennessee Williams wrote about it, as did Ernest Hemingway and it also features in the Ya Ya Sisterhood (which I've read but might need to read again just for the mention of the carousel bar!) Liberace has played here and it's been in several movies too.
The hotel is family owned and run – since 1886! Antonio Monteleone arrived from Sicily in 1880 and set up business here on Royal Street as a cobbler. He then bought a small hotel next door and expanded it over the years to the 570-room hotel it is today.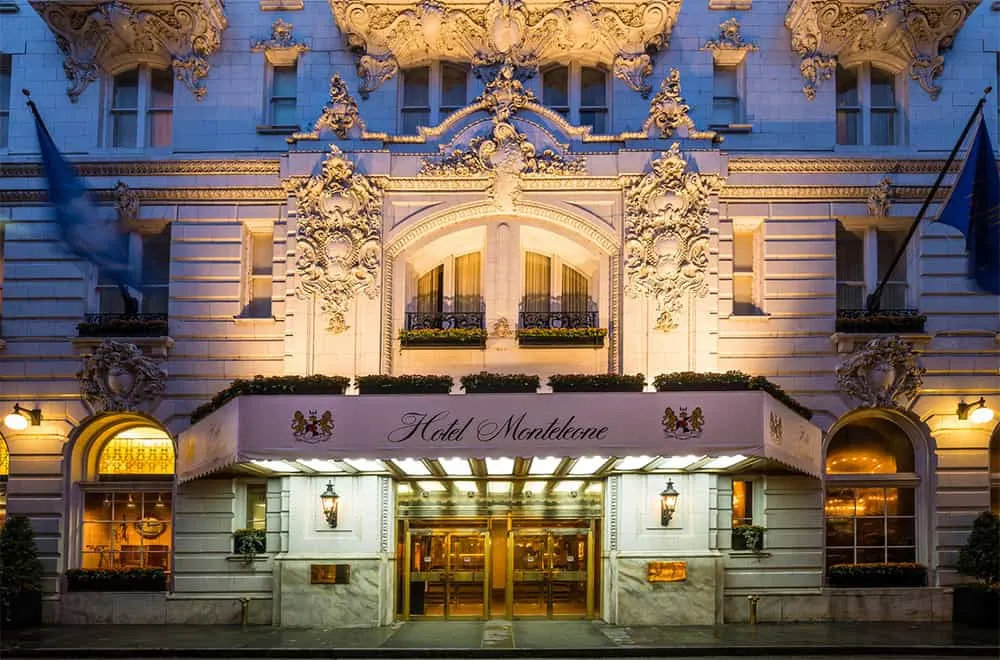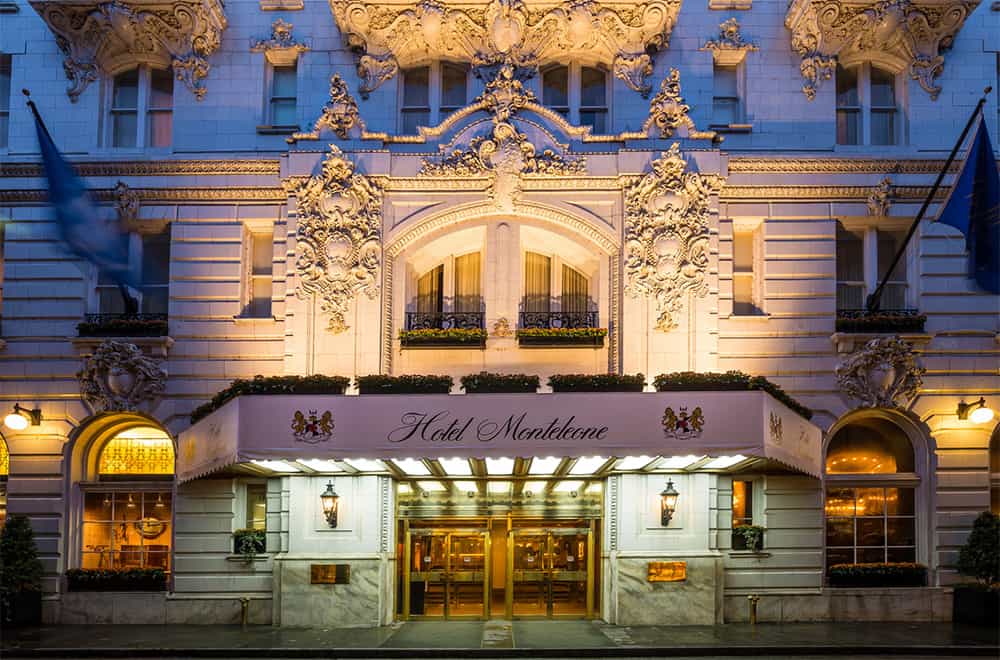 Located on Royal Street it is one block parallel to Bourbon Street and super close to all the action you'll be part of. The rooms have a touch of olde worlde glamor with sumptuous drapes, skirts around the beds and a chandelier, and on the rooftop is a heated outdoor pool when you need to withdraw from the hustle and bustle below!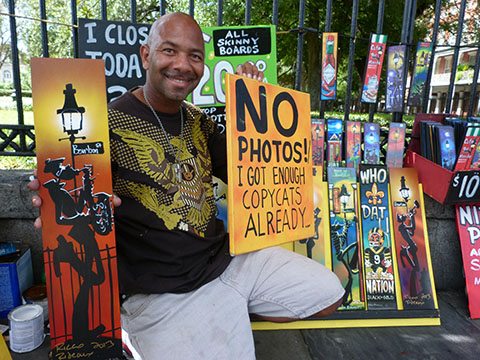 _____________________________
You might like more of my New Orleans posts:
My 3 favourite music bars in New Orleans for live jazz. These are on my top picks list when I recommend music venues to friends.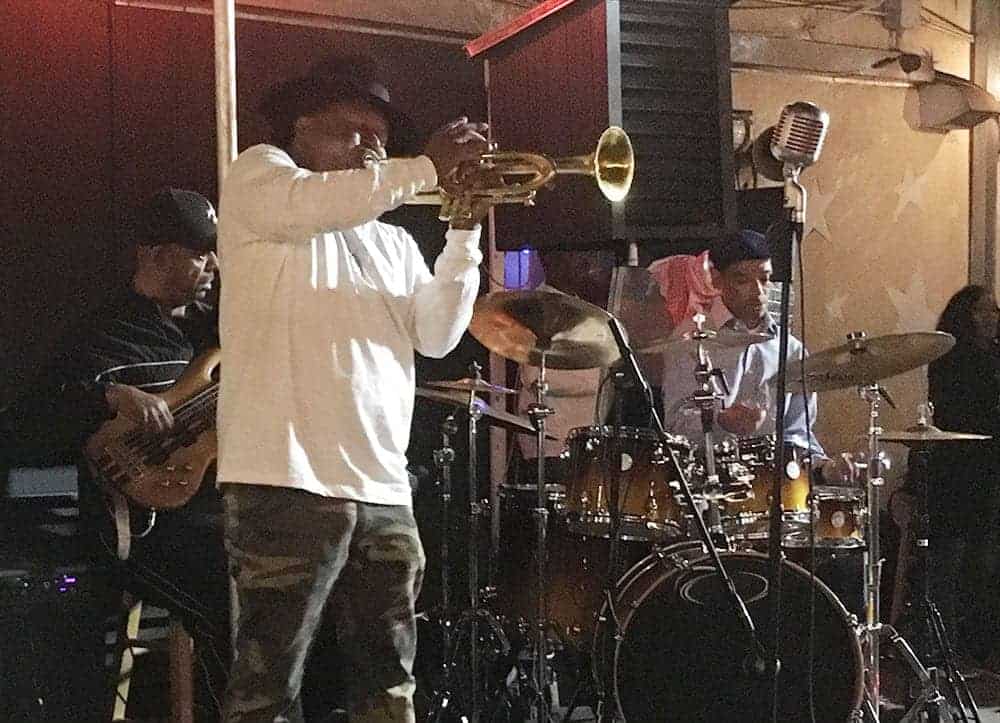 If you're looking for some cool things to do in New Orleans, I loved this three-hour cycle tour around the French Quarter (which included a stop for beignets!)
And here's my post on some of the best cocktail bars in New Orleans and their amazing history!
Here's a helpful post if you're looking for some recommended Air BnBs in New Orleans.
You might like to read my Totally Awesome Guide to New Orleans covering must-see sights and loads of fun things to do in the Big Easy.