Happy Halloween! CHM museum specialist Jojo Galvan explores some of the notable markers in Chicago's Graceland Cemetery.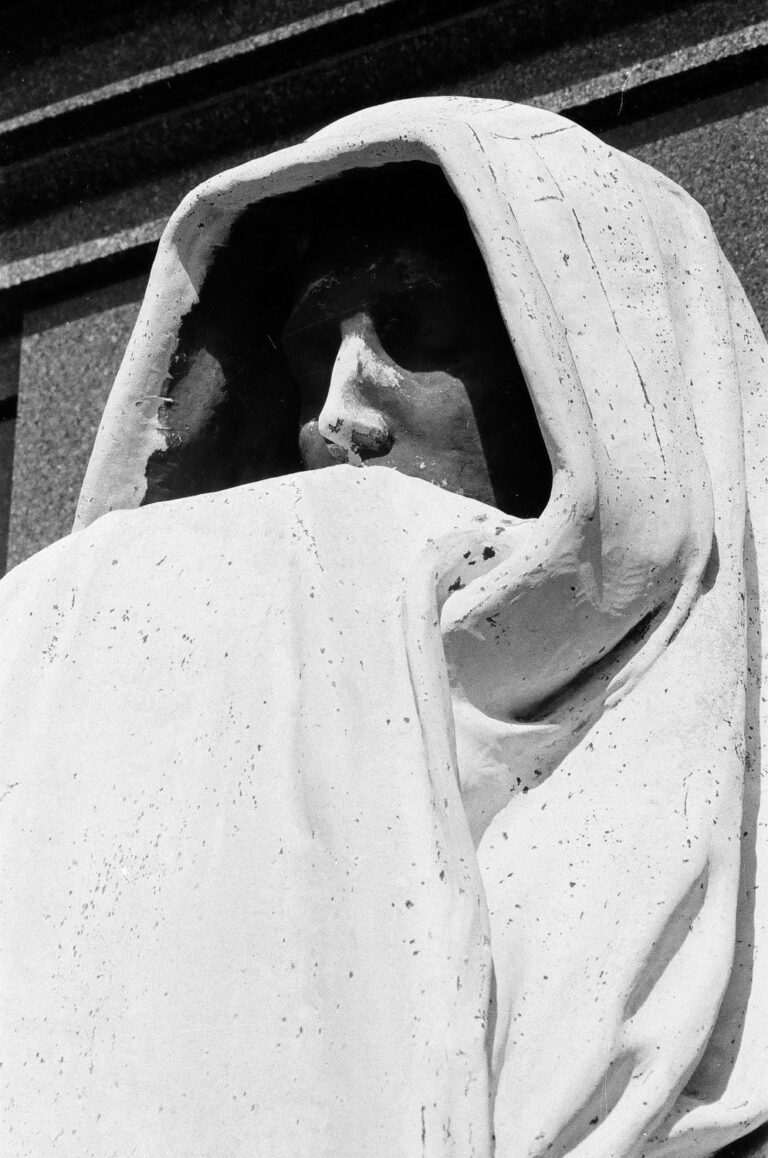 Close up of Eternal Silence by Lorado Taft in Graceland Cemetery, 4001 N. Clark St., Chicago, May 10, 1977. ST-40001541-0037, Chicago Sun-Times collection, CHM
Graceland Cemetery in the Uptown community area of Chicago is many things. It's a certified arboretum and a masterclass example of the garden cemetery movement popularized across the United States in the 19th century. But most notably to Chicagoans, the hallowed grounds are the final resting place for an extensive list of Chicago elites and eccentrics. Among its more than 2,000 trees, Graceland's residents include the builders of the Second City, with graves for individuals like Louis Henri Sullivan, Mies van der Rohe, and perhaps most notable among them, Daniel H. Burnham, designer of the Chicago Plan and head of planning for 1893 World's Columbian Exposition. He is buried alongside his wife, Margaret, on their own private island inside the cemetery.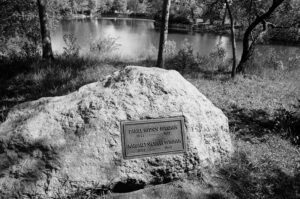 Burial marker for Daniel Hudson Burnham and Margaret Sherman Burnham in Graceland Cemetery, 4001 N. Clark St., Chicago, May 10, 1977. ST-40001541-0031, Chicago Sun-Times collection, CHM
Beyond architects, visitors to Graceland can also find the opulent and mysterious graves of many of the city's elite financiers and socialites. Popular stops among the hundreds of notable graves in the cemetery include department store magnate Marshall Field, businessman Charles Wacker, and luxury sleeping car tycoon George Mortimer Pullman. Pullman is notably buried in a grave reinforced with concrete and railroad ties all under a Corinthian column and exedra, because his descendants feared his body would be disinterred and held for ransom by disgruntled employees.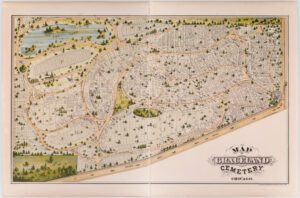 Map of Graceland Cemetery, Chicago, c. 1875. CHM, ICHi-027725
One of the most imposing (and certainly the largest) and perhaps eeriest, graves in the cemetery belongs to Potter and Bertha Honoré Palmer, who made their fortune in real estate and the hospitality industry. In line with the opulence of their hotel, the Palmer House on Wabash Avenue, the Palmers are buried in two sarcophagi under an imposing Greco-Roman mausoleum, forever canonized to horror film audiences in the burial scene of Damien: Omen II, which was released in theaters in 1978.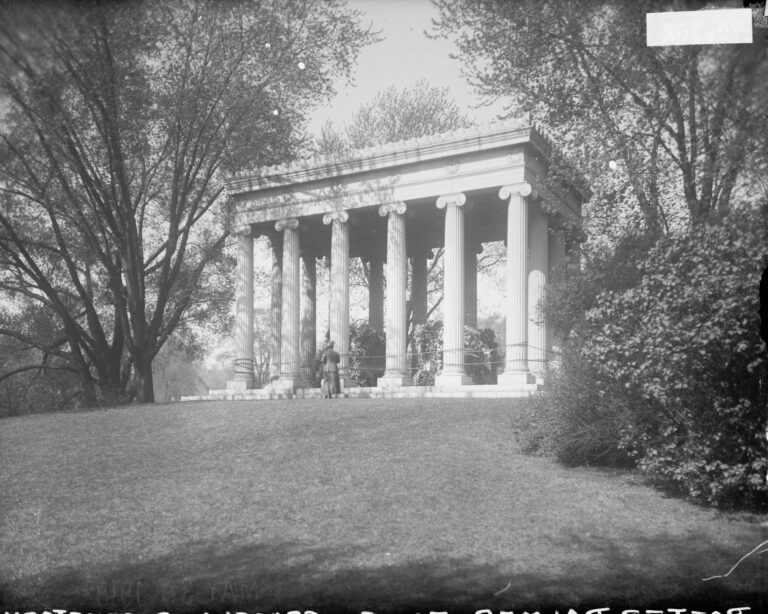 Tomb of Bertha Honore Palmer, wife of Potter Palmer, at Graceland Cemetery, 4001 N. Clark St., Chicago, 1918. DN-0070162, Chicago Daily News collection, CHM
But beyond the graves of the well-known, the mythos of Graceland Cemetery has been elevated thanks to the folklore associated with a number of the statues adorning its gravesites, the most famous of which is undoubtedly Eternal Silence. The 10-foot-tall sculpture of a brooding, shrouded figure was designed by the renowned American sculptor and Illinois native Lorado Taft. The watchful monument guards the plot of the aptly named Graves family, descendants of Dexter Graves, one of the earliest settlers in Chicago, who arrived in the land that would come to be known as Chicago from Ohio.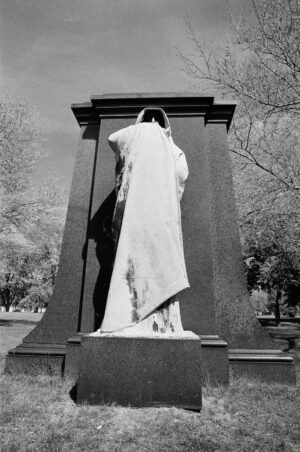 Eternal Silence by Lorado Taft in Graceland Cemetery, 4001 N. Clark St., Chicago, May 10, 1977. ST-40001541-0008, Chicago Sun-Times collection, CHM
The most widely shared story connected to Eternal Silence is a grim one. As the story goes, for those curious (and brave enough) to know how their life will come to an end, all they need to do is gaze directly at the cold, unbreaking gaze of the monument, and their fate will be revealed in a vision. Another popular monument with an eerie reputation is known as Inez Clarke. While there is some debate as to the monument's origins and who is buried in the grave it marks, its story is a sad one. For years it's been said that every time there's a thunderstorm, the statue of the young girl disappears entirely from the glass vitrine covering it and returns once the skies clear because, in life, Inez was afraid of storms—a fear that carried over to other side.
Graceland, in all its mystery and beauty, is open to the public and regularly hosts tours of the grounds, both self-guided and in groups.
Additional Resources