Roborock is a company that specializes in making intelligent and robotic vacuuming and mopping gadgets that make cleaning the home easier than ever.
With a slogan of "innovation for better living", this year they're celebrating their anniversary with the release of their powerful Dyad Pro Combo 5-in-1 Cordless Wet Dry Vacuum Cleaner. This intuitive vacuum can clean wet and dry messes around the house and can be easily converted from a wet-dry vacuum to a cordless handheld vacuum for different cleaning scenarios.
---
The Dyad Pro Combo Wet and Dry Vacuum normally costs $659.99 at retail.
🔥 Special Deal: For the launch of the Dyad Pro Combo on October 2nd, you can SAVE $160 (24% OFF!)
💡 BUY on sale HERE for $499.99 (through 10/8/2023)! 
---
In this post, we'll talk about all of the features the Roborock Dyad Pro Combo has to offer so you can decide if it's right for you and your home.
What is the Roborock Dyad Pro Combo?
An upgrade from Roborock's original Dyad model, the high-powered Dyad Pro Combo is a cordless smart vacuum that excels at cleaning both wet and dry floors, crumbs, pet hair, dirt, and messes of all kinds. 
Here's what you get with the 5-in-1 Dyad Combo Pro Wet and Dry Vacuum Cleaner:

 
A Wet and Dry Vacuum Cleaner
Motorized Mini Brush
Multibrush Vacuum Tool
Crevice Tool
Dusting Brush
Dust and dirt aren't a match for this self-cleaning vacuum which has an incredible 17000Pa suction power, and can run for at least 43 minutes without recharging.
Its specialized rollers reach within 1mm of the edges of walls with one pass.
For ease of use, the Dyad Pro Combo also has a vibrant LED display on the vacuum unit, as well as an intuitive easy-to-use app that gives alerts and can control things like self-maintenance and keep track of charging.

Roborock Dyad Pro Combo Key Features
Type of Vacuum: Dyad Pro Combo is a 5-in-1 cordless wet and dry vacuum. It easily converts from a wet/dry vacuum to either a stick or handheld vacuum with its attachments. 
Makes it easy to clean floors, high places, corners, stairs, and crevices.
Recommended Floor/Surface Type: This vacuum and its attachments work with both hard and carpeted floor types, including tile, marble, concrete, ceramic, and hardwood. 
Multiple Tools Work for Every Dirty Job: Including fabrics, furniture, upholstery, and more.
Amazing Edge-to-Edge Cleaning: The unique combination of a full-length front roller with the two rear rollers cleans within 1mm of wall edges in a single sweep.
The Powerful RevoBrush™ Rollers Self-Clean and Dry: When in use, the Dyad Pro Combo's Revo Brush mult-rollers rotate in opposite directions to deep clean floors and remove messes.
Then, after you're done with the wet/dry vacuum, pop it into the charging station where the vacuum rollers will clean and dry themselves! 
The rollers dry with hot 120F (50℃) hot air that comes from three rows of air outlets. This drying method prevents bacteria and mold growth, which can cause musty smells. 
It Has an Easy-to-Use App: The Dyad Pro Combo includes the Roborock APP. It makes cleaning and maintaining your vacuum a breeze. It has a variety of functions and also controls all of Roborock's products.
Voice Commands and Alerts:  No need to memorize error codes or search manuals. The Dyad Pro Combo's voice alerts will tell you what you need to do.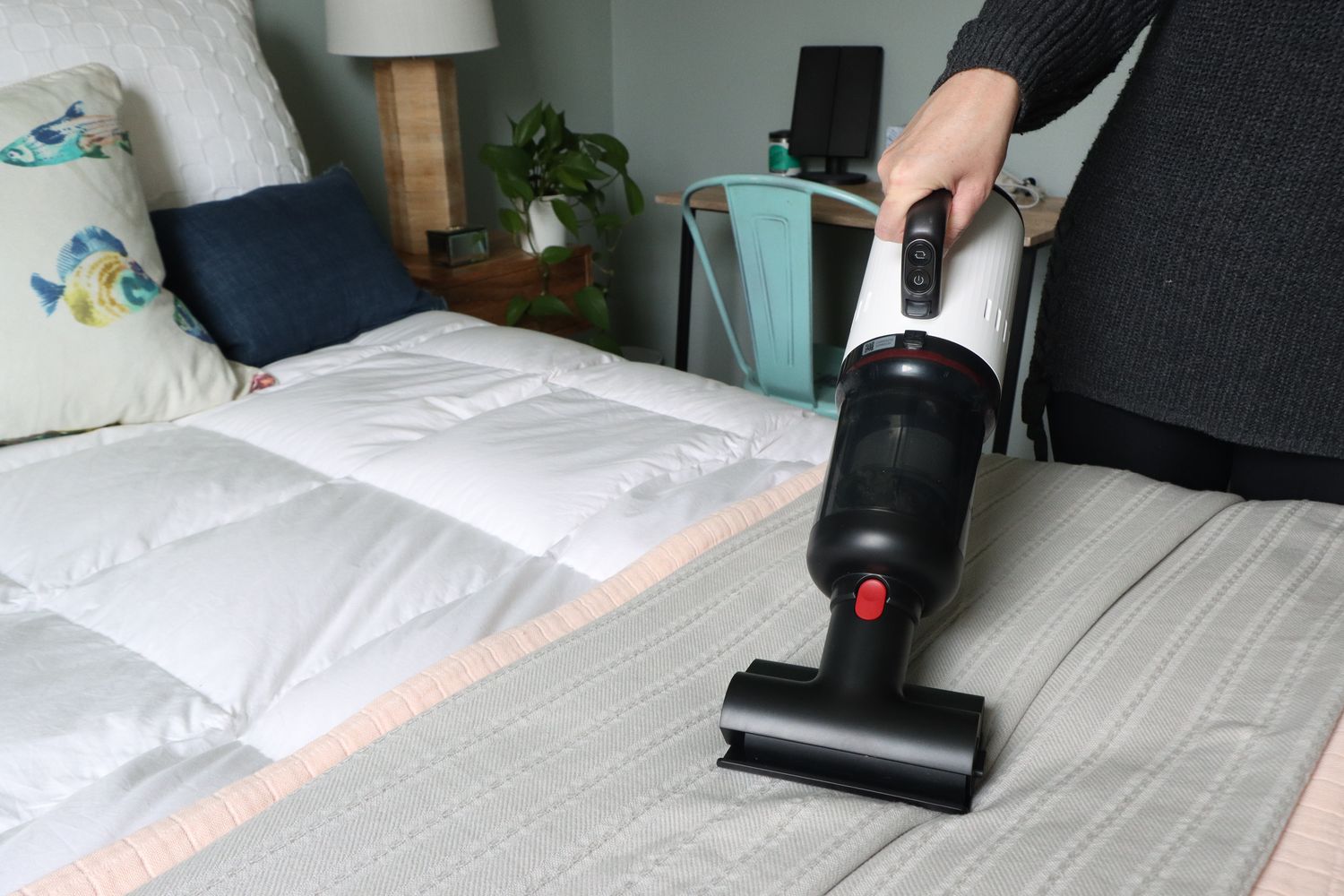 What the Dyad Pro Combo Comes With Out of the Box
Roborock Model:

Dyad Pro Combo

Release Date:

October 2nd, 2023

Type of Vacuum:

Upright 5-in-1 Wet and Dry Vacuum

Surface Type Recommendation:

All including

Hard Floor, Carpet, Sofas, Upholstery Furniture, Beds, etc.  

Special Features:

  Smart Dust Sensor, Self-Cleaning & Drying RevoBrush™ system, App

Vacuum Power:

17000 Pa of Suction

Power Source:

4000mAh Battery (charging station included)

Runtime:

43-60 minutes

Weight::

23.7 pounds (For the wet/dry vacuum. When handheld it is lighter)
What Attachments Does The Dyad Pro Combo Come With?
1. Multi-Surface Brush
The multi-surface brush easily collects dirt, dust, dander, crumbs, and more from hard and soft floor types, including carpet, hardwood, tile, and more.
2. Baton
This connects to the multi-surface brush to create a stick vac for cleaning floors, carpets, curtains, blinds, and even ceilings.
3. Motorized Mini-Brush
Effectively removes dust and dander from different surfaces and is perfect for cleaning bed linens, sofas, fabric, and furniture.
4. 2-in-1 Cleaning Crevice and Dust Tool Head
With 2 functions the 2-in-1 design of this tool saves space and easily adjusts with the press of a button.
Here's what they're great for:
Hard-Angled Crevice Tool:

Perfect for getting into narrow spaces like gaps in door frames and couch crevices.

Soft Bristled Dust Brush:

Great for use in places that need a delicate touch, including

tables, fabrics, curtains, and even keyboards with this high-efficiency brush.

Is the Dyad Pro Combo Powerful?
Suction power is one of the most important factors to consider when choosing a robot vacuum. The higher the suction power, the more dirt, dust, pet hair, and debris can be pulled up off the floor.
The Roborock Dyad Pro Combo wet and dry vacuum cleaner has outstanding powerful 17000Pa suction power, which means it can remove wet and dry messes with ease.  The average robot vacuum typically provides 4,000Pa, which makes the Dyad Pro Combo 4X more powerful!
It truly packs quite a punch for a little robot vacuum, and more than enough to pick up anything you might want a vacuum to remove. 
We found it has a fantastic overall performance and collected a shocking amount of superfine dust from a rug with little traffic. This is good to note if you're sensitive to allergens and need to keep your home as dust and dander-free as possible.
All the Roborock Dyad Pro Combo's Modes Are displayed on the Easy to Read LED Screen
Cleaning and drying modes include:
AUTO:

This is the standard power setting on the unit.

MAX:

This is the vacuum's highest power setting.

ECO:

This setting saves energy.

DRYING:

This can be used to remove water from wet floors like bathrooms or after using the mopping function.

HOLIDAY:

This mode switches to low power to minimize power consumption and dims the LED.
Other LED Display modes include:
WIFI connectivity
Dirty Tank Level
Clean Tank Empty
Battery Charge Level
Switching modes is a cinch! Just press the button on the handle that has a picture of a box made of two arrows.
How Does the Auto Cleaning Solution Dispenser Work?
When filled, the Dyad Pro Combo's Auto Cleaning Solution Dispenser at the bottom of the wet/dry vac pumps cleaning detergent into the Dyad Pro Combo's water pipe, which then gets evenly sprayed onto the 2 motorized rollers. 
It will also self-adjust in response to how stained your floors are.
But you'll only need to fill your cleaning dispenser once for every 20 clean tanks of water.
Roborock sells a proprietary cleaning solution they recommend. Or you can use your own mild non-bubbling floor cleaning solution. 
Tip: You can empty the dispenser or remove the dispenser cartridge from the vacuum if you only want to wet clean the floors with water. Using a detergent isn't mandatory.
What is the Roborock App Used For? 
With the Roborock app you can easily keep track of the cleaning and maintenance functions of the Dyad Pro Combo. The app can be used to:
Change cleaning modes (Auto, Max, Eco)
Monitor battery charge
Turn on self-cleaning and drying
Adjust water levels
Manage voice alerts
It's Voice Alerts Help You Every Step of the Way
The Dyad Pro Combo's voice alerts that tell you what you need to do so you never need to struggle with error codes or searching through manuals. 
It will tell you things like, when to clean your filters, when to charge the battery, when to empty your dirty water tank, and when to refill your clean water tank.
The voice alert volume can be managed in the app.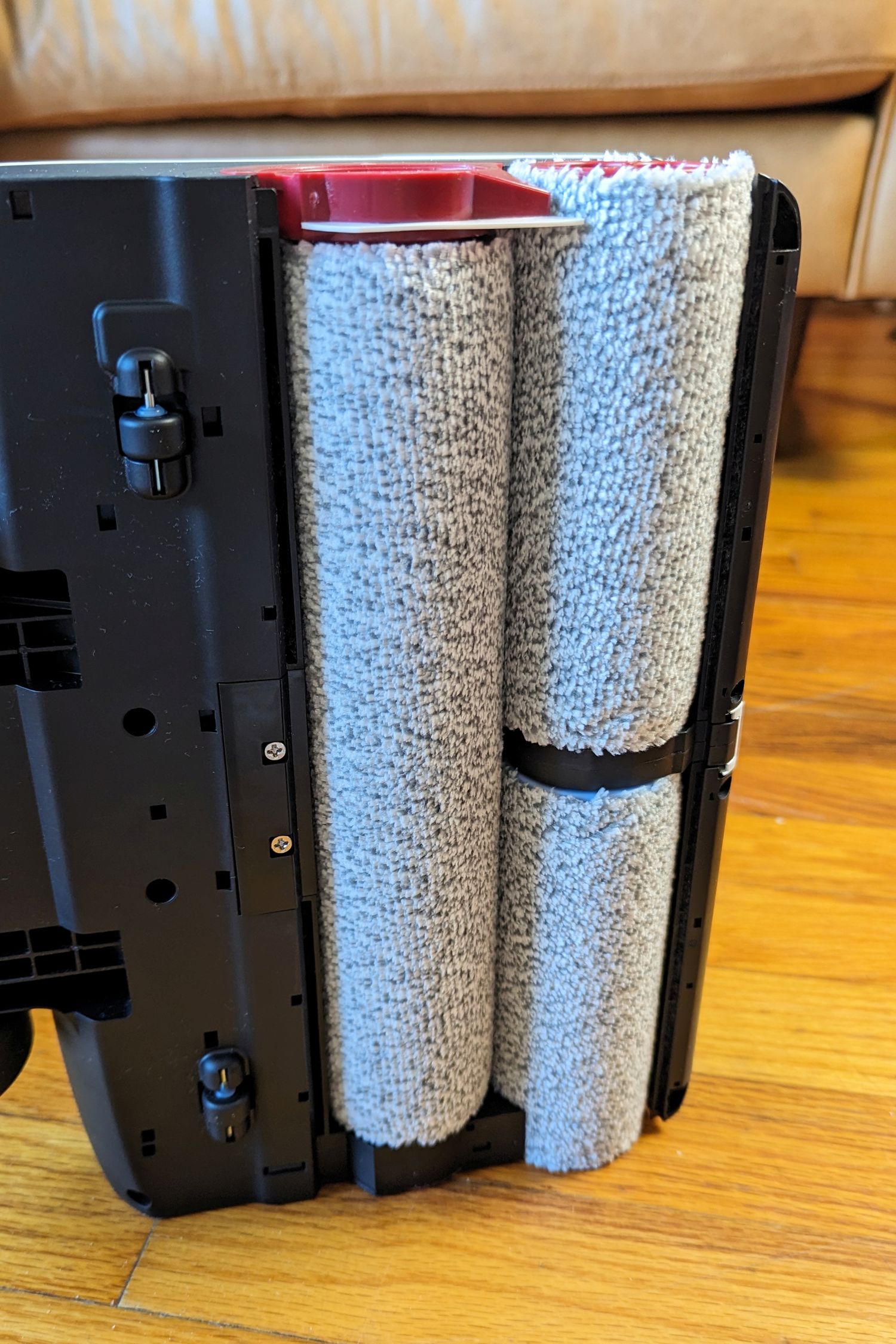 The Power Button Has Multiple Functions
With the power button you can switch vacuum modes to AUTO, the high-powered MAX setting, FLOOR Drying, or ECO Mode with a special icon for each mode.
You can also pause it with the power button and put it on standby if you need to take a break.
Is the Setup and Maintenance Easy?
The setup of the Dyad Pro Combo and its storage is easy once you match the parts to the directions in the quick start guide. 
If you aren't someone who enjoys putting things together, the parts may seem a little overwhelming at first. But once you get going, you shouldn't have a problem.
As for maintenance, there isn't much. To keep it fresh, Roborock recommends rinsing the air filter at least once a month with tap water.
There isn't much maintenance on Dyad Pro Combo, but a couple of things are recommended
First. like any vacuum, Roborock recommends cleaning the dust bin and filters regularly to keep the vacuum's suction power at its best. 
Second, the wet rollers should be self-cleaned and self-dried after use in the docking station to prevent them from getting an unpleasant odor from mold and bacteria. 
To keep the main unit clean you can wipe it down with a dry cloth while unplugged.
How is the Dyad Pro Combo's Battery Life?
Dyad Pro Combo's large battery runs at a 30% higher efficiency than Roborock's original Dyad model and is at the top of current industry standards. That means you save on energy costs while getting the perfect clean.
Roborock says the battery will last up to 43 minutes to 1 hour depending on how you're using the vacuum. Roborock reported through internal testing that it's enough power to clean 3220 square feet (300 square meters).
Tip: To maintain the vacuum's lithium-ion rechargeable battery for the long term, keep the vacuum regularly charged.

How is the Dyad Pro Combo Shipped?
Conveniently shipped and delivered to your door, the Dyad Pro Combo comes well-packed, and the box has an outside handle that makes it easy to lug inside. For its size, it's surprisingly lighter than it looks.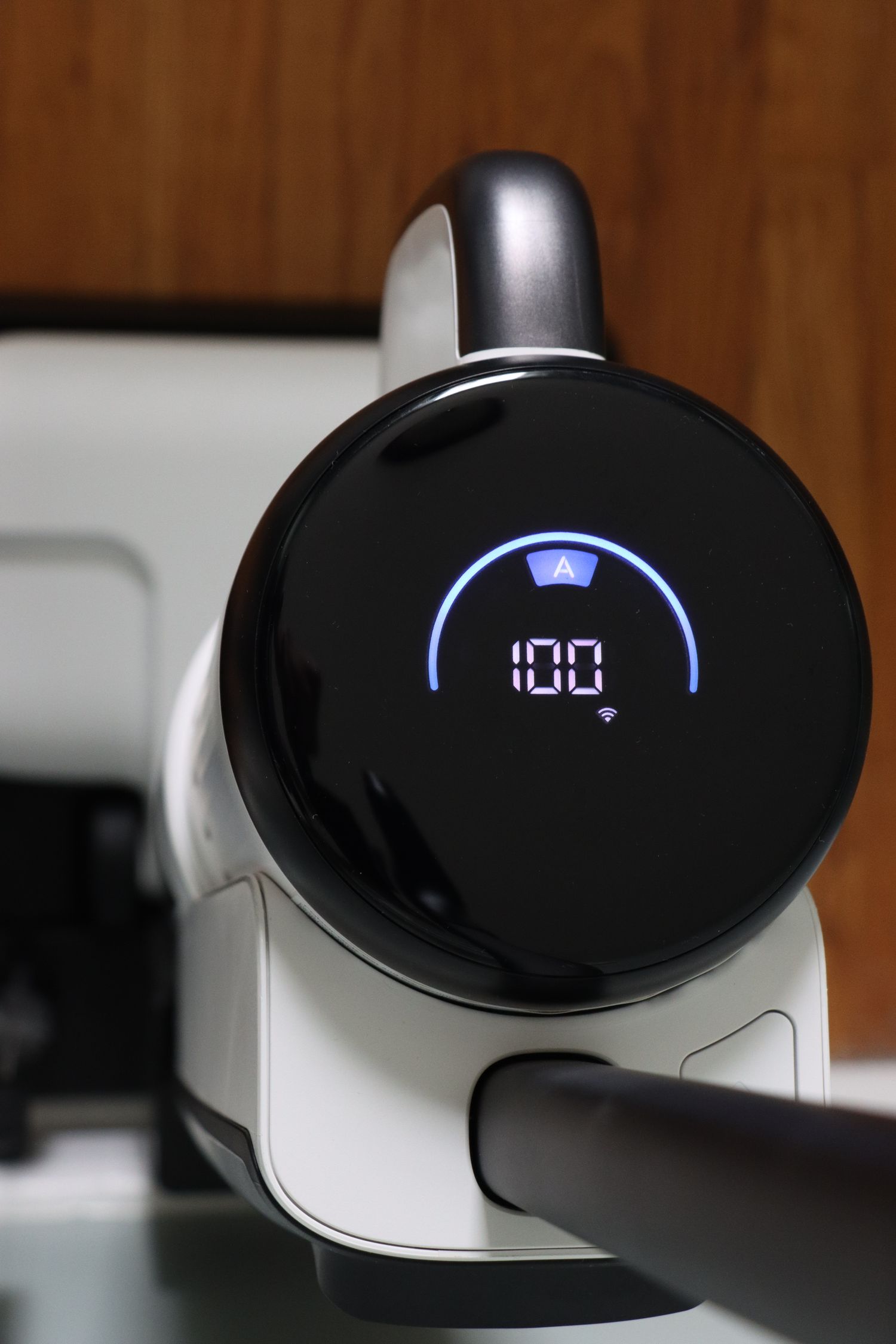 How Long Does it Take to Charge?
The Roborock manual says to expect a 4-hour charge time. 
But when we received our unit, it had only about a 4% battery charge left and charged 100% within about 2.5 hours. 
How Many Tanks Does the Roborock Dyad Pro Combo Have?
The Dyad Pro Combo provides 3 different sized tanks within the unit. One for clean water, dirty water, and detergent.
Clean Water Tank Capacity: 950ml | 32.12 US fluid ounce
Dirty Water Tank Capacity: 770ml | 26.03 US fluid ounce
Dustbin Capacity: 465ml | 15.7235 US fluid ounce

How Well Did the Dyad Pro Combo Clean Floors in Tests?
Even after using the Roborock for one day, we quickly learned that our old vacuum wasn't doing the great job we thought it was.
After wet cleaning our hardwood floors, it blew us away how much dirt and debris collected in the dirty water tank and dust filter. 
It also impressed us how much super-fine dust and debris the multi-brush tool picked up from a carpet that doesn't get much traffic. And in a short amount of time! 
We also love how the Roborock Dyad Pro Combo cleans right into wall edges which can be a pain to clean in most homes.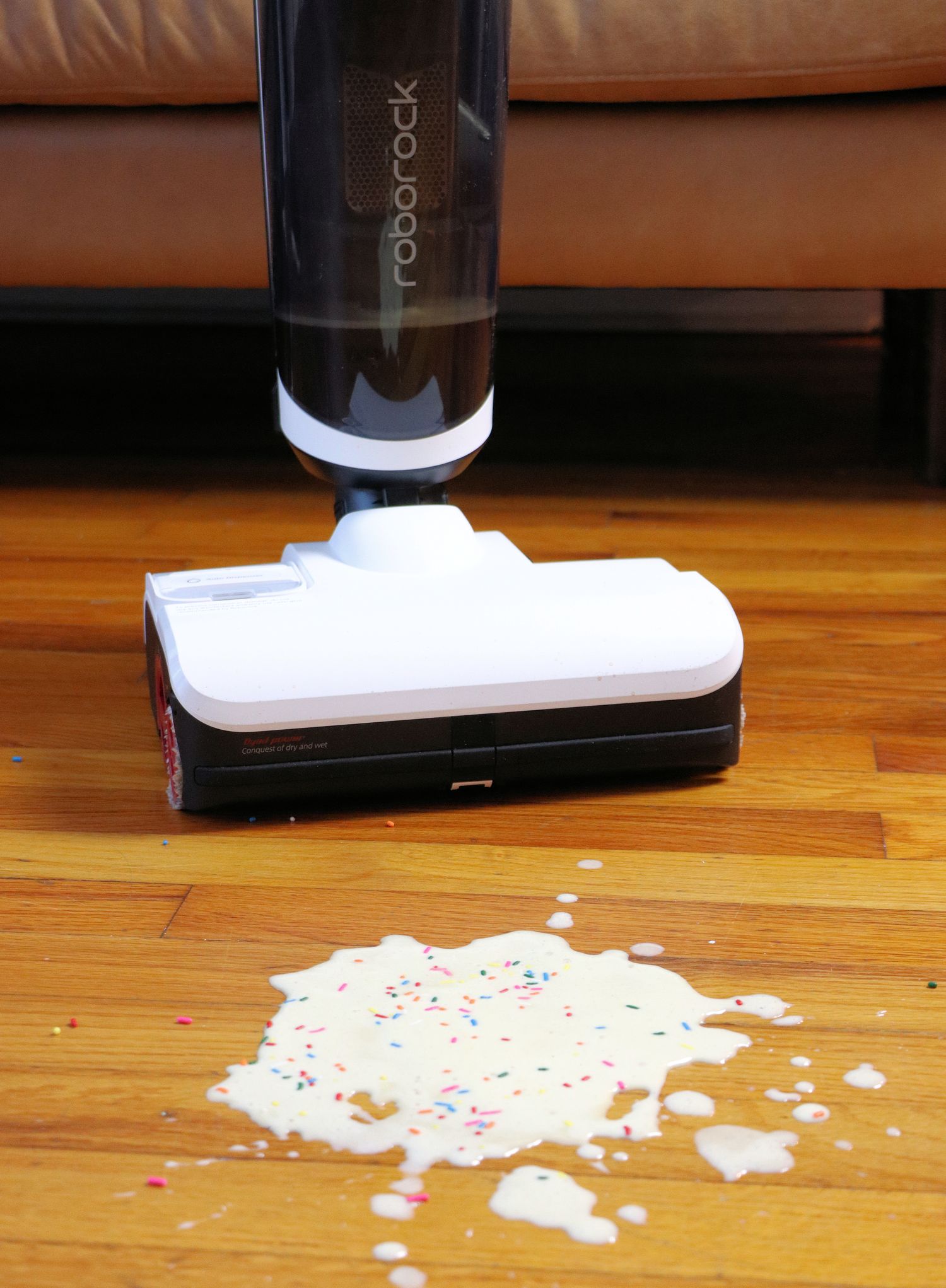 Final Thoughts
With the ability to vacuum and mop a variety of floor types and surfaces with many well-designed attachments, the cordless Roborock Dyad Pro Combo wet and dry vacuum is a powerful and intuitive cleaning machine with lots of versatility.
We think it's an excellent investment if you want to have a multi-function vacuum that cleans powerfully and efficiently. And it's self-cleaning and drying makes this machine practically maintenance-free.
Running at a noise level of 73.5 dB, it's surprisingly quiet and perfect for families and pet owners.
Pros
Lots of versatility and little maintenance

Deep clean mopping performance

Multiple options for cleaning different floor and surface

Debris removal is outstanding at 99% efficiency

Self-maintenance features to simplify usability

Easy to operate with one hand.
Cons
You don't need to use the app to operate the vacuum, but not all functions

are accessible without WIFI/app connectivity. 

Need a smartphone to operate fully.

The vacuum needs a dedicated space to charge.
Roborock Dyad Pro Combo Best-Use Tips 
If the vacuum's LED screen is on but isn't responding to commands, press and hold the power button for 10 seconds to force the vacuum to restart.

After self-cleaning finishes, be sure to empty the dirty tank to prevent bacterial growth and odors.

If the suction doesn't feel as powerful as it should be, empty the dustbin and clean the filter. You'll be right back in business.

If your mobile phone has trouble connecting to the vacuum cleaner, it's most likely that your phone's Wi-Fi is disabled or your router's configuration changed. Try resetting the Wi-Fi connection on your phone. 

If you still can't connect, there may be an error with your router settings. Roborock's customer service can easily help you troubleshoot. 

Make sure the vacuum has a good charge before using it.

To avoid battery charging issues make sure the charging dock is free of any debris.
How Much Does it Cost?
The Dyad Pro Combo Wet and Dry Vacuum normally costs $659.99 at retail.
Special Deal: For the launch of the Dyad Pro Combo on October 2nd, you can SAVE $160 (24% OFF)
➡ BUY on sale HERE for $499.99 (through 10/8/2023)!