It's that time of the year again, when the ghouls come out to play. Though this year has been full of frights, that doesn't mean we can't get into the fun Halloween spirit.
You see— Halloween is the time of the year where we can take on the persona of our favorite characters, pop culture icons or even abstract sayings (read: memes). No matter what you wear, this holiday is all about letting your imagination go wild and creating costumes that instantly remind you of your favorite something.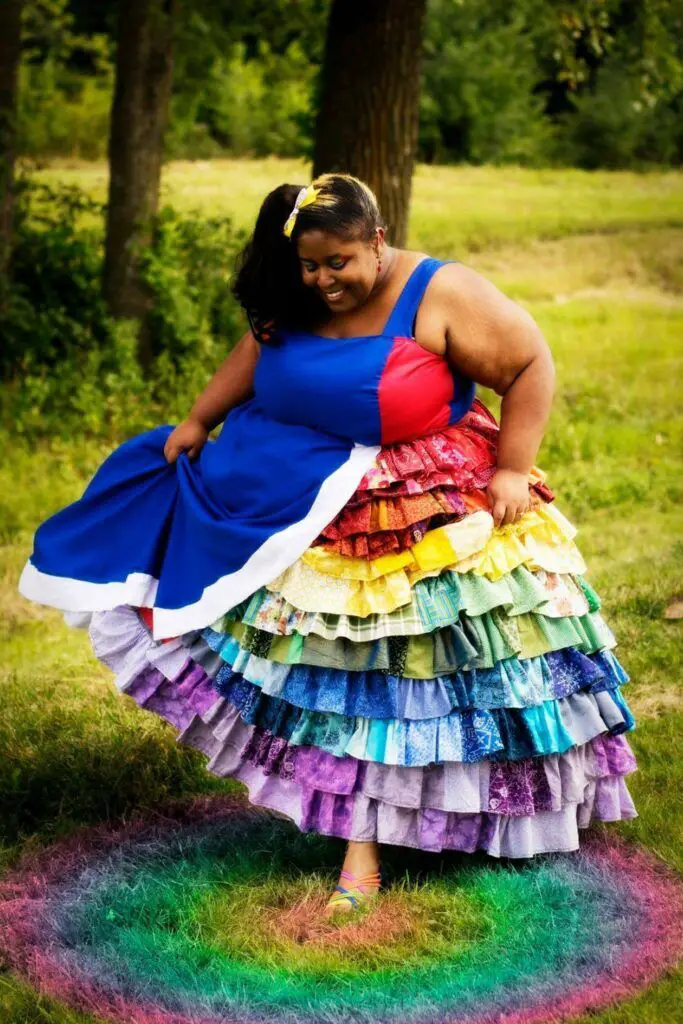 And for those who are curious, we do have more than just sexy options! Who says plus size people can't wear a Princess Jasmine costume, transform into a character from the Pirates of the Caribbean, or command the weather like Marvel's Storm? It's just a matter of using your imagination and inspiration for getting the look that fits your vision! 
And if you're not sure where to begin to this search of inspiration, no worries. We got you covered.
15 Plus Size Halloween Costume Ideas For Your Pinterest Board
Photo Credit: www.instagram.com
Photo Credit: www.instagram.com
Elastigirl is an iconic, super curvy, mom and superheroine, she's the one and only Mrs. Incredible. So seeing Maria (@marialuxee) dressed as the iconic Mrs. Incredible gave us nostalgia to the max. She can come and save us anytime.
Photo Credit: www.instagram.com
"Trust me, you want me on your team" okay, @geminatiiii! We see you and your Vamps uniform! Whose team on YOU on?
Photo Credit: www.instagram.com
We're having a chilling adventure with Stefani Nicole (@stefaninicole) dressed as Sabrina Spellman Morningstar in her Baxter High cheerleading outfit. Truly a chilling holiday season!
Photo Credit: www.instagram.com
Well, I can't leave it at one Disney princess, that wouldn't be proper. We all love a curvy beauty, so we're loving Erika Aguilera (@erikaaguileraa) as a sexy Belle from Beauty and The Beast!
Photo Credit: www.instagram.com
Truly free in the Scottish country side, Kendall Rayburn (@kendallrayburn) is the iconic rebel princess Merida in all her red curled glory. It's never Halloween without a Disney princess.
Photo Credit: www.instagram.com
As If! Is it really Halloween without a Clueless inspired costume? @dejmorrison is giving us Clueless flashboacks and we are here for it…
Photo Credit: www.instagram.com
Though controversial we all love a good sleeping beauty reference and Heather Traska (@heathertraska) is serving us big princess vibes as Princess Aurora with Belle, @tashapolis.
Photo Credit: www.instagram.com
Halloween without a witch is like Christmas without Santa, so you know we just had to add our favorite witch of the season Kayla (@lifeincurve).
Photo Credit: www.instagram.com
One of Disney's biggest hits, Hua Mulan is one of our favorite warrior princess and Marie Tran (@magicandmarie) is doing justice to our warrior.
Photo Credit: www.instagram.com
We love an independent Disney princess this is giving us all that and more. Alysse Santiago (@readytostare) is Megara from Hercules and we're loving it.
Photo Credit: www.instagram.com
Bonnie Barton (@flashesofstyle) Is opening up a whole new world of feelings for us in this Princess Jasmine inspired costume that has us tripping over our magic carpets this season.
Photo Credit: www.instagram.com
This wasn't one of them, we're loving Brianna McDonnell (@the_b_word) as one of our favorite villains Ursula but with a 1920s twist.
Photo Credit: www.instagram.com
How far will she go?, cause she's already killing it. Zoie (@curvesbyzo_) Is Moana of Montunui and we're happily going to board her boat.
Photo Credit: www.instagram.com
We can't let it go or get enough of Hunter and Michaela McGrady as Elsa and Anna. The duo rocking the Disney sisters has left us frozen.
There were so many looks to choose from. These plus size influencers are serving us all of the Halloween inspiration.
From bloggers & influencers to cosplay heroes to illustrations, we have rounded up quite a few sources for inspiration this Halloween. And just so you know, even plus size women can turn into a Disney characters or Marvel superheroes, the choice is clearly yours!
What did you think of this list of creative plus size women serving us inspiration for days in the spookiest season of the year? Did you find a new fave? Will you dress up this Halloween? If you are, make sure you check out our places to shop for a plus size costume!
Omotoso Oluwatobi is a Lifestyle, Fashion Writer, Content Creator, Plus Size Enthusiast and Tree hugger. She's on all social media platforms as @curvyoverload