Remember when the Xbox Series X and S launched with a Yakuza game, but the PS5 didn't? That was weird, right? For such a long time the Yakuza franchise had been closely tied to PlayStation. But, at least for a few months, the then-latest game in the series skipped Sony's next-gen machine for Xbox's fancy console. Why? The answer just came to light today, and it's both complicated and silly.
Thank You, PS Plus, For Making My Backlog Even Bigger
Back in November 2020, the Xbox Series X/S and PlayStation 5 launched with a handful of exclusives and a lot of ports. (It was mostly ports…) One of the oddest next-gen exclusives at the time was Yakuza: Like a Dragon, which was available at launch on PS4, Xbox One, and Xbox Series X/S. A few months later, this odd new entry in the popular Yakuza series finally landed on PS5. At the time, folks online assumed Microsoft had cut a deal with Sega to keep the game off the next-gen PlayStation. Others suggested the PS5 version had technical issues that forced it to be delayed. The real reason? Sega signed a few too many deals with too many companies.
As revealed in September 19's massive Xbox leak, which included a load of emails and private documents from inside Microsoft, it seems Xbox boss Phil Spencer was just as surprised as gamers when he realized there wasn't going to be a PS5 port of Like a Dragon.
In leaked emails from June 2020, Spencer is seen sharing this IGN tweet and asking if the game was "next-gen exclusive." Another exec responds by telling Spencer that it isn't, and that it will be available on PS4 as well as Xbox One and Xbox Series X/S. Spencer then replies how it's "funny" that Sega doesn't even list the PS5 on its website.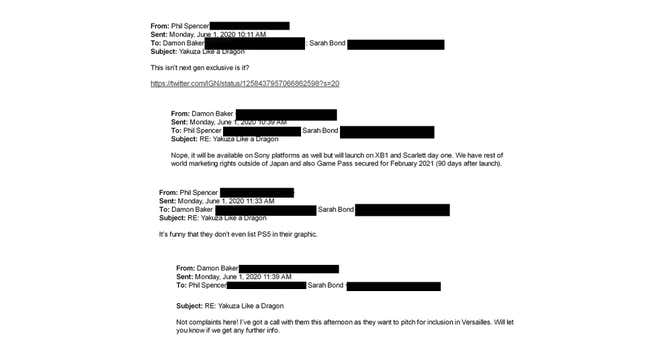 How two separate deals delayed the PS5 port
After some further chatter about possibly doing a Sega-themed Xbox in Japan, Damon Baker—then in charge of global gaming partnerships and development—laid out why Microsoft was going to have an exclusive next-gen port of Yakuza: Like a Dragon.
According to him, Sony had a 12-month exclusivity deal with Sega for the PlayStation release of the game in Japan and Asia.
This meant Microsoft couldn't release an Xbox version of the game in Japan until that deal ended.
However, Microsoft also had a contract with Sega that included a parity clause that prevented Sony from releasing a next-gen SKU of Like a Dragon in Japan until Xbox did, too.
And because Xbox couldn't release any version of the game in Japan until the PlayStation deal was done, Sony was unable to release a PS5 port in the region.
In that same email, Baker shared the news that Sega had no plans to launch a PS5 version in the United States, adding: "Sounds like we now have a timed exclusivity for next-gen."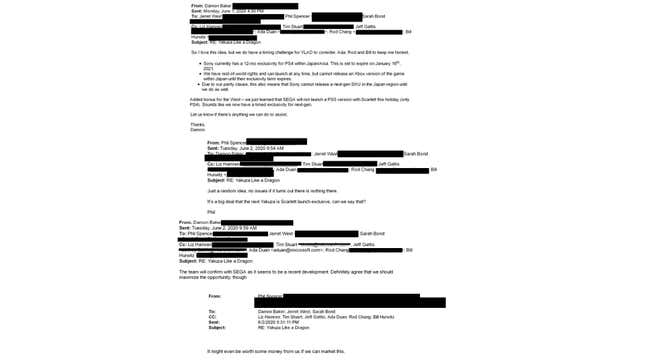 At this point, after pointing out that Microsoft had the rights to market the game outside of Japan, Spencer wondered if Xbox could advertise that the next Yakuza game was a next-gen exclusive on Series X/S, adding that it's a "big deal" and later saying that it "might even be worth some money from us" if they can push that news in future marketing. Which happened, with Microsoft posting blogs talking about how the game would utilize the "next-gen" power of the Series X/S and hyping up the game's release on its consoles.
In February 2021, about three months later, the Sony exclusivity deal in Japan expired, and Yakuza: Like a Dragon finally launched on Xbox One and Xbox Series X/S in Japan. The next month, it launched on PS5 in Japan and everywhere else, ending one of the weirdest bits of corporate contractual silliness I've seen in a long, long time.
.