By Lambert Strether of Corrente.
Bird Song of the Day
Madagascar Lark, Ifaty – Salt Flats By Hotel, Madagascar. "Marine, Mudflat, Pond." I think the birders downrate for background noise, but I like it.
* * *
Politics
"So many of the social reactions that strike us as psychological are in fact a rational management of symbolic capital." –Pierre Bourdieu, Classification Struggles
Capitol Seizure
"Oath Keepers Founder Stewart Rhodes Sentenced to 18 Years for Seditious Conspiracy" [Wall Street Journal]. "A federal judge sentenced Oath Keepers founder Stewart Rhodes to 18 years in prison for plotting to forcefully prevent the peaceful transfer of presidential power, capping the seditious-conspiracy case against the far-right group's leader with the stiffest punishment to date stemming from the Jan. 6, 2021, attack on the Capitol…. Before issuing the sentence, [Judge] Mehta sided with the Justice Department's request to apply an enhanced terrorism penalty for Rhodes, saying the Oath Keepers leader had committed an offense against an 'institution of American democracy at its most important moment—the transfer of power.'" • That's the most important moment?! Seems like a harsh penalty for an FBI snitch, no?
Biden Administration
"Where the debt talks stand six days before default deadline" [Politico]. "Republican negotiators entered Speaker Kevin McCarthy's office on Friday with no meetings with the White House currently on the books, though they say they are in "constant" communication. And while they keep indicating the ball is moving forward, they're not signaling that Friday will be the magic day they can clinch an agreement with the White House — with a potential default just six days away. Asked Friday morning if he thought they could close out talks by the end of the day, Rep. Patrick McHenry (R-N.C.), one of the GOP negotiators, threw up his arms in a shrug. 'Here we are night after night after night. And the pressure is more. And the consequences are greater. We recognize that. We know this and the White House surely recognizes this,' he said. There have been indications that House Republicans and the White House are making real progress. The two sides have all but finalized the spending portion of discussions, a source familiar with the talks told POLITICO late Thursday night." • The "spending portion" meaning cuts. In particular:

Absolutely insane — seems like Project Next Gen might be on the chopping block as part of the ongoing negotiations on spending cuts. Project Next Gen is our single best chance at successfully supporting development of pan-coronavirus & nasal vaccines https://t.co/YvL2IyrYtY pic.twitter.com/1dXfqF39Bl

— Juan Cambeiro (@juan_cambeiro) May 23, 2023

Well, I guess that means everybody knows nasal vaccines are sterilizing. And since that would destroy Big Pharma's business model for Covid, and take away the revenues that intramuscular injection generates for ginormous hospital monopolies… Well, every cloud has a silver lining, doesn't it?
2024
I guess it's time for the Countdown Clock!

* * *

No reason Trump's polling lead is permanent:

…to basically hit the reset button and start fresh. I'm reminded a bit of the Dem race in '07, when an initial wave of excitement had Obama w/in 10 points of Clinton only for him to fall behind by nearly 30 by the end of the summer — then to turn it around. pic.twitter.com/NAdaGaNgj5

— Steve Kornacki (@SteveKornacki) May 24, 2023

"House Dems in No Labels-allied caucus are livid with No Labels" [Politico]. "A group of House Democrats with ties to No Labels is turning on the centrist group after it attacked one of their founding members. On Tuesday, No Labels texted people who live in the district of Rep. Brad Schneider (D-Ill.), criticizing the congressman for scoffing at their idea for a unity presidential ticket and claiming it could result in Donald Trump's return to the presidency…. The missive did not go over well with Schneider, who is a member of the Problem Solvers Caucus that No Labels helped start on the Hill. 'No Labels' attacks are the kind of division the country needs less of right now, and it's a betrayal of every moderate and every problem solver in Congress,' Schneider said in a statement to POLITICO. 'I helped form the Problem Solvers Caucus six years ago to reach across the aisle and find common ground, not to abandon my principles. I am as committed today as I've always been to the principles that reflect the values and priorities of my district, and to reaching across the aisle for the good of our country.' Schneider was quickly joined by other members of the Problem Solvers Caucus in chastising No Labels for attacking one of their own and pushing a unity ticket." • Lol. With a nice guy like Joe Lieberman involved, how did this ever happen?
Democrats en Déshabillé
Patient readers, it seems that people are actually reading the back-dated post! But I have not updated it, and there are many updates. So I will have to do that. –lambert

I have moved my standing remarks on the Democrat Party ("the Democrat Party is a rotting corpse that can't bury itself") to a separate, back-dated post, to which I will periodically add material, summarizing the addition here in a "live" Water Cooler. (Hopefully, some Bourdieu.) It turns out that defining the Democrat Party is, in fact, a hard problem. I do think the paragraph that follows is on point all the way back to 2016, if not before:

The Democrat Party is the political expression of the class power of PMC, their base (lucidly explained by Thomas Frank in Listen, Liberal!). ; if the Democrat Party did not exist, the PMC would have to invent it. . ("PMC" modulo "class expatriates," of course.) Second, all the working parts of the Party reinforce each other. Leave aside characterizing the relationships between elements of the Party (ka-ching, but not entirely) those elements comprise a network — a Flex Net? An iron octagon? — of funders, vendors, apparatchiks, electeds, NGOs, and miscellaneous mercenaries, with assets in the press and the intelligence community.

Note, of course, that the class power of the PMC both expresses and is limited by other classes; oligarchs and American gentry (see 'industrial model' of Ferguson, Jorgensen, and Jie) and the working class spring to mind. Suck up, kick down.

* * *
#COVID19
"I am in earnest — I will not equivocate — I will not excuse — I will not retreat a single inch — AND I WILL BE HEARD." –William Lloyd Garrison
Resources, United States (National): Transmission (CDC); Wastewater (CDC, Biobot; includes many counties); Variants (CDC; Walgreens); "Iowa COVID-19 Tracker" (in IA, but national data).
Lambert here: Readers, thanks for the collective effort. We are now up to 50/50 states (100%). This is really great! (It occurs to me that there are uses to which this data might be put, beyond helping people with "personal risk assessments" appropriate to their state. For example, thinking pessimistically, we might maintain the list and see which states go dark and when. We might also tabulate the properties of each site and look for differences and commonalities, for example the use of GIS (an exercise in Federalism). I do not that CA remains a little sketchy; it feels a little odd that there's no statewide site, but I've never been able to find one. Also, my working assumption was that each state would have one site. That's turned out not to be true; see e.g. ID. Trivially, it means I need to punctuate this list properly. Less trivially, there may be more local sites that should be added. NY city in NY state springs to mind, but I'm sure there are others. FL also springs to mind as a special case, because DeSantis will most probably be a Presidental candidate, and IIRC there was some foofra about their state dashboard. Thanks again!
Resources, United States (Local): AK (dashboard); AL (dashboard); AR (dashboard); AZ (dashboard); CA (dashboard; Marin); CO (dashboard; wastewater); CT (dashboard); DE (dashboard); FL (wastewater); GA (wastewater); HI (dashboard); IA (wastewater reports); ID (dashboard, Boise; dashboard, wastewater, Central Idaho; wastewater, Coeur d'Alene; dashboard, Spokane County); IL (wastewater); IN (dashboard); KS (dashboard; wastewater, Lawrence); KY (dashboard, Louisville); LA (dashboard); MA (wastewater); MD (dashboard); ME (dashboard); MI (wastewater; wastewater); MN (dashboard); MO (wastewater); MS (dashboard); MT (dashboard); NC (dashboard); ND (dashboard; wastewater); NE (dashboard); NH (wastewater); NJ (dashboard); NM (dashboard); NV (dashboard; wastewater, Southern NV); NY (dashboard); OH (dashboard); OK (dashboard); OR (dashboard); PA (dashboard); RI (dashboard); SC (dashboard); SD (dashboard); TN (dashboard); TX (dashboard); UT (wastewater); VA (dashboard); VT (dashboard); WA (dashboard; dashboard); WI (wastewater); WV (wastewater); WY (wastewater).
Resources, Canada (National): Wastewater (Government of Canada).
Resources, Canada (Provincial): ON (wastewater); QC (les eaux usées); BC, Vancouver (wastewater).
Hat tips to helpful readers: Art_DogCT, B24S, CanCyn, ChiGal, Chuck L, Festoonic, FM, FreeMarketApologist (4), Gumbo, hop2it, JB, JEHR, JF, JL Joe, John, JM (9), JustAnotherVolunteer, JW, KatieBird, LL, Michael King, KF, LaRuse, mrsyk, MT, MT_Wild, otisyves, Petal (5), RK (2), RL, RM, Rod, square coats (11), tennesseewaltzer, Utah, Bob White (3).
Stay safe out there!
* * *
Look for the Helpers
They call me Mr. Optimism, but I honestly feel the tide is beginning to shift, simply because the official propaganda is so at odds with, as we say, "lived experience":

She says, "Oh, that's amazing because I have asthma and the smoke last week was really hard for me!" I agreed that it was terrible for my breathing and that wearing a good filtering and fitting mask really helped me. 2/5

— Amanda Hu (@amandalhu) May 25, 2023

M
Maskstravaganza
I'm so old I remember when masking was going to be a "respected choice." That went the way of protecting the most vulnerable, didn't it??

I recently heard Christine Cooper @coopSpeak, relay an interesting theory; most of us think of ourselves as "good people". The dissonance happens when our visible message (😷) contradicts their understanding of themselves as good.
Also a reason they can't imagine spreading 🦠.

— Teresa Maritano-Aquino (@TMaritanoAquino) May 26, 2023

Helpful advice:

When you go to the hospital, stop politely asking "ummm can you maybe put on a mask?"
No you say.
"I REQUIRE ADA REASONABLE ACCOMMODATIONS. ANYONE WORKING WITH ME OR IN CLOSE PROXIMITY; MUST MASK."
Hospitals and clinics don't want lawsuits when ADA rights/laws are violated.

— Enchantrexx (@Enchantomancy) May 25, 2023

Masking seems lower than it is:

This is why you're only seeing minimizers platformed on TV. https://t.co/07IlMB7sep

— Anna Pakman (@Annatated) May 26, 2023

Similarly, the Covid-conscious are less likely to be seen in public spaces. That doesn't mean they don't exist!
Sequelae
"Development of a Definition of Postacute Sequelae of SARS-CoV-2 Infection" [JAMA]. This is an enormous study from the NIH RECOVER Consortium of "Long Covid," or "PASC" (postacute sequelae of SARS-CoV-2 infection) as the authors insist on calling it. N = 9764. From the Abstract:

A definition of PASC was developed based on symptoms in a prospective cohort study. As a first step to providing a framework for other investigations, iterative refinement that further incorporates other clinical features is needed to support actionable definitions of PASC.

Patients with Long Covid are identified using a weighted checklist of symptoms:

(Note the typo: I don't like typos, especially in critical tables, because they're a sign the content wasn't read carefully by the journal.)

Evaluating the paper is above my paygrade; perhaps qualified readers will give the paper a look. I do notice immune dysregulation doesn't make the checklist. Here is a thread that summarizes the high points:

Second, a huge datapoint:

Reinfections had significantly higher levels of #LongCovid.

Even in those who had Omicron (or later) as their first infection, 9.7% with those infected once, but 20% (!!) of those who were reinfected had Long Covid AT 6 MONTHS AFTER INFECTION.

3/

— Hannah Davis (@ahandvanish) May 25, 2023

However, reaction in the Twittersphere — as with aerosol transmission and masking, Twitter has become essential for Long Covid activism — was not uniformly positive. For example, the weighting algorithm ("least absolute shrinkage and selection operator"):

An understandable approach from scientists trained to zero in on the most clearly provable effects. But given the enormous breadth of COVID sequelae, this approach deemphasizes a ton of enormously impactful symptoms. We need solid measures of underlying organ damage.

— Clean Air Kits – Next-Gen Corsi-Rosenthal Boxes (@cleanairkits) May 26, 2023

Besides missing immune dysregulation, the algorithm also missed vascular effects:

This @NIH #LongCovid study is about as intellectually serious as a middle schooler's science project. Points for symptoms? No mention of immune dysfunction, viral persistence, strokes, heart attacks, PEs, myocardial infarctions, endothelial or brain damage?
Ht @D_Bone @DonEford https://t.co/tE7lypKCk2 pic.twitter.com/Zx5Hx2yMc0

— Joe Black 2.0 (@JoePhilosophe) May 26, 2023

And then there's the reductionism that will come from a checklist:

Yes, upset. The mainstream media is reporting this out that THESE ARE the 12 symptoms. This was an irresponsible output at the @NIH RECOVER at best. This is damaging, exclusionary & is only going to lead to more people have trouble getting treatment. https://t.co/wURTH0MqtL

— Sam Norpel (@NorpelSam) May 26, 2023

And then there's NYU:

It's striking that NYU is also the lead medical center on the RECOVER #LongCOVID initiative.

— Myra #KeepMasksInHealthCare (@myrabatchelder) May 26, 2023
Elite Maleficence
"The government giving up on COVID protections means throwing immunocompromised people to the wolves" [Salon]. "The doctrine of the medical model is so ingrained in our culture that it shapes the way Americans understand the concept of health. The medical model focuses on preventing and treating individual conditions in individual bodies, rather than correcting systemic factors that affect people at the community level. It's a reductive approach that ignores the social determinants and forms of discrimination that shape health outcomes. It's concerned with correcting deviations from a normal defined by the absence of disease and disability. Individualism — even when it's billed as morality — cannot protect people from an airborne, ever-mutating virus. This normal is not neutral. According to the medical model and the moral model it evolved from, people who are sick or disabled are abnormal and "bad", lacking both good health and, presumably, good morals. The medical model is the blueprint for a US healthcare system that profits from the fear of this abnormal. Our for-profit system offers band-aid solutions for individual body parts rather than care for the complex, interdependent relationship between the sick and disabled body and mind. American healthcare is the least effective for those with the greatest needs, and that's not just an unfortunate side effect of the system– it is the system." • More stochastic eugenics.
The Jackpot
Word of the Day: "Decompensating":

Same thing psychosocially, my angle and interest. The speed at which societies are decompensating, in the sense of mobilizing increasingly regressed collective defenses, is astounding. What you are pointing out and what I am pointing out are intertwined. https://t.co/2NRnoYR6sp

— Bruno Boccara @SocioAnalytic@mastodon.world (@SocioAnalytic) May 26, 2023

Boccara's book — Psychosocial Analysis of the Pandemic and of Its Aftermath: Hoping for a Magical Undoing — looks really good; one more goddamned book to read (though I'm leery of anything that smacks of idealism (i.e. not materialism)).
* * *
Lambert here: I'm getting the feeling that the "Something Awful" might be a sawtooth pattern — variant after variant — that averages out to a permanently high plateau. Lots of exceptionally nasty sequelae, most likely deriving from immune dysregulation (says this layperson).
Case Data
From BioBot wastewater data from May 25: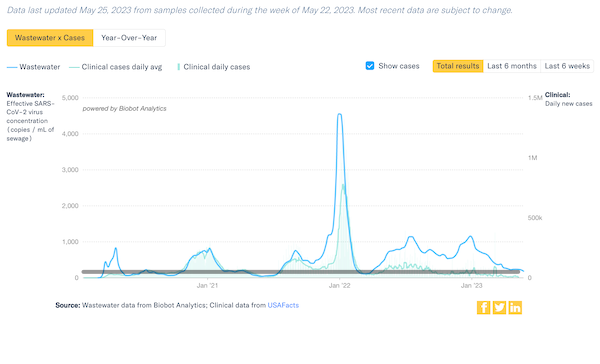 Lambert here: Unless the United States is completely, er, exceptional, we should be seeing an increase here soon. UPDATE Still on the high plateau. Are we are the point in the global pandemic where national experiences really diverge?
For now, I'm going to use this national wastewater data as the best proxy for case data (ignoring the clinical case data portion of this chart, which in my view "goes bad" after March 2022, for reasons as yet unexplained). At least we can spot trends, and compare current levels to equivalent past levels.
• "Covid numbers increase across Australia in alarming sign before winter" [News.com]. "Over the past seven days, 41,188 cases have been detected – a 7.7 per cent increase on the week prior – with 14,409 cases in NSW alone…. Experts continue to warn that the best defence against respiratory illnesses is vaccination." • Sigh…
Variants
From CDC, May 27, 2023: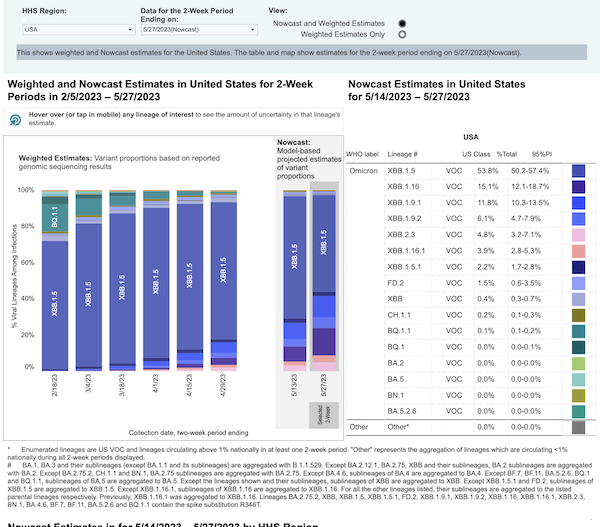 Lambert here: XBB.1.16 and XBB.1.9.1 still on the way up, eating into XBB.1.5. I sure hope the volunteers doing Pangolin, on which this chart depends, don't all move on the green fields and pastures new (or have their access to facilities cut by administrators of ill intent).
CDC: "As of May 11, genomic surveillance data will be reported biweekly, based on the availability of positive test specimens." "Biweeekly: 1. occurring every two weeks. 2. occurring twice a week; semiweekly." Looks like CDC has chosen sense #1. In essence, they're telling us variants are nothing to worry about. Time will tell. Looks like the Walgreens variants page isn't updating.
Covid Emergency Room Visits
NOT UPDATED From CDC NCIRD Surveillance, from May 20: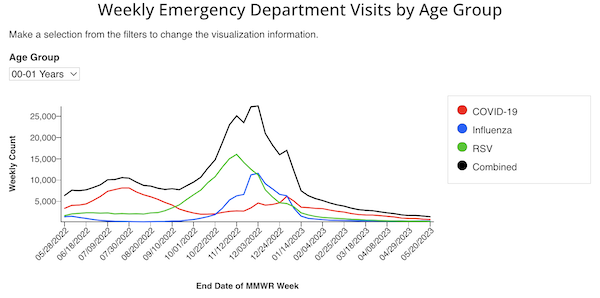 NOTE "Charts and data provided by CDC, updates Wednesday by 8am. For the past year, using a rolling 52-week period." So not the entire pandemic, FFS (the implicit message here being that Covid is "just like the flu," which is why the seasonal "rolling 52-week period" is appropriate for bothMR SUBLIMINAL I hate these people so much. Notice also that this chart shows, at least for its time period, that Covid is not seasonal, even though CDC is trying to get us to believe that it is, presumably so they can piggyback on the existing institutional apparatus for injections.
Positivity
NOT UPDATED From Walgreens, May 22: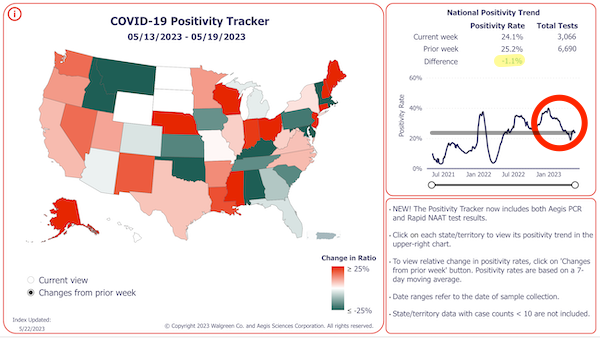 -1.1%. Frequency down to once a week? UPDATE Apparently so!
Deaths
Death rate (Our World in Data), from May 24: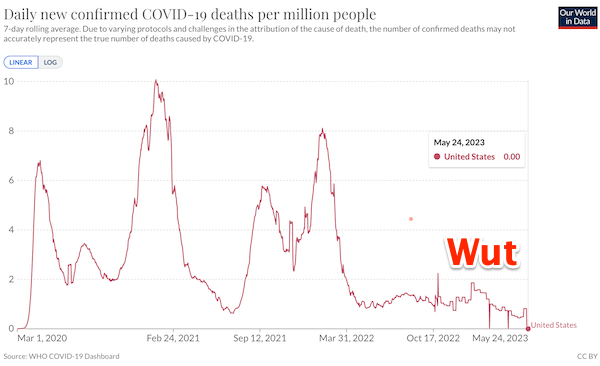 Lambert here: Zero deaths, for three days in a row. Not possible. Thanks, Johns Hopkins of the $9.32 billion endowment, for abandoning this data feed and passing responsibility on to the clown car at WHO.
Total: 1,164,934 – 1,164,718 = 216 (216 * 365 = 78,840 deaths per year, today's YouGenicist™ number for "living with" Covid (quite a bit higher than the minimizers would like, though they can talk themselves into anything. If the YouGenicist™ metric keeps chugging along like this, I may just have to decide this is what the powers-that-be consider "mission accomplished" for this particular tranche of death and disease).
Excess Deaths
NOT UPDATED Excess deaths (The Economist), published May 21: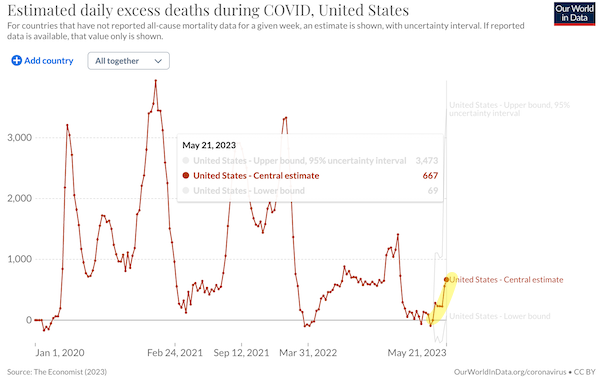 Lambert here: Based on a machine-learning model. (The CDC has an excess estimate too, but since it ran forever with a massive typo in the Legend, I figured nobody was really looking at it, so I got rid it. )
Stats Watch
Manufacturing: "United States Durable Goods Orders" [Trading Economics]. "New orders for US manufactured durable goods rose by 1.1 percent from a month earlier in April 2023, following an upwardly revised 3.3 percent growth in March and easily beating market expectations of a 1.0 percent decline."
Personal Spending: "United States Personal Spending" [Trading Economics]. "Personal spending in the United States jumped 0.8% mom in April of 2023, the most in three months, and well above market forecasts of a 0.4% gain, in a sign consumer spending remains robust, supported by higher wages and a tight labour market."
Personal Income: "United States Personal Income" [Trading Economics]. "Personal income in the United States rose by 0.4% mom in April of 2023, compared to a 0.3% rise in March and matching market forecasts. It is the highest gain in three months, primarily reflecting increases in compensation, namely private wages and salaries and personal income receipts on assets, both personal interest income and personal dividend income."
* * *
The Bezzle: "Whistleblower Drops 100 Gigabytes Of Tesla Secrets To German News Site: Report" [Jalopnik]. "The publication Handelsblatt got its hands on the data through an unnamed informant. Handelsblatt confirmed the data's authenticity with Fraunhofer Institute for Secure Information Technology, which found no evidence of doctoring or fabrication in the files. Tesla attempted to stop the publication from using this data in its reporting and even threatened legal action against Handelsblatt. The publication, however, decided this was one of the extraordinary circumstances when reporting on such a data breach would be legal under European Union law." From Handelsblatt: "The Tesla files contain more than 2,400 self-acceleration complaints and more than 1,500 braking function problems, including 139 cases of unintentional emergency braking and 383 reported phantom stops resulting from false collision warnings. The number of crashes is more than 1000. A table of incidents involving driver assistance systems where customers have expressed safety concerns has more than 3000 entries." Jalopnik: "Throughout the report, there is a refrain familiar to anyone who covers Tesla: 'Tesla did not answer questions about the allegations from customers.' ."
* * *
Today's Fear & Greed Index: 67 Greed (previous close: 62 Greed) [CNN]. One week ago: 68 (Greed). (0 is Extreme Fear; 100 is Extreme Greed). Last updated May 26 at 1:15 PM ET.
The Conservatory
"Tina Turner Did Nothing Nice And Easy" [The Defector]. "Violence was all over Tina's developmental years, from the violence she witnessed between her parents, to her abandonment by both of them over time, to her life with Ike. It was only a newfound Buddhist faith in the 1970s that gave her the power to eventually stand up to Ike and leave him after years of terror and multiple suicide attempts. Her comeback in the '80s was seen as one of the great triumphs of talent and fortitude—that she was able to become a bigger star in her 40s than she'd ever been before, after all that she'd been through. But it didn't erase any of the trauma she endured, and it certainly didn't make it any easier to constantly revisit that pain. When our most famous and successful don't act grateful for everything it tends to engender resentment. The success narratives built around artists like Michael and Janet Jackson or Whitney Houston almost ascribe their talent to the abuses they suffered, as though the ends justify the means, or that the two are even correlated. But life is messy and ugly and unfair, and money and fame don't magically erase it or make it easier. In the Tina documentary, she's unabashedly open about how it felt to be abandoned by both of her parents, how afraid of Ike she was and how violent he had been, how much of her life she spent never being loved or truly cared for by anyone, and how badly it all made her feel. It's not that people are monsters on purpose, it's just that we are desperate for role models and reasons to believe in happiness. We are desperate for real-life fairy tales. Tina's story probably helped scores of women leave their abusive partners. She did represent a light at the end of many dark tunnels. But she also couldn't pretend that the scars don't linger, that the nightmares don't persist. It was part of what made her so bold and so authentic." • I had no idea Turner was a Buddhist.
(Lyrics.)
Healthcare
"Causal evidence that herpes zoster vaccination prevents a proportion of dementia cases" [medRxiv]. From a very interesting natural experiment in Wales. Results: "We then show that receiving the herpes zoster vaccine reduced the probability of a new dementia diagnosis over a follow-up period of seven years by 3.5 percentage points (95% CI: 0.6 – 7.1, p=0.019), corresponding to a 19.9% relative reduction in the occurrence of dementia. Besides preventing shingles and dementia, the herpes zoster vaccine had no effects on any other common causes of morbidity and mortality. In exploratory analyses, we find that the protective effects from the vaccine for dementia are far stronger among women than men. Randomized trials are needed to determine the optimal population groups and time interval for administration of the herpes zoster vaccine to prevent or delay dementia, as well as to quantify the magnitude of the causal effect when more precise measures of cognition are used. Our findings strongly suggest an important role of the varicella zoster virus in the etiology of dementia."
"Hundreds of Thousands Have Lost Medicaid Coverage Since Pandemic Protections Expired" [New York Times]. "As states begin to drop people from their Medicaid programs, early data shows that many recipients are losing their coverage for procedural reasons." • Procedural reasons = Complex eligibility requirements and the PMC performing their gatekeeping role. Everything's going according to plan!
Class Warfare
"Immigrant workforce reaches a new high" [Axios]. "The share of foreign-born workers in the U.S. labor force reached a record high last year, per new data from the Labor Department. With more Americans aging out of the workforce than entering into it — and at a time of labor shortages — immigrants are playing an increasingly crucial role in the labor market. The share of foreign-born people in the workforce has been steadily rising for decades, but dipped during the pandemic — making last year's uptick look a bit more striking than it is, said Abraham Mosisa, a senior economist at the Bureau of Labor Statistics. Still, this is a trend that isn't going anywhere. The U.S. labor force participation rate of native born men has been consistently decreasing, he pointed out. And the rate for women has stagnated. The number of foreign-born workers in the U.S. increased to 29.8 million in 2022, from 27.9 million the previous year — a jump of about 6%." • That's a lot.
"How We Reached Workers While Reporting on Dairy Farm Conditions" [ProPublica]. "[Pro Publica] also developed relationships with hosts at several of the Spanish-language radio stations across the state. They knew that dairy farm workers have long hours and few days off. The radio shows serve as a public square. Workers get their news from the stations and call the hosts when they have been injured, gotten fired or had their wages withheld. Months before the story on Jefferson, the boy who died, was published, Sanchez appeared on one DJ's show and spoke for nearly an hour in Spanish about the reporting she and Jameel were hoping to do. The team also identified businesses in these rural communities that serve Spanish-speaking customers — the spots where immigrants wire money to their families, buy groceries or do their laundry. They visited more than 60 businesses across the state and hung up flyers seeking sources." • Odd that political parties can't do this….
News of the Wired
"That people produce HTML with string templates is telling us something" [Chris Siebenmann]. "One of my fundamental rules of system design is when people keep doing it wrong, the people are right and your system or idea is wrong. A corollary to this is that when you notice this happening, a productive reaction is to start asking questions about why people do it the 'wrong' way." • I can accept the corallary, but I don't know about the proposition. What about the (so-called) Semmelweis reflex?
* * *
Contact information for plants: Readers, feel free to contact me at lambert [UNDERSCORE] strether [DOT] corrente [AT] yahoo [DOT] com, to (a) find out how to send me a check if you are allergic to PayPal and (b) to find out how to send me images of plants. Vegetables are fine! Fungi and coral are deemed to be honorary plants! If you want your handle to appear as a credit, please place it at the start of your mail in parentheses: (thus). Otherwise, I will anonymize by using your initials. See the previous Water Cooler (with plant) here. From SR: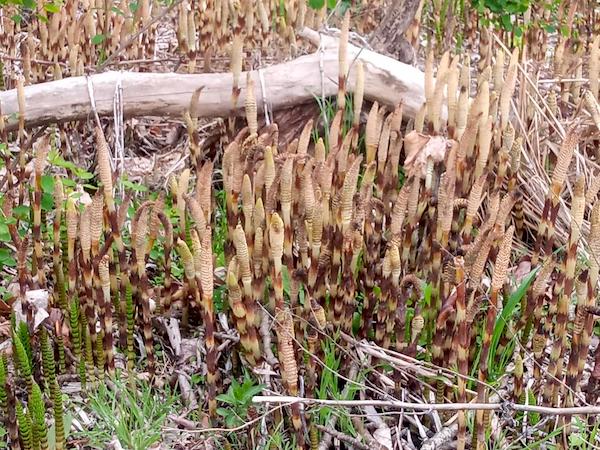 SR writes: "Unknown stripey wetland dwellers. No idea what they are. But the striation is marvelous."
* * *
Readers: Water Cooler is a standalone entity not covered by the annual NC fundraiser. So if you see a link you especially like, or an item you wouldn't see anywhere else, please do not hesitate to express your appreciation in tangible form. Remember, a tip jar is for tipping! Regular positive feedback both makes me feel good and lets me know I'm on the right track with coverage. When I get no donations for five or ten days I get worried. More tangibly, a constant trickle of donations helps me with expenses, and I factor in that trickle when setting fundraising goals:
Here is the screen that will appear, which I have helpfully annotated: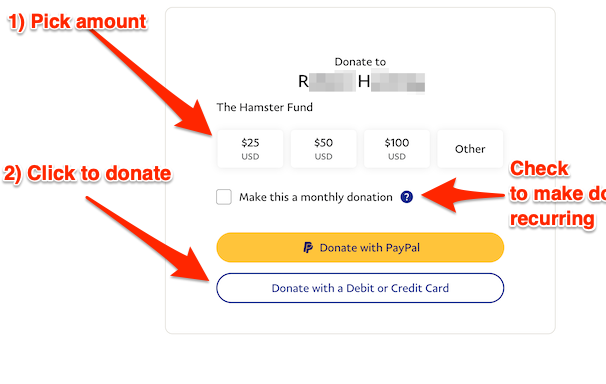 If you hate PayPal, you can email me at lambert [UNDERSCORE] strether [DOT] corrente [AT] yahoo [DOT] com, and I will give you directions on how to send a check. Thank you!