By Lambert Strether of Corrente.
Bird Song of the Day
Monotonous Lark, Omaruru; at railroad crossing just before Paula's Cave, Namibia. "Species Sound: Constant… These birds sing day and night for 6 weeks when the rains come. In flat arid area calling from song perch on top of small tree." Lots going on!
* * *
Politics
"So many of the social reactions that strike us as psychological are in fact a rational management of symbolic capital." –Pierre Bourdieu, Classification Struggles
Capitol Seizure
"Arkansas man sentenced to 4.5 years in prison for role in US Capitol riot" [Anadolu Agency]. • This is the dude who put his feet up on Pelosi's desk. I do think giving him a medal would have been a bridge too far. Maybe he can run for the Senate or something from jail?
Biden Administration
"Lawmakers are leaving Washington without a debt limit deal as risk of default grows" [CNN]. "A debt limit deal is still not yet close at hand for House Republicans and the White House as lawmakers leave the nation's capital and the risk of a first-ever default grows. With no bill to vote on, House lawmakers are leaving for the Memorial Day weekend, though they will be given 24 hours' notice to return if and when a deal is reached."
2024
I guess it's time for the Countdown Clock!

* * *

"Elon Musk's Twitter Event With Ron DeSantis Hits Technical Issues" [Wall Street Journal]. "Twitter suffered technical problems at a high-profile moment Wednesday, during an event where owner Elon Musk planned to host Republican Ron DeSantis's presidential campaign announcement on the platform. The announcement was scheduled to take place using Twitter Spaces, a live audio feature. But the event quickly faltered, with many users saying the technology wasn't working for them and that the audio was going in and out. After several minutes, with more than 600,000 viewers tuned in according to the platform, the event was transferred to the Twitter account of David Sacks, a technology investor and associate of Musk's… Once the online conversation got under way, the discussion with DeSantis lasted about an hour. The platform showed roughly 300,000 listeners tuning in near the close of the event." • I don't think that's such a bad number. Readers, did any of you attend?

"Florida Man runs for president" [Politico]. "Florida Gov. Ron DeSantis filed his paperwork to run for president today and kicked off his campaign tonight on Twitter's audio platform, Twitter Spaces (after some technical difficulties), alongside owner Elon Musk. It's a sign his 2024 campaign will be waged as much online as in the town halls of Iowa or on cable TV. But the odds are stacked against him. No Florida politician has ever been elected president. A half-dozen have run in the last 50 years — essentially the period in which the state evolved from political backwater to electoral powerhouse — but all have ended up in the same place, dead in the water long before the nominating convention. Most never even made it past New Hampshire's first-in-the-nation primary. The curse of Florida Man — and to date, every Florida presidential candidate has been male — lingers despite the fact that the state is an ideal proving ground for a White House bid. Winning statewide office requires campaigning in two time zones, 10 TV markets, and across 66,000 square miles. It is home to more than 22 million people — many of them arrivals from other states, which gives Florida politicians exposure to a wide range of political customs and styles. It's a curious predicament for the nation's third-largest state. Florida does have some White House connections, of course. Presidents have retired there. They've owned vacation homes there. Trump himself moved there midway through his first term as president, changing his official residence from Manhattan to Palm Beach. But in the nearly 180 years since Florida was admitted to the Union, it has neither produced a president nor had one born within its borders. (No, Andrew Jackson's pre-statehood stint doesn't count.) It is the lone state among the nation's 10 most populous that has never sent anyone to the White House.

"US elections 2024: Who is the Republican contender Ron DeSantis?" [Al Jazeera]. "DeSantis successfully translated his right-wing rhetoric into policy, analysts said. 'Whenever you're different, whenever you break with your party, you're out there on your own. And if there are no drastic consequences, then it can make you look like you're ahead of the curve,' said David Ramsey, who teaches constitutional law and political philosophy at the University of West Florida. He added that the governor helped rebuild the Republican Party in Florida, a traditional swing state that is now increasingly looking like a conservative stronghold. 'He's put a lot of points on the board for his party,' Ramsey told Al Jazeera."

"Trump-DeSantis rivalry heats up after Florida governor's campaign launch" [Axios]. "[T]he new Trump campaign video ad features an image of DeSantis seated next to President Biden as commentary plays about 'Washington-established politicians' and says 'Why would we ever settle for Trump imposters?' It also features a clip of DeSantis from his 2018 ad reading aloud the Trump campaign sign 'Make America Great Again' to a child." • Ouch! I remember that the late, great New York Spy magazine had one "Angela Crackstaff" on the masthead. Perhaps she's joined the Trump campaign? It would be a welcome change. Or maybe not–

"Trump's bizarre reaction to DeSantis' announcement sparks confusion online" [FOX]. "Former President Donald Trump took to Truth Social on Wednesday to blast Republican Florida Gov. Ron DeSantis in a bizarre post that immediately sparked confusion. "'Rob,' My Red Button is bigger, better, stronger, and is working (TRUTH!), yours does not! (per my conversation with Kim Jung Un, of North Korea, soon to become my friend!),' Trump said in the post. The comment came after DeSantis formally announced his presidential campaign on the Twitter 'Spaces' platform." • What.

"Trump's Grip on the GOP Tightens as the Field Widens" [Bloomberg]. "Republican voters just aren't ready to quit Donald Trump, even if the party's donors and political strategists would prefer almost any other candidate. That much was evident in mid-April in Manchester, New Hampshire, where a small crowd of Trump die-hards stood across the street from a downtown hotel where Florida Governor Ron DeSantis was slated to speak. They waved oversize Trump 2024 flags, while some cars drove by and honked in solidarity. They professed their devotion to the former president, whose indictment by the Manhattan district attorney weeks earlier on charges of falsifying business records only served to increase his popularity. 'Trump is a businessman, not a politician. He is not in the deep state, and that is why they hate him so much,' said Paula Johnson, a real estate agent in nearby Nashua. 'That indictment was the biggest joke in the world.' Trump was still the one these voters wanted in the White House despite his mishandling of the pandemic and classified documents, the Jan. 6 attempted coup and that dinner at Mar-a-Lago with a well-known White supremacist. 'He has created a movement and has shown the willingness to fight as dirty as necessary for every piece in every fight,' says Jennifer Horn, former chair of the New Hampshire Republican Party from 2013 to 2017, who is now registered as an independent and plans to vote for President Joe Biden. 'The party infrastructure has become so dependent on Trump for fundraising and activating the base that it cannot let go of him.' To the amazement of liberals—and the consternation of more than a few establishment Republicans—Trump remains the front-runner for the GOP nomination by a wide margin, outpacing DeSantis, his closest rival, by around 36 percentage points, according to a RealClearPolitics average of primary polls. Everyone else in the GOP field, including his former vice president, is polling in the single digits. Just like in 2016, Trump is sucking up the political oxygen on the Republican side. He's already coined nicknames such as "Ron DeSanctimonius" and outfoxed CNN during a town hall before a fawning audience."

"Trump lawyers seek meeting with Garland as Mar-a-Lago investigation shows signs of winding down" [Associated Press]. " Lawyers for Donald Trump on Tuesday asked for a meeting with Attorney General Merrick Garland as a Justice Department investigation into the former president's handling of classified documents shows signs of winding down. In the letter, which Trump posted on his Truth Social platform, attorneys John Rowley and James Trusty asserted that Trump is 'being treated unfairly' and asked for a meeting to discuss 'the ongoing injustice that is being perpetrated by your Special Counsel and his prosecutors.'… It is not uncommon for defense lawyers to seek meetings with senior Justice Department officials to argue against potential indictments of their clients, though it is unusual for such meetings to include the attorney general."

* * *

"Who's running for president in 2024? Meet the candidates — and likely candidates — vying for your vote" [CBS News]. • Biden, Trump, Haley, Ramaswamy, Elder, Hutchinson, Scott, DeSantis, Williamson, Kennedy. Not in the race yet: Pence, Sununu, Youngkin, Burgum. Not running: Hogan, Pompeo.
Democrats en Déshabillé
Patient readers, it seems that people are actually reading the back-dated post! But I have not updated it, and there are many updates. So I will have to do that. –lambert

I have moved my standing remarks on the Democrat Party ("the Democrat Party is a rotting corpse that can't bury itself") to a separate, back-dated post, to which I will periodically add material, summarizing the addition here in a "live" Water Cooler. (Hopefully, some Bourdieu.) It turns out that defining the Democrat Party is, in fact, a hard problem. I do think the paragraph that follows is on point all the way back to 2016, if not before:

The Democrat Party is the political expression of the class power of PMC, their base (lucidly explained by Thomas Frank in Listen, Liberal!). ; if the Democrat Party did not exist, the PMC would have to invent it. . ("PMC" modulo "class expatriates," of course.) Second, all the working parts of the Party reinforce each other. Leave aside characterizing the relationships between elements of the Party (ka-ching, but not entirely) those elements comprise a network — a Flex Net? An iron octagon? — of funders, vendors, apparatchiks, electeds, NGOs, and miscellaneous mercenaries, with assets in the press and the intelligence community.

Note, of course, that the class power of the PMC both expresses and is limited by other classes; oligarchs and American gentry (see 'industrial model' of Ferguson, Jorgensen, and Jie) and the working class spring to mind. Suck up, kick down.

* * *

Collapse of the putative left, part one million and one:

With a few exceptions, socialist movements do not seem to care a damn about the fact that if they gather in stuffy rooms without face masks during a pandemic, they exclude many of their comrades.

I'm not going to point fingers, but examples abound. We need to learn. 🧵1/13 pic.twitter.com/kBAQ2o5VnN

— Maarten Steenhagen (@msteenhagen) May 24, 2023

Not on flimsy "social justice" grounds, but because the stochastic eugenicism of Biden's campaign of mass infection without mitigation hits the working class — supposedly socialism's base — especially hard. And DSA has the same problem.
Obama Legacy
At least he didn't hop a freight train during the rail strike that never was:

mister president (@BarackObama) i understand you are promoting a documentary and supporting your own exemplary crew, but must you really do promotion for a company subject to a significant labor action? for a documentary about the value of labor? https://t.co/qEXZqSLBgN

— javier grillo-marxuach (@OKBJGM) May 24, 2023
Realignment and Legitimacy
"Pandemics Change Cities: Municipal Spending and Voter Extremis in Germany, 1918-1933" [Federal Reserve Bank of New York]. From May-June 2020. "This paper documents several interesting and novel findings. First, areas which experienced a greater relative population decline due to the spread of influenza spend less, per-capita, on their inhabitants in the following decade. This holds especially for spending on amenities more likely to be consumed by the young, for example school funding.1 Second, influenza deaths of 1918 are correlated with an increase in the share of votes won by right-wing extremists, such as the National Socialist Workers Party (the Nazi Party), in the crucial elections of 1932 and 1933. This correlation holds even when controlling for a city's religious makeup, city wages, regional unemployment, city-level exposure to the "hyperinflation" of 1923, the share of right-wing votes before the first world war, and other local characteristics associated with extremist vote share. A one std. deviation increase in the proportion of the population killed by influenza was associated with an around 0.8%-pt higher share of votes won by the national socialist party. The correlation between influenza mortality and vote share was negative for left-leaning parties also considered "extremist", such as the communists." • Hmm. And in 2020. Hmm.

"Ron Unz Confronts the Far Right" [Richard Hanania's Newsletter]. Unz: "I see no reason why there's some impossible barrier to overcome between Mestizos and white Americans. I mean look at this room… [In addition to the clearly swarthy Romero and Brahmin, at least a third of the room looks to be of either Hispanic or South Asian descent.] You doubt that you can have a multiracial country? You all have built a multiracial movement based on the idea of maintaining racial purity. Don't check your phones, you might see another alert of a Neo-Nazi Mexican mass shooter, there have been a few of those lately, and a right-wing Indian just tried to kill Biden I believe. Remember not that long ago when there was a mass shooting, and everyone would either hope it was a right-wing white male or a Muslim, depending on their politics? Well, now we have the brown white supremacist, which right-wingers on Twitter tell me can't possibly exist, even though it's like half their movement now." • Interesting…
#COVID19
"I am in earnest — I will not equivocate — I will not excuse — I will not retreat a single inch — AND I WILL BE HEARD." –William Lloyd Garrison
Resources, United States (National): Transmission (CDC); Wastewater (CDC, Biobot; includes many counties); Variants (CDC; Walgreens); "Iowa COVID-19 Tracker" (in IA, but national data).
Lambert here: Readers, thanks for the collective effort. We are now up to 50/50 states (100%). This is really great! (It occurs to me that there are uses to which this data might be put, beyond helping people with "personal risk assessments" appropriate to their state. For example, thinking pessimistically, we might maintain the list and see which states go dark and when. We might also tabulate the properties of each site and look for differences and commonalities, for example the use of GIS (an exercise in Federalism). I do not that CA remains a little sketchy; it feels a little odd that there's no statewide site, but I've never been able to find one. Also, my working assumption was that each state would have one site. That's turned out not to be true; see e.g. ID. Trivially, it means I need to punctuate this list properly. Less trivially, there may be more local sites that should be added. NY city in NY state springs to mind, but I'm sure there are others. FL also springs to mind as a special case, because DeSantis will most probably be a Presidental candidate, and IIRC there was some foofra about their state dashboard. Thanks again!
Resources, United States (Local): AK (dashboard); AL (dashboard); AR (dashboard); AZ (dashboard); CA (dashboard; Marin); CO (dashboard; wastewater); CT (dashboard); DE (dashboard); FL (wastewater); GA (wastewater); HI (dashboard); IA (wastewater reports); ID (dashboard, Boise; dashboard, wastewater, Central Idaho; wastewater, Coeur d'Alene; dashboard, Spokane County); IL (wastewater); IN (dashboard); KS (dashboard; wastewater, Lawrence); KY (dashboard, Louisville); LA (dashboard); MA (wastewater); MD (dashboard); ME (dashboard); MI (wastewater; wastewater); MN (dashboard); MO (wastewater); MS (dashboard); MT (dashboard); NC (dashboard); ND (dashboard; wastewater); NE (dashboard); NH (wastewater); NJ (dashboard); NM (dashboard); NV (dashboard; wastewater, Southern NV); NY (dashboard); OH (dashboard); OK (dashboard); OR (dashboard); PA (dashboard); RI (dashboard); SC (dashboard); SD (dashboard); TN (dashboard); TX (dashboard); UT (wastewater); VA (dashboard); VT (dashboard); WA (dashboard; dashboard); WI (wastewater); WV (wastewater); WY (wastewater).
Resources, Canada (National): Wastewater (Government of Canada).
Resources, Canada (Provincial): ON (wastewater); QC (les eaux usées); BC, Vancouver (wastewater).
Hat tips to helpful readers: Art_DogCT, B24S, CanCyn, ChiGal, Chuck L, Festoonic, FM, FreeMarketApologist (4), Gumbo, hop2it, JB, JEHR, JF, JL Joe, John, JM (9), JustAnotherVolunteer, JW, KatieBird, LL, Michael King, KF, LaRuse, mrsyk, MT, MT_Wild, otisyves, Petal (5), RK (2), RL, RM, Rod, square coats (11), tennesseewaltzer, Utah, Bob White (3).
Stay safe out there!
* * *
Covid Is Airborne
"Covid could do for ventilation what cholera did for cleaner water systems" [Quartz]. "The metrics of ventilation—flow rates, 09uop, filtration—may be complicated. But in the simplest of terms, said Joey Fox, a heating, ventilation and air conditioning systems (HVAC) engineer based in Canada, 'the solution to everything is making the indoors more like the outdoors.' Fresh air disperses viruses and other particulate matter, making them less harmful to humans. Three years into the pandemic, we know that most covid transmission happens indoors, particularly in poorly ventilated spaces. Improving indoor air will reduce the spread of covid, with major implications for public health everywhere."

Vocabulary time:

This is an interesting idea.
Does the term 'airborne' have a stigma?
We see descriptions of transmission such as 'born by droplets suspended in air' which to us mean airborne, but to the people who use them do not.
Can you improve on this idea?
Let us know what you think. https://t.co/SbSJZsA8rw

— The Corsi-Rosenthal Foundation (@CRBoxFoundation) May 23, 2023

This is an interesting idea and very bad (and I come from a blogging tradition that regarded le mot juste as crucial tactically. The resistance to "Covid is Airborne" in, say Hospital Infection Control, comes because they don't accept the paradigm and are engaging in massive resistance to it out of professional and class interest. Their institutions need to be nuked from orbit, not catered to. Note Curran's bio: IPC (Infection prevention and control). Where the heck were these people in the infamous moment where Mike Ryan got Tedros to retract and erase the word "airborne"? Nowhere, that's where, and very happy to be so. Note also the reversal of valance: Generally, it's good to share, not bad. So Curran's proposal requires another layer of explanation — no no, this sharing is bad — and weakens the urgency.

"Reducing aerosol transmission of SARS‐CoV‐2 in hospital elevators" [Indoor Air] From 2020 (!). "We investigate aerosol droplet persistence inside the confined space of hospital elevators and propose specific measures to reduce the associated risk of SARS‐CoV‐2 transmission…. We found that it typically takes 12‐18 minutes before the number of aerosol particles decreased 100‐fold during normal operation of both medium‐ and large‐sized elevator cabins. … An increase of the elevator's mechanical ventilation capacity is also recommended. Current standards for the air change rate by mechanical ventilation in hospital elevators may vary between 6 and 20 air changes per hour. If we assume that aerosol particles will be continuously mixed with supply air, without taking into account particle deposition, re‐suspension, and stagnant flows, an air change rate of 10 times per hour implies a 100‐fold reduction in aerosol particles in about 28 minutes. From the experiments, we find a 100‐fold reduction in 24‐30 minutes (cf. ACH = 10) with closed doors, 12‐18 minutes during operation, and 3‐5 minutes with open doors (Figure 1). A remarkable finding was that the ventilation inside all studied elevators in idle position automatically shuts off after 1‐2 minutes, which of course can easily be prolonged by reprogramming the action control software. In most hospital elevators, the ventilator is present in the ceiling and exhausts air from the cabin toward the elevator shaft. A possible measure is reversing the flow direction of the ventilator, herewith creating a unidirectional downflow of fresh (eg, HEPA filtered) air from the ceiling towards the floor of the elevator cabin, a measure that is standard in most operating rooms to create and maintain an airborne microbial free environment." • I wonder if any of these measures have been taken?
Vaccines
"Long COVID risk and pre-COVID vaccination in an EHR-based cohort study from the RECOVER program" [Nature]. "Our four analyses yielded consistent results. We see protective associations of vaccination with long COVID diagnosis in both logistic and time-to-event models, and in both clinic-based and model-based outcomes. While these findings are similar to those of other large observational studies16,17,18,19, previous sources have only looked for evidence of COVID-associated symptoms as evidence of long COVID. A major finding of our analysis is that the protective association remains consistent in results requiring a clinical diagnosis, and among those who contracted COVID-19 in a later period that includes Omicron infections."
Maskstravaganza
People can change:

Found out today that 2 people who gave me shit & made fun of me in the past for masking now wear KN95s/n95s. I asked "Why?" because they were so die hard anti mask. One said it's because they got covid and it was "actually really bad" and they were "scared". Well, things change.

— ✨ (@bumblebuzz6) May 25, 2023

If one must admit being "scared" — as opposed having a fully rational apprehension — that takes some courage, in today's atmosphere.

The mask you can smile with:

NEW N95 RESPIRATOR MASK WITH ANTI-FOG CLEAR VISION WINDOW – STEALTH CLARITY

Hey everybody, we have just added this to our products. TGA approved. Now in use by WA Health. Comfortable. Excellent for people whose mouth needs to be seen.

Buy it here👇https://t.co/9ELG0jldns pic.twitter.com/tcAwJP9kzV

— CO2 Radical (@CO2RadicalAus) May 24, 2023

Maybe this mask works to convey empathy and for lip reading, I don't know. (For myself, I find the clear plastic a little creepy). If it does, I'm sure we'll find the anti-maskers lining up to make sure every hospital uses them!

If sneaker art, why not mask art (as I suggested here):

The Stan Smith, the best-selling sneaker from Adidas. (You could make masks collectible, too! Signed and numbered….)

A long thread of fit-testing:

THREAD: 19 Tips for a DIY mask fit test to reduce your risk of #COVID19.

H/t @amandalhu & @__philipn__

What did I miss? pic.twitter.com/Pp1bM8zMur

— Mike Hoerger, PhD MSCR MBA (@michael_hoerger) December 17, 2022

(Of course, if we had standard sizes, fit testing would be a lot easier.) An additional tip:

I walk thru the fabric softener aisle as a check.

— PelicanNurse🪬✌️😷✌️😷☮️🌈💛💙❄️🌊vegan/she/her (@pelicannurse) May 24, 2023

Readers, what do you think?
"Something Awful"
"SARS-CoV-2, long COVID, prion disease and neurodegeneration" [Frontiers of Neuroscience]. "It has been just over ~30 months since SARS-CoV-2 viral infection and COVID-19 disease were first described…. Over this relatively brief period of time about 40–60% of all 'recovered' COVID-19 patients have experienced some type of ill-defined, wide-ranging and highly variable neurological complication and exhibit the symptomology of 'long COVID.' Just as is the case for other incompletely characterized neurotrophic viral infections there are unexpected, unpredicted and sometimes alarming neurological and other sequelae to SARS-CoV-2-based viral infection…. These include…. the recognition of self-associating prion-like viral domains in the SARS-CoV-2 'S1′ spike protein driving amyloidogenesis and neurotoxic aggregate formation….. As in global pandemic infections of the past it is our opinion that we should anticipate additional unexpected associations of brain and CNS disease-linked mechanisms and pathways between SARS-CoV-2-mediated viral infection and other categories of age-related, immune-evasive pro-inflammatory forms of neurodegeneration. Importantly, the SARS-CoV-2 'S1′ spike proteins contain both self-associating "prion-like" regions, amyloid peptide-binding and other domains that appear to play roles in pathological "seeding," amyloidogenesis and/or spreading that supports the formation of pathogenic lesions in the brain and CNS which contribute to pro-inflammatory neurodegeneration, neural cell atrophy and/or neuronal cell death."
Elite Maleficence
"Covid silence and how the media works" [Nate Bear, ¡Do Not Panic!]. "If I hadn't spent the last 15 years working in media and public relations, I too would interpret the media silence around covid and new covid research/science as a sign that there is nothing to worry about. But I have. So there's some things you need to know. The first thing to know is that the volume of coverage in general mass media about an issue is not an objective indication of its importance. Maybe I'm telling you something you already know because everyone is fairly media savvy these days, but it needs saying. Just because you're not seeing covid research in the headlines, doesn't mean covid has become a non-story in relation to its potential impacts on your health, your future, our societies or economies. But don't get me wrong. I'm not saying that there's some kind of conspiracy to actively hide covid stories or other big stories. It's just the way the mass media works Which is like this: A press release gets written for a client, it gets sent out to a big list of journalists, the PR agent then phones around the journalists in whatever sector they're working in to try and get them to look at the story, offering interviews with the key players. Most stories you see in the headlines are the result of a PR agency. . … And the bigger the PR agency, the more likely you are to get a journalist to bite on your story. And this is a major problem. Because the bigger the agency = the more expensive the agency. So the biggest, richest clients hire the biggest, richest agencies with the most brand recognition and media connections, and these agencies are responded to most favourably by editors and reporters. And of course, the bigger the agency, the bigger the budget you have to entertain journalists, go out for lunches/dinners, even organise things like PR agents vs journalist football tournaments (yes this happens). Which enables the fostering of human connections that mean the journalist will respond favourably to your next press release/call pitching a client story. In addition to this, many PR agency bosses will be members of the same private members clubs as the media bosses, with a lot of informal "work" done during these evenings." • Bourdieu would love this.
* * *
Lambert here: I'm getting the feeling that the "Something Awful" might be a sawtooth pattern — variant after variant — that averages out to a permanently high plateau. Lots of exceptionally nasty sequelae, most likely deriving from immune dysregulation (says this layperson).
Case Data
NOT UPDATED From BioBot wastewater data from May 22: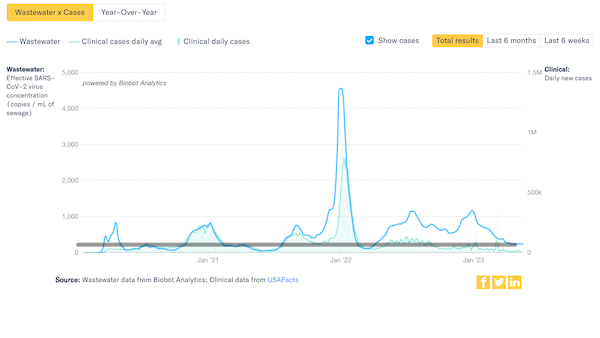 Lambert here: Unless the United States is completely, er, exceptional, we should be seeing an increase here soon. UPDATE Still on the high plateau. Are we are the point in the global pandemic where national experiences really diverge?
For now, I'm going to use this national wastewater data as the best proxy for case data (ignoring the clinical case data portion of this chart, which in my view "goes bad" after March 2022, for reasons as yet unexplained). At least we can spot trends, and compare current levels to equivalent past levels.
Variants
NOT UPDATED From CDC, May 13, 2023: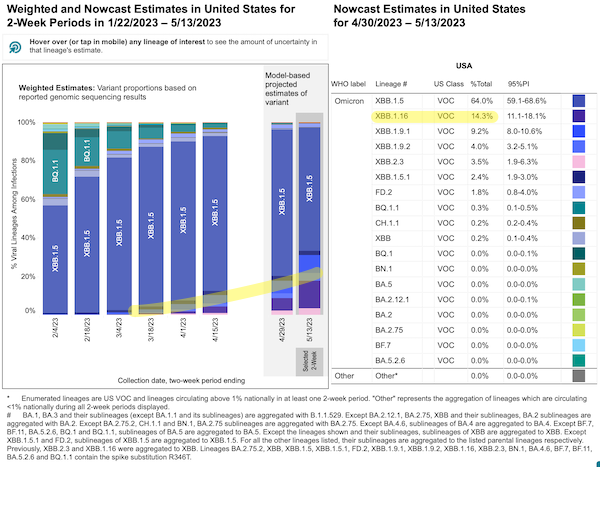 CDC: "As of May 11, genomic surveillance data will be reported biweekly, based on the availability of positive test specimens." "Biweeekly: 1. occurring every two weeks. 2. occurring twice a week; semiweekly." Looks like CDC has chosen sense #1. In essence, they're telling us variants are nothing to worry about. Time will tell. Looks like the Walgreens variants page isn't updating.
Covid Emergency Room Visits
NOT UPDATED From CDC NCIRD Surveillance, from May 20: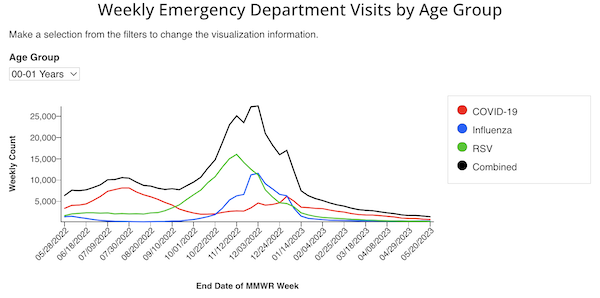 NOTE "Charts and data provided by CDC, updates Wednesday by 8am. For the past year, using a rolling 52-week period." So not the entire pandemic, FFS (the implicit message here being that Covid is "just like the flu," which is why the seasonal "rolling 52-week period" is appropriate for bothMR SUBLIMINAL I hate these people so much. Notice also that this chart shows, at least for its time period, that Covid is not seasonal, even though CDC is trying to get us to believe that it is, presumably so they can piggyback on the existing institutional apparatus for injections.
Positivity
NOT UPDATED From Walgreens, May 22: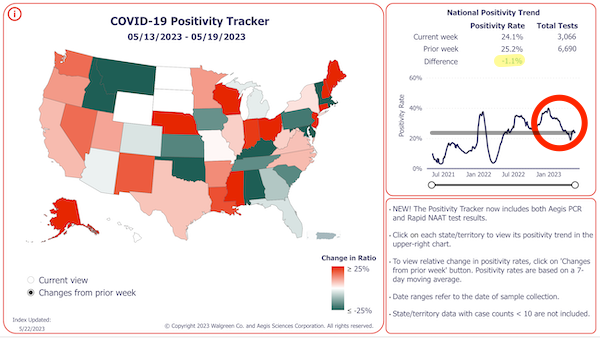 -1.1%. Frequency down to once a week? UPDATE Apparently so!
Deaths
Death rate (Our World in Data), from May 22: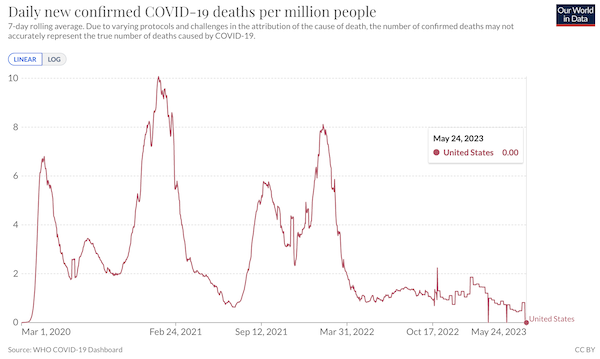 Lambert here: Another fall to zero, almost certainly a data artifact. Thanks, Johns Hopkins of the $9.32 endowment, for abandoning this data feed and passing responsibility on to WHO.
Total: 1,164,718 – 1,164,564 = 154 (154 * 365 = 56,210 deaths per year, today's YouGenicist™ number for "living with" Covid (quite a bit higher than the minimizers would like, though they can talk themselves into anything. If the YouGenicist™ metric keeps chugging along like this, I may just have to decide this is what the powers-that-be consider "mission accomplished" for this particular tranche of death and disease).
Excess Deaths
NOT UPDATED Excess deaths (The Economist), published May 21: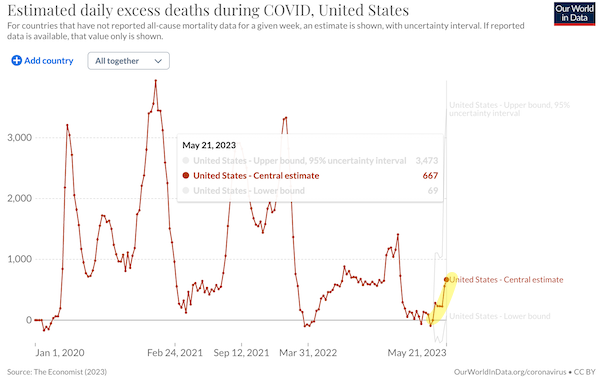 Lambert here: Based on a machine-learning model. (The CDC has an excess estimate too, but since it ran forever with a massive typo in the Legend, I figured nobody was really looking at it, so I got rid it. )
Stats Watch
Employment Situation: "United States Initial Jobless Claims" [Trading Economics]. "The number of Americans filing for unemployment benefits rose to 229 thousand in the week ending May 20th, slightly up from an over two-month low of 225 thousand the week before but well below market expectations of 245 thousand. The latest data suggested that the labor market in the United States remains relatively robust and constrained, which could potentially result in upward pressure on wages and present for the Federal Reserve to consider additional interest rate hikes as part of its measures to address inflation." • The beatings will continue…
* * *
Banking: "Banking Crisis Is Over, Top Executives Say" [Wall Street Journal]. "'I think as a systemic risk, it's over,' UBS Chairman Colm Kelleher said at The Wall Street Journal CEO Council Summit in London. 'What's not been solved yet is what is the funding model that will work going forward.' Barclays Chief Executive Officer C.S. Venkatakrishnan added that the acute crisis has passed but that many banks will be forced to change their business models—including possibly by curtailing lending. 'I think the phase of initial discovery is over and I think there's going to be a little bit of a longer-term discovery and adjustment,' he said." • Banks don't have a funding model? Really?
Tech: "How U.S. adults on Twitter use the site in the Elon Musk era" [Pew Research Center].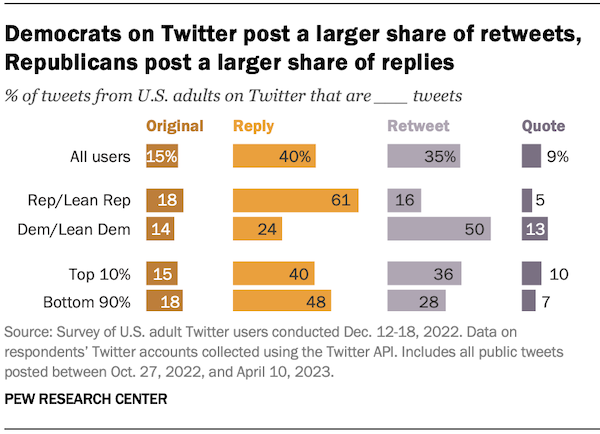 * * *
Today's Fear & Greed Index: 62 Greed (previous close: 60 Neutral) [CNN]. One week ago: 67 (Greed). (0 is Extreme Fear; 100 is Extreme Greed). Last updated May 25 at 1:42 PM ET.
The 420
"State to fund clinical trials on "whole mushroom" psilocybin research" [Axios Phoenix]. "Arizona will soon award $5 million in grants for researchers to conduct clinical studies on hallucinogenic psilocybin mushrooms. The recently approved budget for fiscal year 2024 includes a competitive grant program overseen by the Arizona Department of Health Services (ADHS). Grant recipients will conduct clinical trials to study the effects of "whole mushroom psilocybin" on post-traumatic stress disorder, long COVID symptoms, depression, anxiety, chronic pain and other maladies. Trials must prioritize veterans, first responders, frontline health care workers and people from underserved communities. An emerging body of research indicates that psilocybin is an effective treatment for a variety of medical problems." • On the one hand, I think thiis is good. On the other, Soma for the traumatized means it's OK for the trauma to continue.
Zeitgeist Watch
Not the '80's, the mid-'70s:
What happened in the 1980's so that

everyone, everywhere,

of all ages started getting fat? pic.twitter.com/H7ex9hgpyO

— Robert Lufkin MD (@robertlufkinmd) May 22, 2023
Yet another effect of the neoliberal turn?
Class Warfare
Misconstruing the Bearded One (1). Click "Show More":
i went to dozens of lesbian parties and events while they were still a thing.

what happened:

drinking beer
taking shots
dancing
k-y jelly wrestling
drama
toplessness and nudity
playing cards/pool
hooking up

what never happened:

all ages drag shows
people asking "what are…

— Heidi (@HeidiBriones) May 24, 2023
Whatever Marx was about, it wasn't identity politics.
Misconstruing the Bearded One (2)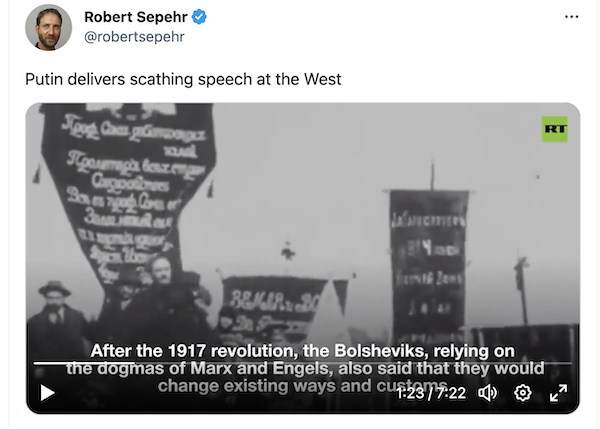 Whatever the Bolsheviks were about, they were Marxists. Putin's thesis (given at the always interesting Valdai Discussion Club) is either vacuous ("Revolutions bring about major social changes") or wrong (like he's been reading too much James Lindsay on "cultural Marxism" — the bucket Lindsay invented to throw identity politics in — which is not a thing, or rather is a thing only in the minds of conservative fever swamp dwellers, though I suppose you could barely make a case for the Frankfurt School). In any case, it's amusing to see Briones and Putin end up more or less in the same place with respect to identity politics.
News of the Wired
A genuinely frightening movie (in my view, too strongly-premised as science fiction, hence realistic, to be horror):
ALIEN was released 44 years ago today. One of the definitive science fiction/horror movies, its influence is still seen to this day. The behind-the-scenes story of how the film was made is a fascinating one…

A THREAD

1/38 pic.twitter.com/nZT8xWVK6T

— All The Right Movies (@ATRightMovies) May 25, 2023
I know this is from another movie in the Alien franchise, but it applies in so, so many cases:
* * *
Contact information for plants: Readers, feel free to contact me at lambert [UNDERSCORE] strether [DOT] corrente [AT] yahoo [DOT] com, to (a) find out how to send me a check if you are allergic to PayPal and (b) to find out how to send me images of plants. Vegetables are fine! Fungi and coral are deemed to be honorary plants! If you want your handle to appear as a credit, please place it at the start of your mail in parentheses: (thus). Otherwise, I will anonymize by using your initials. See the previous Water Cooler (with plant) here. From AM: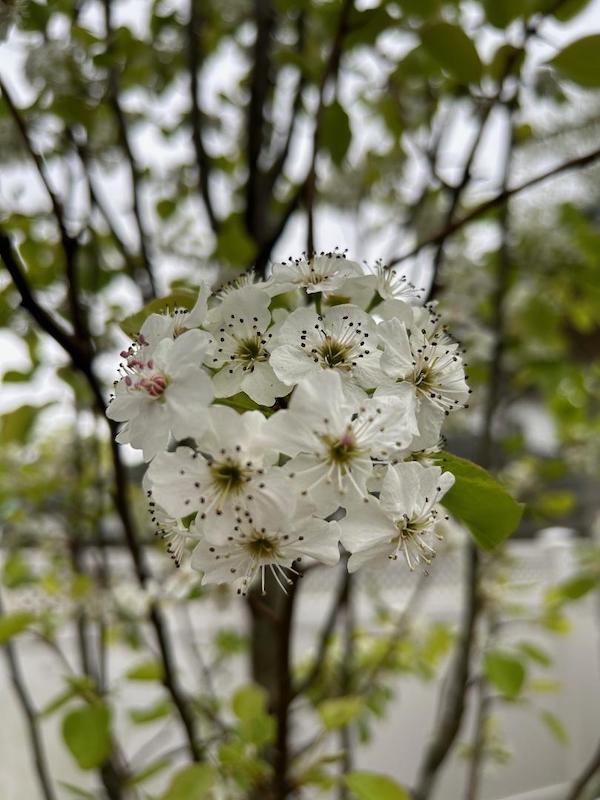 AM writes: "Pear tree (Cleveland, I think) in bloom in the backyard, April 22, 2023, Edgewood RI. Just planted last fall, so happy to see it doing well."
* * *
Readers: Water Cooler is a standalone entity not covered by the annual NC fundraiser. So if you see a link you especially like, or an item you wouldn't see anywhere else, please do not hesitate to express your appreciation in tangible form. Remember, a tip jar is for tipping! Regular positive feedback both makes me feel good and lets me know I'm on the right track with coverage. When I get no donations for five or ten days I get worried. More tangibly, a constant trickle of donations helps me with expenses, and I factor in that trickle when setting fundraising goals:
Here is the screen that will appear, which I have helpfully annotated: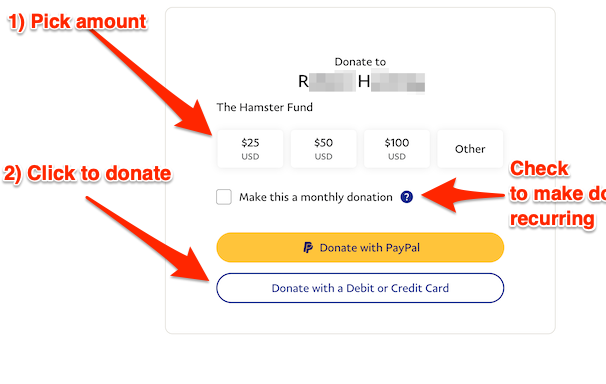 If you hate PayPal, you can email me at lambert [UNDERSCORE] strether [DOT] corrente [AT] yahoo [DOT] com, and I will give you directions on how to send a check. Thank you!