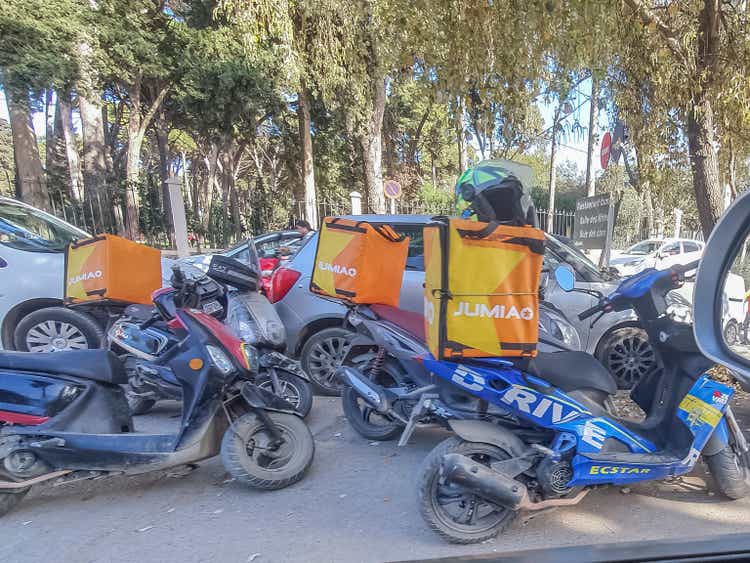 Jumia Technologies (NYSE:JMIA) stock slid sharply before the bell on Tuesday after reporting declining revenue and order trends.
For the first quarter, the African e-commerce leader disclosed a 2.7% drop in revenue to $46.3M year over year as quarterly active consumers, orders, and GMV declined by 22%, 26% and 22%, respectively, in that same span. That said, operating losses were cut 49% in constant currency from Q1 2022 to $31M.
"We are committed to taking the business to profitability and the first quarter of 2023 results demonstrate very good progress towards this goal. Operating loss decreased by 54% year-over-year to $31M, its lowest quarterly level in over 4 years. Our cost reduction initiatives are clearly bearing fruit, with all operating costs decreasing in the first quarter of 2023, both sequentially and on a year-over-year basis," CEO Francis Dufay said. "The macro environment has been challenging over the past few quarters, which negatively impacted our growth trajectory. Notwithstanding these temporary headwinds, we have a significant growth runway in our markets and are strengthening the fundamentals of our business and consumer value proposition to capture this vast opportunity."
The company's earnings release highlights a 34% cut in fulfillment costs and a 69% reduction in
Sales and Advertising expenses for the improved bottom line result. Moving forward, the company indicated a continued focus on spending cuts will help drive the company toward profitability. Management expects an adjusted EBITDA loss for the full year 2023 of $100M to $120M, as compared to a loss of $207M in 2022.
Elsewhere, the online retailer said that director Gilles Bogaert has resigned from the company's board. Shares of Jumia Technologies (JMIA) slumped 5.36% before Tuesday's market open.
More on Jumia Technologies:
Jumia: There's Still A Lot Of Uncertainties
More Optimistic About Jumia Technologies After Discussing Business Changes With The CEO