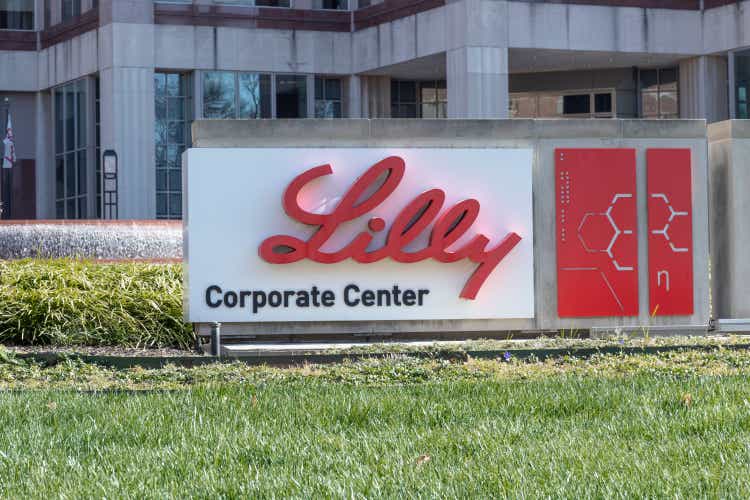 Eli Lilly and Company (NYSE:LLY) said the The New England Journal of Medicine published detailed results from a phase 2a trial of peresolimab in rheumatoid arthritis (RA) which had met its main goal of efficacy.
The pharma giant added that the data also showed similar rates of adverse events between peresolimab and placebo groups.
The trial enrolled adults with moderate-to-severe RA who had an inadequate response to prior conventional, biologic or synthetic disease modifying antirheumatic drugs (DMARDs). The participants received either 700 mg or 300 mg of peresolimab or placebo.
The data were first presented by Lilly at the American College of Rheumatology (ACR) annual Convergence in November 2022.
At week 12, the change from baseline in the Disease Activity Score for 28 joints based on the C-reactive protein level (DAS28-CRP) was significantly greater in the 700-mg peresolimab group than for the placebo group (least-squares mean change [±SE] −2.09±0.18 versus −0.99±0.26), according to the company.
"While still early, these data signify an important potential new therapeutic approach for RA patients, including both refractory and biologic-naïve patients," said Jay Tuttle, study first author and associate vice president, research and development at Lilly.
The company noted that the data favored the 700-mg dose over placebo in relation to ACR20 response but not with respect to the ACR50 and ACR70 responses at week 12.
ACR was defined as a 20%, 50%, and 70% or more improvement in the number of tender and swollen joints and in at least three of five important aspects.
The company said improvements were seen in the Clinical Disease Activity Index (CDAI) for patients treated with both peresolimab doses compared to placebo.
Low disease activity was maintained through week 24 in most patients achieving CDAI low disease activity at week 14, according to the company.
Treatment emergent events were mild or moderate in severity and the most common were infections and infestations, skin and subcutaneous tissue disorders.
There was one serious adverse event (worsening of hypothyroidism, 700 mg) in treatment period, which did not result in person discontinuing the trial, the company noted.
Lilly said future studies will continue evaluating peresolimab in RA, including an ongoing phase 2b trial, dubbed RESOLUTION-1, in adults with moderate-to-severe RA. The company Lilly is also thinking of evaluating peresolimab — a humanized immunoglobulin G1 monoclonal antibody — in other autoimmune diseases.
Eli Lilly's Donanemab: The Anti-Amyloid Saga Continues
Eli Lilly's Alzheimer's Breakthrough: A Game Changer For Investors And Patients