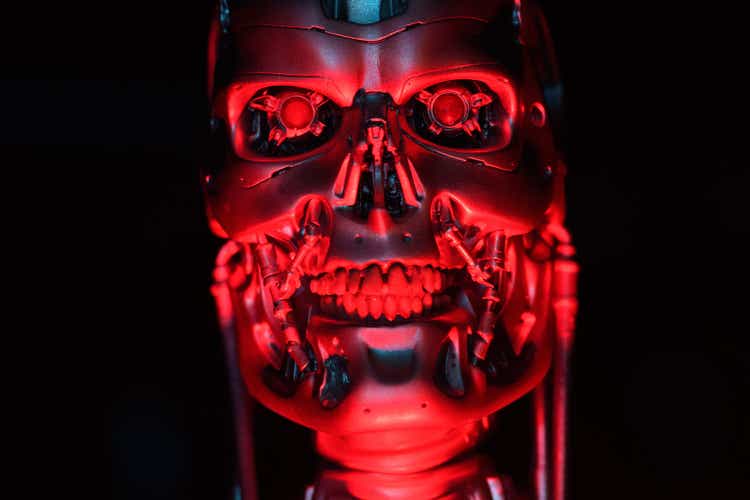 Nearly two-thirds of Americans think artificial intelligence poses a significant risk for humanity and could threaten society, a new poll published on Wednesday has found.
According to a survey conducted by Reuters/Ipsos, 61% of respondents believe AI is a risk to humanity.
Conversely, 22% of survey respondents disagreed with that assessment while 17% said they were unsure.
Breaking it down further, the survey found that 70% of people who voted for President Trump in the 2020 U.S. presidential election were concerned by AI's threats, while 60% of those who voted for then Vice President Biden were concerned.
The survey was conducted online between May 9 and May 15 and polled 4,415 U.S. adults. It has a margin of error of 2 percentage points.
The poll comes after lawmakers held a hearing on Capitol Hill on Tuesday in which the CEO of AI company OpenAI vehemently expressed the need for regulation.
"We think that regulatory intervention by governments will be critical to mitigate the risks of increasingly powerful models," OpenAI CEO Sam Altman said. "As this technology advances, we understand that people are anxious that it could change the way we live. We are too, but we believe that we can and must work together to manage the potential downsides, so that we can all enjoy the tremendous upsides."
Microsoft (NASDAQ:MSFT) has made a multi-billion dollar investment into OpenAI and has integrated its technology into many of its products.
Last month, the Biden Administration laid out a formal request for comment to look into potential regulation for AI products and services amid concerns about development in the industry.
The request came after tech luminaries such as Elon Musk and Steve Wozniak wrote a letter that called for a six-month pause in the development of many AI tools to develop new safety standards for the technology.
The normally pro-business friendly U.S. Chamber of Commerce also wrote a report in March that called for AI regulation.
Over the next 20 years, the Chamber said "virtually every business and government agency" will use AI, adding it will have a "profound" impact on society, the economy and national security.
"We must address these issues clearly so that we can shape appropriate responses and achieve our goal, which is to allow the innovation machine to continue to work its magic and improve society, while protecting the basic rights of citizens," the lobbying group wrote.
Related tickers: C3.ai (AI), SoundHound AI (SOUN), BigBear.ai Holdings (BBAI), Microsoft (MSFT), Alphabet (GOOG) (GOOGL), Apple (AAPL), Amazon (AMZN)
More on artificial intelligence and its impact