The long-rumored Apple mixed reality (MR) headset is expected to finally make its official appearance at next month's WWDC 23 and Apple is in swift preparation. Cupertino filed a wordmark for xrOS – its MR headset's rumored operating system with the New Zealand Intellectual Property Office.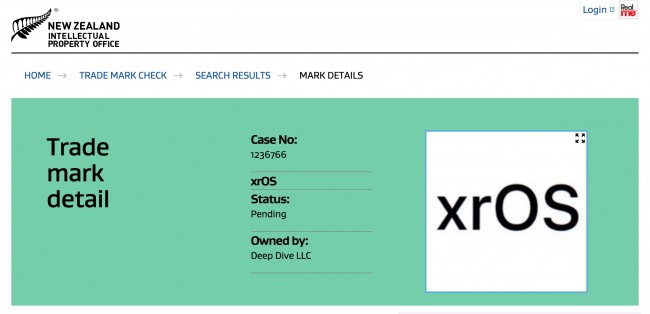 xrOS wordmark on the New Zealand Intellectual Property Office
The listing is still pending approval and was filed by Deep Dive LLC which is a known Apple shell company. The same firm filed a trademark for xrOS back in December. The interesting bit is that the new wordmark features the same San Francisco typeface used in Apple's other operating systems.
As for the naming, xr is short for eXtended Reality while OS stands for operating system. Apple's MR headset has big hopes not just for Apple but for the entire VR industry so we'll be patiently waiting for June 5's big announcement keynote.