5 Tips On Employee Training For L&D
Commercial products are made or broken at launch. If you don't get enough press or achieve enough market awareness, your product will just sit on the shelves. It doesn't matter how good it is. If people don't know about it (and therefore grow to like it), they won't buy it or use it. The same applies to your mobile workforce employee training. They're rarely (physically) in the office, so you can't control their actions. How do you launch this training platform in a way that gets them on board when you're too far to force it? Here are some tips to implement a successful on-the-go L&D program with an employee training LMS.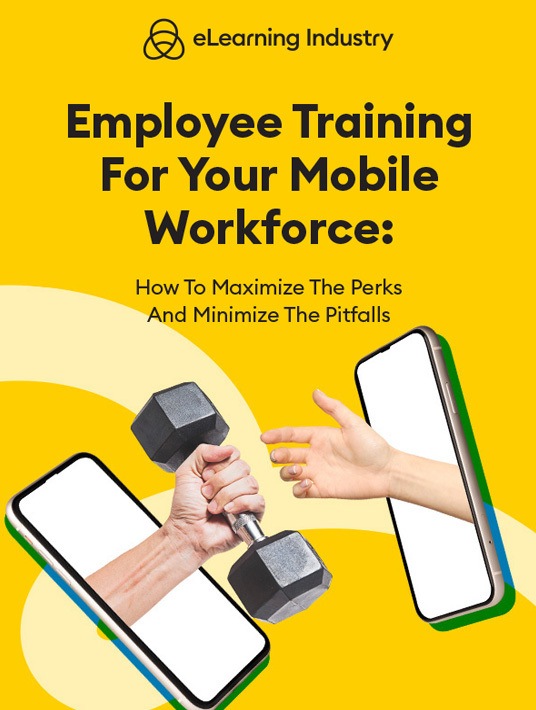 eBook Release
Employee Training For Your Mobile Workforce: How To Maximize The Perks And Minimize The Pitfalls
This eBook can help you create a plan of action and streamline your LMS launch regardless of how many resources you have on hand.
1. Test On Multiple Mobile Models
Right from the development stage, you want to know your staff's smartphone preferences. You could – if you're willing to spend the money – issue them a standard smartphone for work purposes. But this is impractical, expensive, and likely to be rejected by remote workers who hate feeling monitored. For them, freedom and autonomy are a big perk of the job. Plus, they often have a go-to device that they're already familiar with. So instead, run a survey to find out which phones everyone is using. Then before launch, test your training software on sample models to be sure it works as it should. This can also be helpful for stipulating the minimal phone features your staff needs when they're shopping for new models. Some platforms even have a built-in preview tool where you can see how the course looks on different devices. Then make changes to ensure that everything is easily accessible for your remote team members.
2. Choose Responsive LMS
At this point, we're pretty much all in agreement about the power of mobile. And the necessity of mobile-first approaches. There are three main directions – responsive, adaptive, and native. Responsive apps automatically adjust to screen size and configuration. This is the simplest option because you only build your software once. Adaptive responses have the various screen formats pre-programmed. They automatically switch between screen layouts when a new device is detected. It takes a little more time, RAM, and ROM to facilitate adaptive mobile. Finally, you can create a free-standing app that can be downloaded on your staff's phones. This is the most comprehensive option, and often the most expensive to produce (and purchase). However, it removes all the employee training LMS accessibility roadblocks for your mobile workforce.
3. Provide Bite-Sized Support Tools
Ordinarily, online courses are designed to be short. But when your staff is mobile, they have even less time available for study. Also, if they're studying on their phones, they can only focus for so long. Try reading a classic (200,000-word) novel on your phone and you'll see how quickly your eyes – and brain – checks out. There's simply too much information to process. To avoid this micro-burn-out, provide mini sessions that can be accessed in emergencies and time crunches. They work really well for JIT scenarios. They're also helpful for refresher courses before sitting compliance exams. The best approach is to identify the gaps and develop resources around those. This prioritizes your JIT implementation schedule because you can upload relevant support tools to bridge the most crucial gaps. Then focus on other performance issues that aren't as essential.
4. Optimize Graphics And Multimedia
An alternative way to keep mobile employees invested is to use the right multimedia tools. Glance at your favorite game on your mobile phone. Try drawing up a list of why you like it. It's nice to look at (colorful display and flashy features). It holds your attention (ambient sound and emotive soundtracks). It offers instant gratification (gamification and leaderboards). It's linked to social media (comparative bragging rights). It has diverse formats (catchy names, expository video sequences, exciting characters, and avatars). Implement these features into your mobile course. It catches and holds trainees' interest. You should also ensure that all your bulky videos and graphics are compressed for quick downloading.
5. Consider Data Plans And Wi-Fi Access
Internet factors are probably the most crucial element of any online course. They're also the most likely to be overlooked because we take it for granted. The reason your trainees aren't signing on may have nothing to do with interest or time. They may simply have inadequate internet data bundles or an unstable Wi-Fi connection. So, during development and before launch, find out your trainees' bandwidth situation, and make a plan for it. It may mean starting a program where the office buys monthly data plans for the mobile team. Or you may have to purchase a wholesale Wi-Fi package and install it in your workers' home offices. You can also opt for a mobile LMS app employee training platform that supports downloadable content. They can get the resources they need when they're connected, then access them on the go.
Employee Engagement Through Mobile Learning
Launching your mobile employee training program isn't like announcing a new corporate system. It's not about media attendance and press statements. It's about introducing your mobile workforce to this new resource. And getting them invested enough to actively (and regularly) use it. So, what are some of the steps involved? Test it on all their phone models. Pick a responsive approach for your (mobile) LMS. Include a JIT resource library with bite-size modules. Maximize the effectiveness of graphics and multimedia. Finally ensure your team has full access to affordable, reliable, consistent internet providers. Without it, they couldn't log on if they wanted to.
Choose the right employee training LMS for your remote team with the help of our exclusive online directory. You can search by features, pricing model, deployment type, and spec support. Then evaluate ratings to see which tool makes the grade when it comes to customer satisfaction.
Download the eBook Employee Training For Your Mobile Workforce: How To Maximize The Perks And Minimize The Pitfalls to surpass employees' expectations and achieve your objectives.