The Christmas season in NYC is so magical!
From the beautiful Christmas light installations in Saks Fifth Avenue's windows to the massive Christmas Tree at Rockefeller Center, there is so much to see, taste and buy in the Big Apple during the holidays.
This post covers tips on how to spend Christmas in New York covering lots of events and installations, so read on.
Below are some of the best attractions and sights to see in NYC during the holiday season, including bustling Christmas markets, seasonal shows, local staples, and so much more.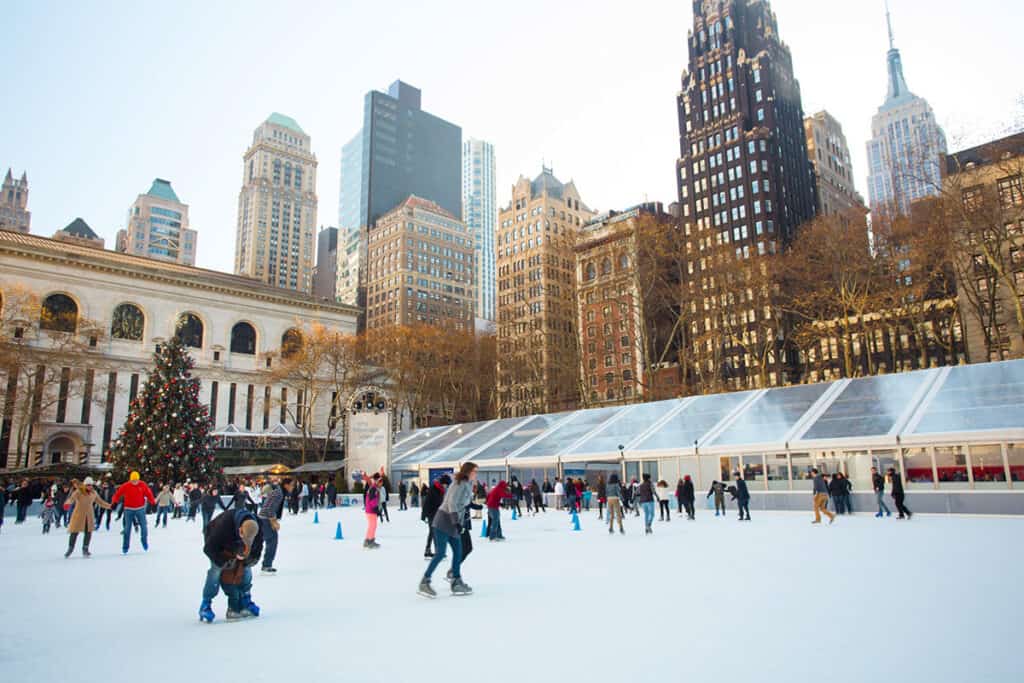 Admire the Dyker Heights Christmas lights
The Dyker Heights Christmas lights, initially a hit amongst locals who take their Christmas decorating to a whole new level, is now a full-fledged holiday tourist attraction complete with hot chocolate stands and live music performances with a Christmas carol or two thrown in.
The event spans from 83rd street to 86th streets between 11th and 12th Avenue in Dyker Heights, Brooklyn.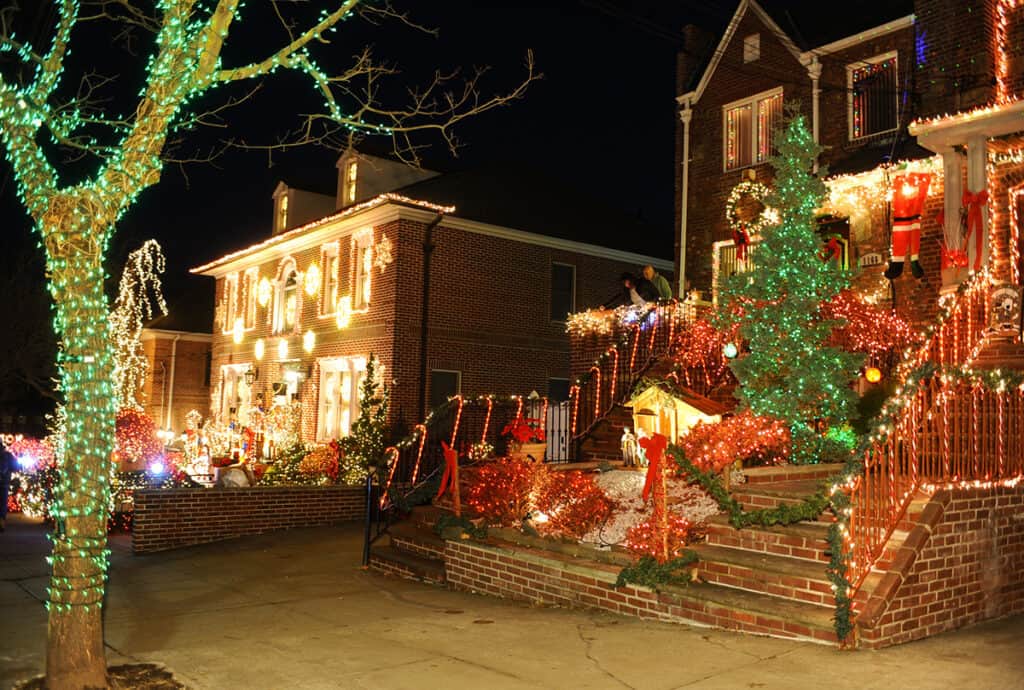 Be sure to check out Lucy Spata's home, as she was the first person to begin the annual Christmas tradition and continues to decorate her front yard to the nines. This festive South Brooklyn hidden gem is totally worth the train or express bus ride from Manhattan. 
You can take a four-hour bus tour that starts in Manhattan and includes a guided stroll through Dyker Heights, then stops to take in the view of the skyline from DUMBO and ends in Bryant Park Winter Village.
Or for something a bit quicker, but still incudes a guide and bus ride from downtown Manhattan, take this 90-minute tour of the Christmas lights of Dyker Heights and the sparkling views along the way.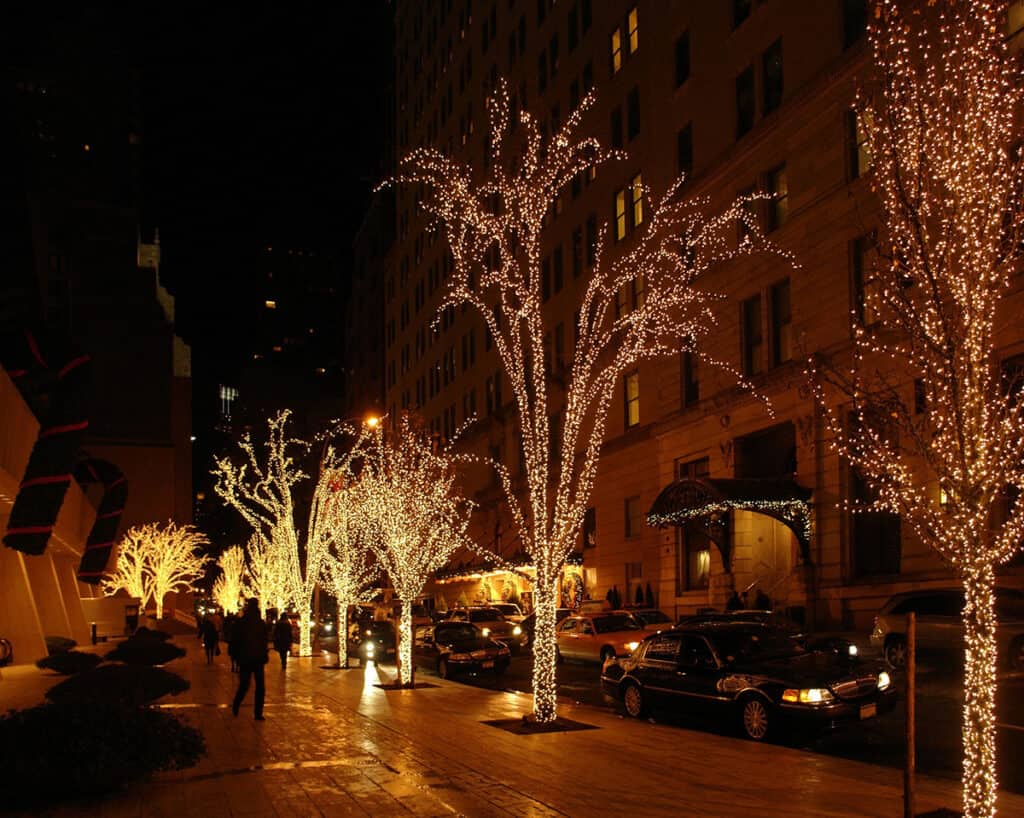 Visit a New York City Christmas Market 
Pop-Up Christmas markets are what makes this season so exciting for me!
They are dotted all over the city during the holiday season and even shortly afterwards through January. 
The Urban Space Holiday Markets are among the most popular choices for locals and tourists alike. Situated in Union Square, Bryant Park, and Columbus Circle, you can easily find one of these lovely Christmas markets throughout Manhattan. 
The most famous of the NYC Christmas markets, Bryant Park Winter Village, has over 170 vendors, a heated lodge with a full bar, and an ice-skating rink. If you visit, get a cup of hot cocoa from S'mores N'more, because they do the tastiest and most unique marshmallow pairings!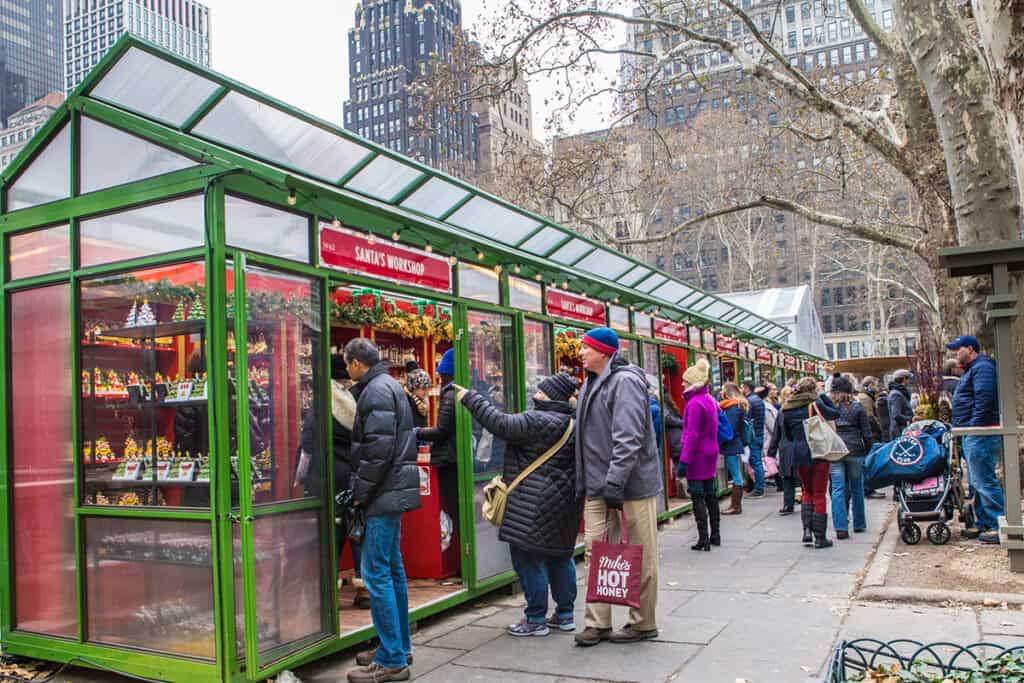 As well as holiday markets, NYC is also home to many flea markets year round, where you can score great deals on gifts – or a little something for yourself. 
See the iconic Rockefeller Center Christmas Tree Lighting
We obviously couldn't talk about Christmas in the city without noting the famous Rockefeller Christmas Tree lighting that occurs annually at Rockefeller Center in late November or early December.
One lucky tree is chosen from a list of nominees each year and the winner sees the chainsaws come out and their gigantic tree felled, wrapped and shipped (sometimes across states) to NYC to stand in pride of place. Usually, the chosen evergreen tree is around 80 feet tall, towering over the entire block.
This year the tree lighting event takes place on Wednesday, November 30th, and you can see the tree until after New Year's Eve.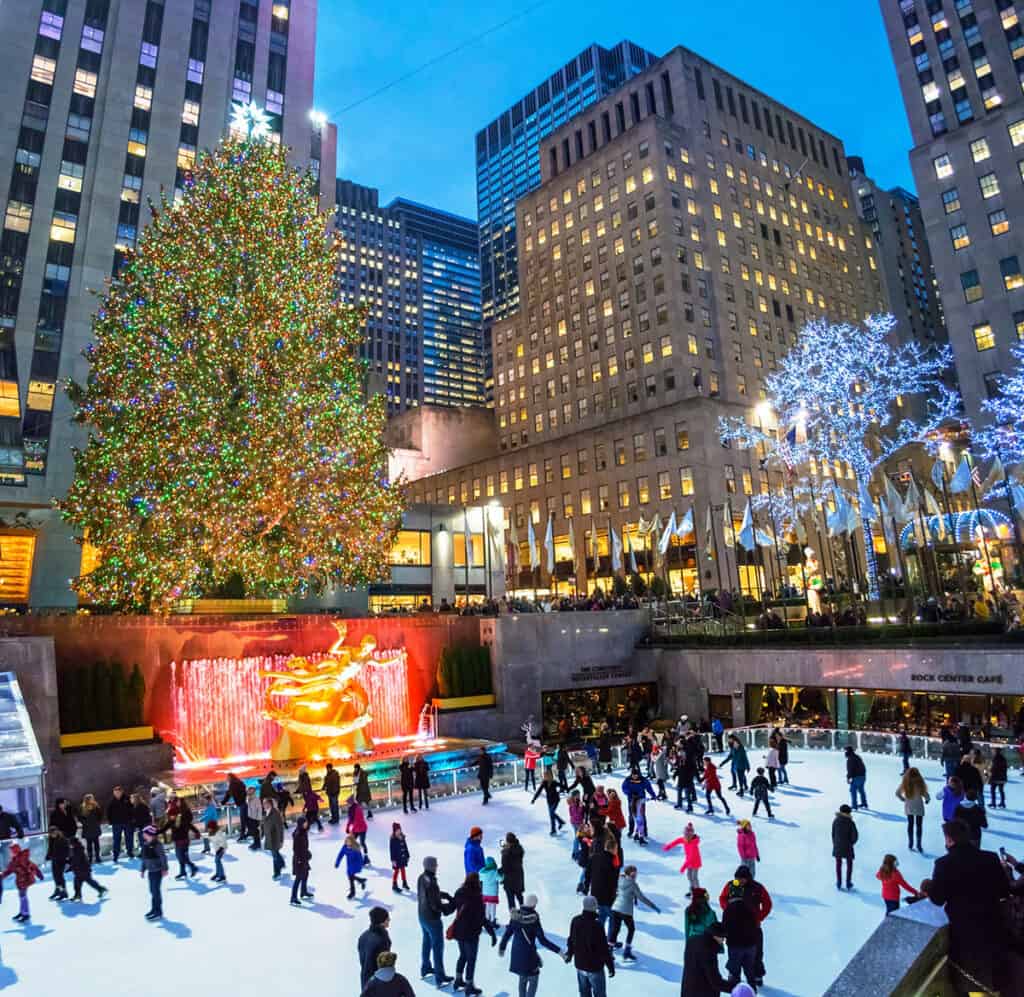 Visit the less crowded Christmas Tree in FiDi 
Everyone knows about the Rockefeller Tree, but many forget about the tree lighting hosted yearly outside the New York Stock Exchange on Wall Street in the Financial District.
This tradition first began in 1923, almost 100 years ago, making it even older than the Rockefeller Tree lighting celebration. Be on the lookout for updates about when the event will occur this December.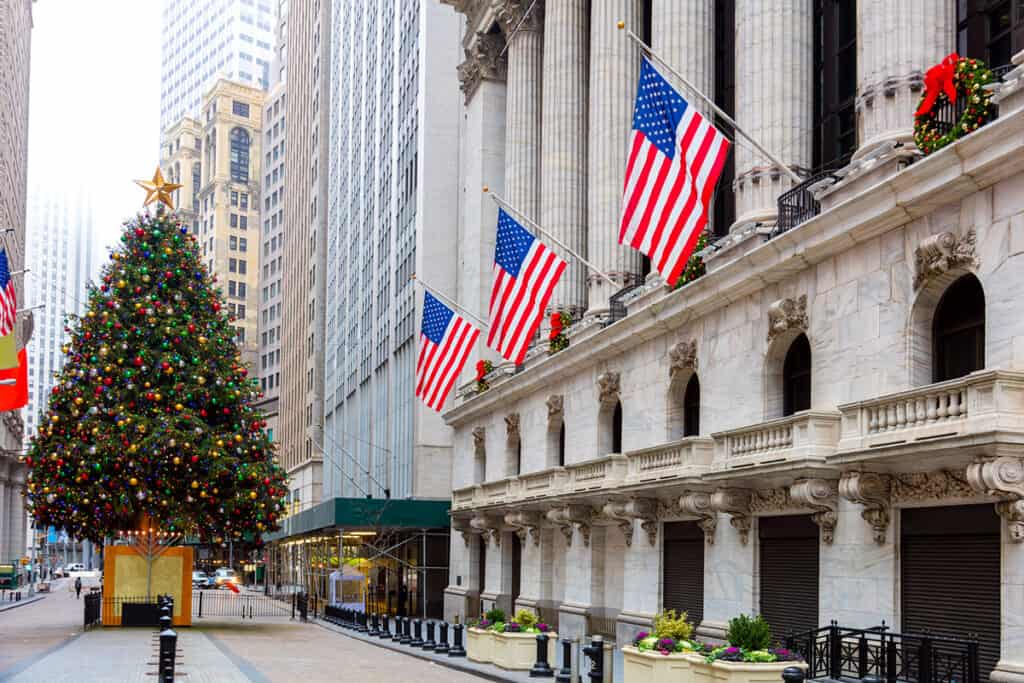 Dine at Rolf's German Restaurant
It's Christmas year-round at Rolf's German Restaurant. The entire restaurant is covered head to toe in extravagant ornaments and string lights, making it a perfect destination for an Instagram-worthy holiday picture. 
That said, it can be challenging to get a reservation last-minute. If you cannot reserve a table, there are many fabulous rooftop restaurants around the city to enjoy a nice view of the Manhattan Skyline instead.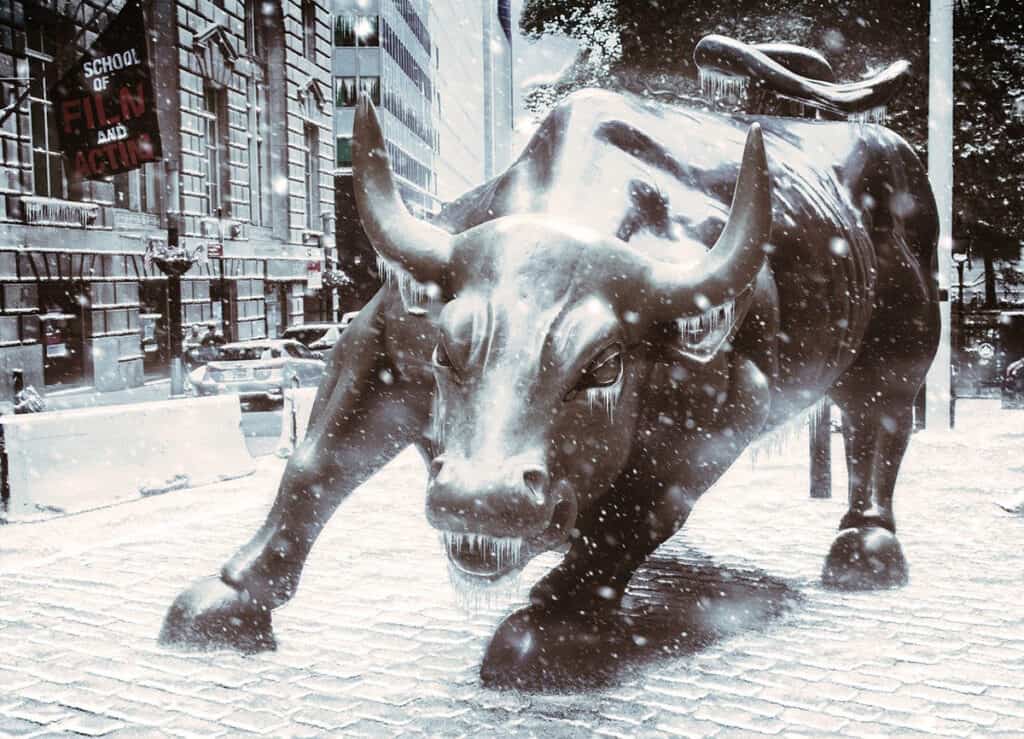 Go ice skating
You can try out your ice-skating skills at Rockefeller Plaza, Wollman Rink in Central Park or Bryant Park Winter Village – if you dare. Personally I have a slippy-slidey phobia, so prefer to drink in the holiday spirit with a hot chocolate and do some shopping for Christmas decorations, watching everyone else glide gracefully on the ice.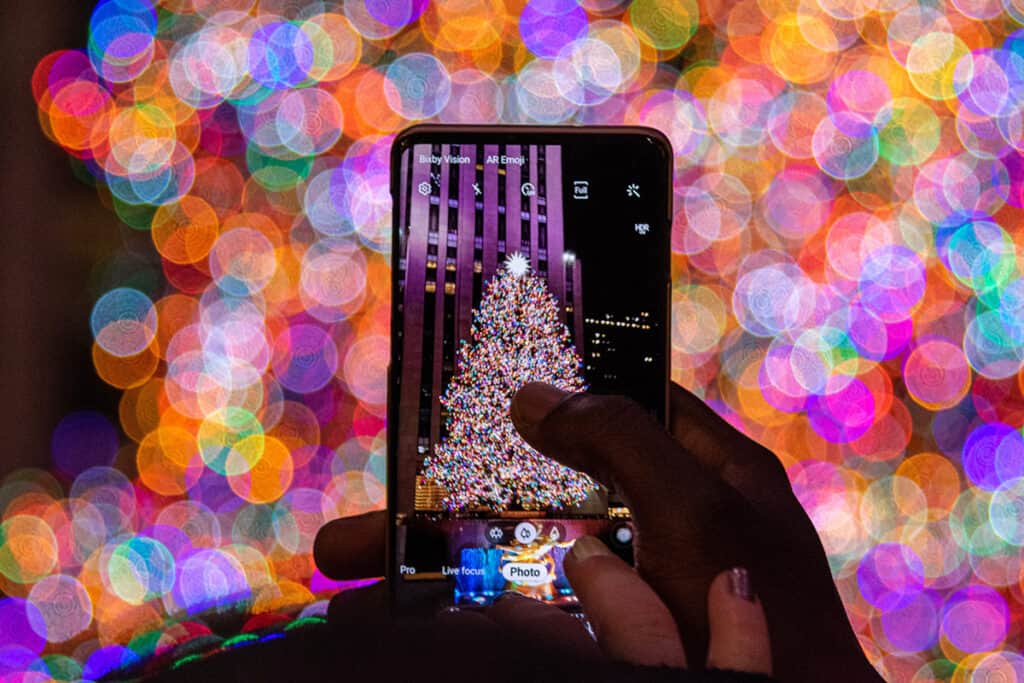 Located in Manhattan's famous Central Park, Wollman Rink is the perfect place to skate, followed by a nice walk through the park. It looks even more magical in the wintertime, especially if snow is on the ground.
Then after you're done ice-skating, check out the Columbus Circle Holiday Market near the park's entrance. 
Another popular destination for ice skating is inside Bryant Park's Winter Village, only a few blocks from the Rockefeller Center Christmas Tree. They also offer skate rental. Or, if ice-skating isn't your thing, you can shop til you drop at the holiday market or grab a hot toddy at the lodge while your group skates.
Visit Grand Central Station
Have your main character moment inside Grand Central Terminal where so many romantic comedies and holiday films feature scenes have been filmed.
New York City's Grand Central Station is the largest and prettiest terminal in the five boroughs. There are shops, eateries and bars in here and every year a holiday fair is held inside Grand Central Terminal.
The event was canceled last year due to the Covid-19 pandemic, but we expect to see vendors return this December.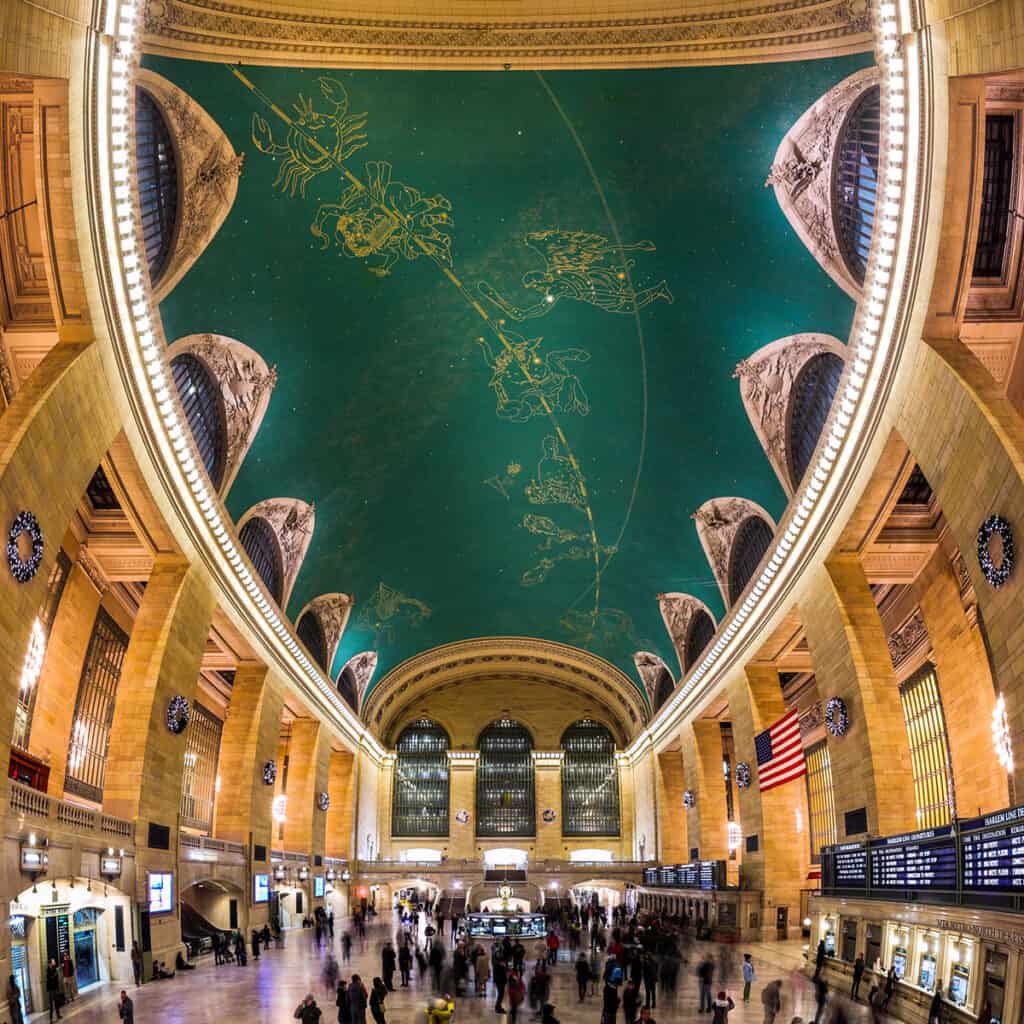 See the famous Rockettes
Catch the Radio City Christmas Spectacular with the Rockettes at Radio City Music Hall.
New York City boasts a lot of live shows, from a Broadway show to low-key performances at music venues like Wild Birds in Brooklyn. But Radio City's Christmas Spectacular is the ONLY show you should see in NYC this December!
The talented Radio City Rockettes always put on a fantastic performance in even more fantastic costumes. Is the show better than Hamilton or Wicked? No, but it is something that every child and Christmas-loving adult will cherish for a lifetime. 
Get your tickets before they sell out for Radio City's Christmas Spectacular.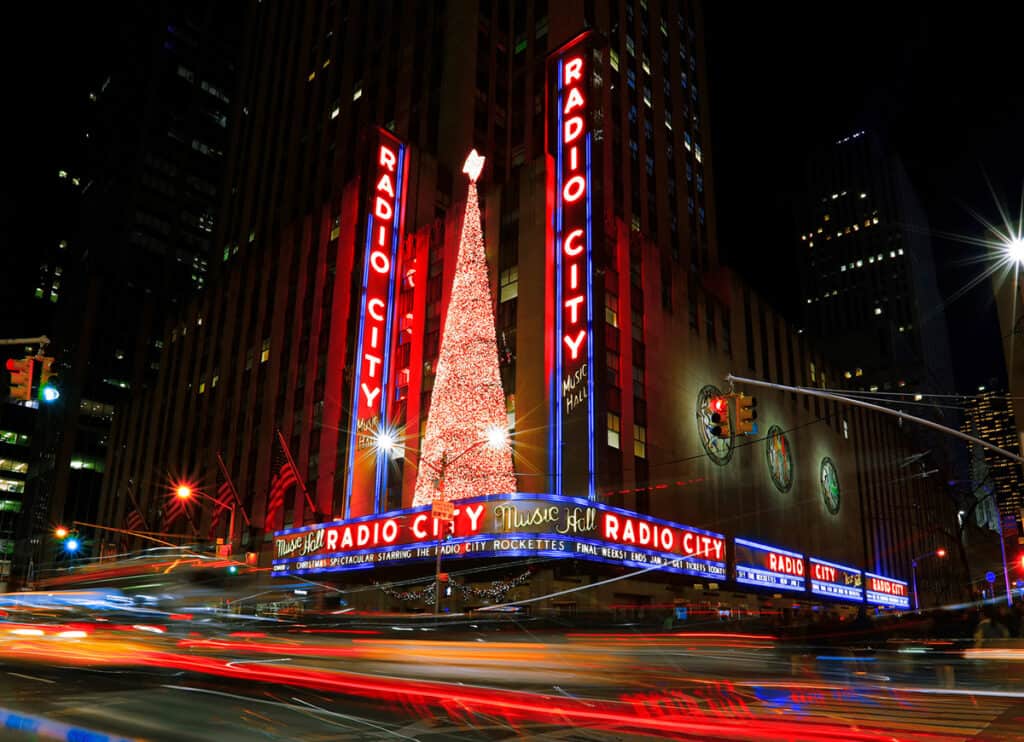 Visit the miniature trains
Located in the Bronx near Fordham University, the New York Botanical Garden's Holiday Train Show is severely underrated.
Aside: I built a miniature dollhouse after being inspired by the one in Washington, DC at the National Museum of American History. Then I spent about an hour staring at Queen Victoria's dollhouse in Windsor Castle when I last visited (it has a running water and electric lights!) and still collect miniatures to this day.
At the New York Botanical Garden you can go see working miniature models of trains, trolleys, and notable landmarks like the Apollo Theater, Brooklyn Bridge, and Yankee Stadium. 
This holiday event is exciting for kids of all ages, particularly if they love trains or the 2004 Christmas film Polar Express.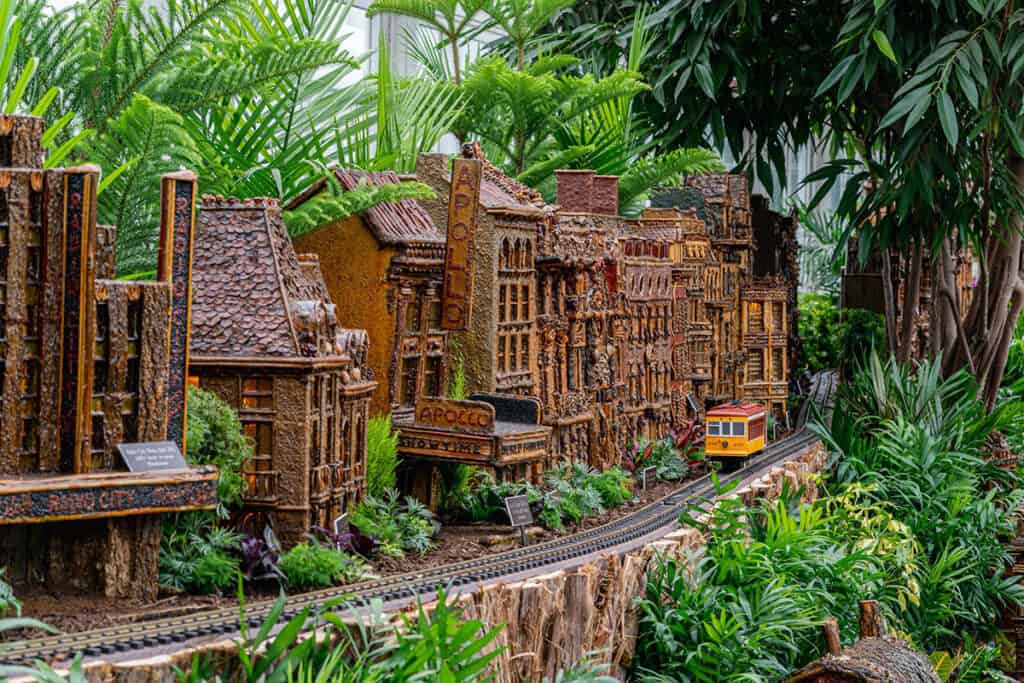 Window shop along Fifth Avenue 
As you know, Fifth Avenue in Midtown Manhattan is one of the best places to shop in New York City which I list here.
But during the holidays the department stores of Fifth Avenue take things up a notch, boasting bright and beautiful window displays that change from year to year. This is one of the best things to do at Christmas time – and it's free!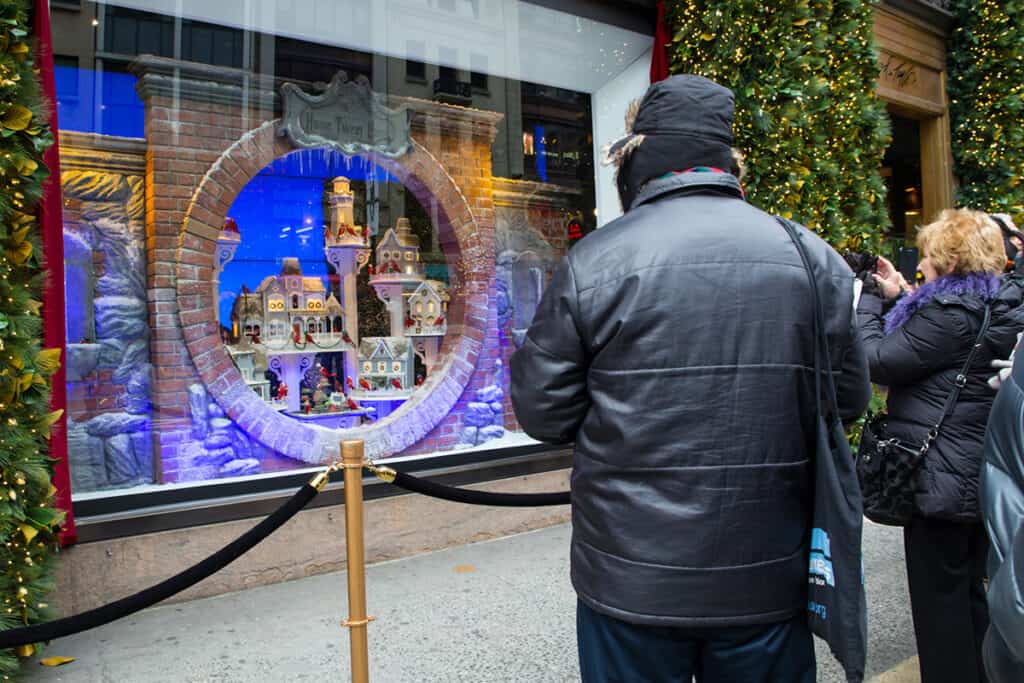 Expect crowds throughout the day and night, – especially as nighttime is the best time to view the lights in all their glory. 
Saks Fifth Avenue has an iconic holiday set-up at its flagship storefront, including a ten-story light show.
Other must-see Christmas windows in New York include Macy's, Bergdorf Goodman, Macy's Santa Land, Bloomingdales, Prada, and Tiffany and Co.
Since the Fifth Avenue shops are near Radio City Musical Hall and the Rockefeller Christmas Tree, you can easily visit all of these festive attractions in one evening.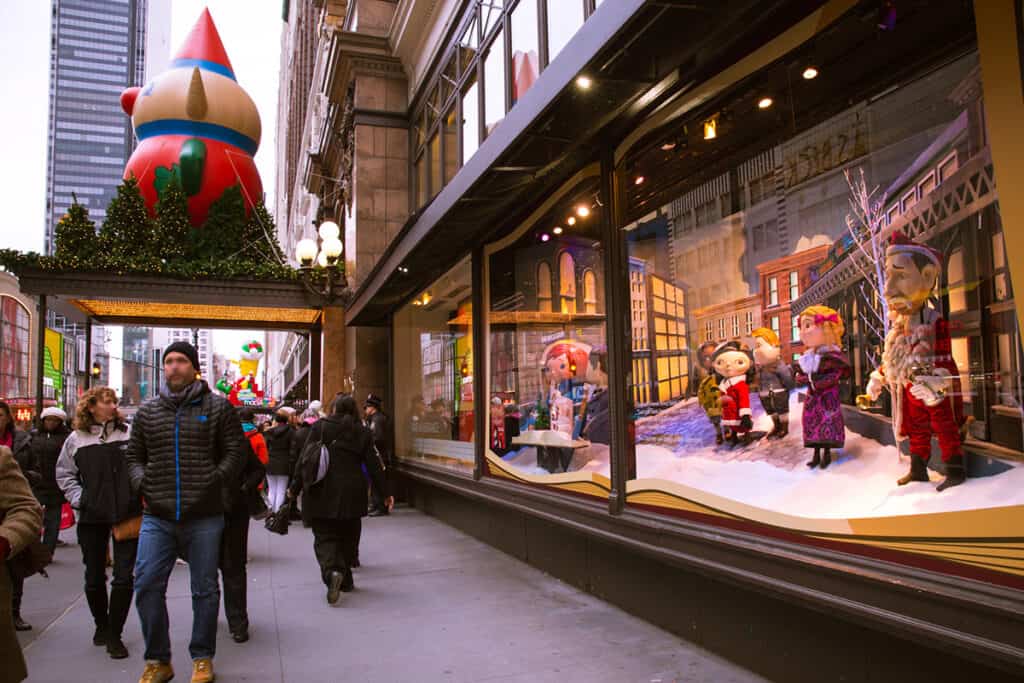 Empire State Building lights
Not to be outdone by the lights twinkling in the windows on street level, the Empire State Building takes lighting to a whole new level. Literally. The building lights up in the clouds each night depending on causes or memorial days or celebrations, but in December its Christmas holiday light show is set to music.
Before that though, in mid-December it shows Chanukah lights of blue with a "candle" of white in the middle.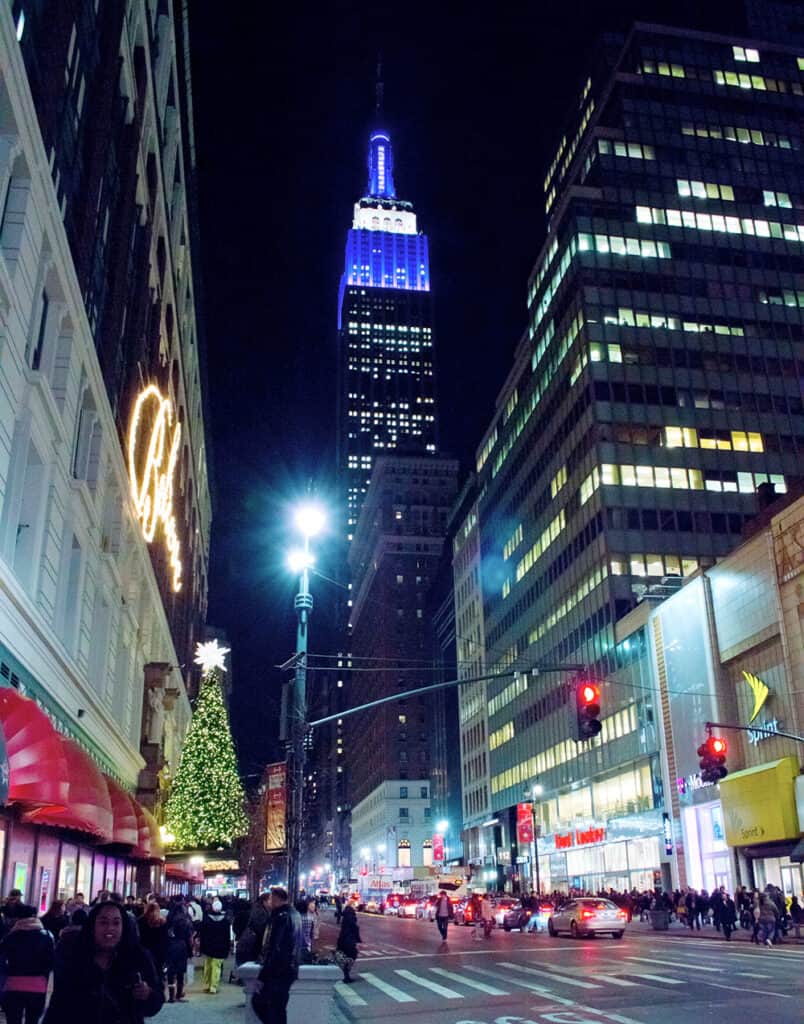 Then about a week before Christmas the lights change to red and green with a candy cane red and white stripe on the top, choreographed to music. This runs through until New Year's Eve when it erupts into a lighting fiesta to bring in the new year, then back to Christmas colors until about January 4th.
Check out the Empire State Building lights calendar.
Get your skip the line tickets to the top of the Empire State Building.
You might also like
If you're staying on for a few days, new year's eve in NYC is another huge excuse for celebrating and this post lists lots of great places to party including ticketed events with live music, rooftop restaurants you should book early, and where to stand to see the ball drop in Times Square.
I have more great New York posts:
Best, dreamy rooftop restaurants in New York
Where to go for the best brunch spots in New York
Awesome flea markets in New York to get your bargain hunting on
Where to find great shopping in NYC from malls to vintage neighborhoods