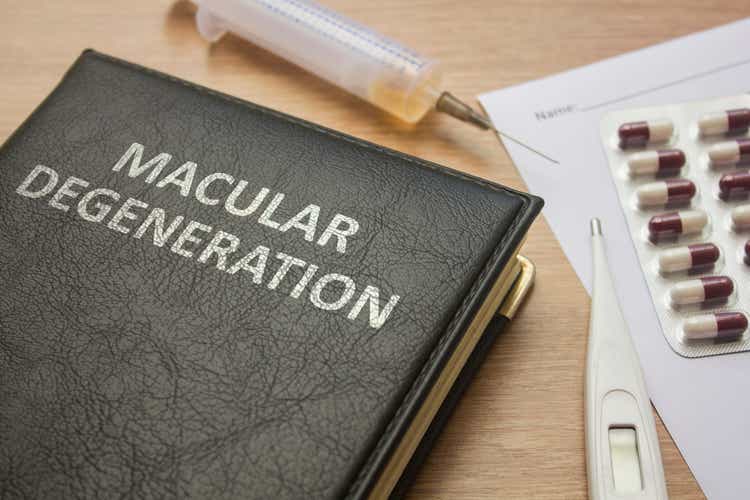 AbbVie (NYSE:ABBV), Roche (OTCQX:RHHBY), and Regeneron Pharmaceuticals (NASDAQ:REGN), which market and/or are developing new age-related macular degeneration ("AMD") treatments, will be buoyed by rising cases of the eye condition.
A recent report from data and analytics company GlobalData argued that the market for AMD in seven major countries including the U.S. is set to soar from $7.3B in 2021 to $22.8B in 2031.
Regeneron (REGN) markets Eylea (aflibercept), currently considered the market leader. Eylea had net sales of $5.8B in 2021.
"While current anti-VEGF therapies have cemented their place for [wet] AMD, longer-acting anti-VEGF therapies are of increasing importance given the treatment burden associated with current standard of care such as Eylea," GlobalData Healthcare Analyst Vinie Varkey wrote based on interviews with key opinion leaders.
Roche's (OTCQX:RHHBF) Vabysmo (faricimab-svoa), which was approved earlier this year, is indicated for wAMD and diabetic macular edema (DME). After an initial dosing regimen of every four weeks for the first four doses, it can be administered as infrequently as twice per year. Eylea, by comparison, is dosed every two months.
Varkey noted that AbbVie (ABBV) and REGENXBIO's (RGNX) RGX-314, in phase 3 development as a one-time gene therapy for the wAMD, "has the potential to disrupt the current market dynamics for wAMD."
wAMD treatments will also likely benefit from their use for DME.
Another report from GlobalData said that cases of DME will increase from 1.7M cases in 2021 to 2M in 2031. That year, the U.S. will have the highest number of cases at 500K.
Seeking Alpha's Quant Rating views REGENXBIO (RGNX) as buy with high marks for profitability and momentum.