How To Maximize The Perks And Minimize The Pitfalls When Implementing Employee Training Software
Trying to train your team and prepare them for every bump in the road can be costly. While investing in new employee training LMS can help stretch your budget and improve resource allocation, there are still plenty of pitfalls you can fall into when implementing your new software. Our eBook can help you create a plan of action and streamline your LMS launch regardless of how many resources you have on hand. First, let's go over some tips to make the most of your new employee training software and minimize the obstacles.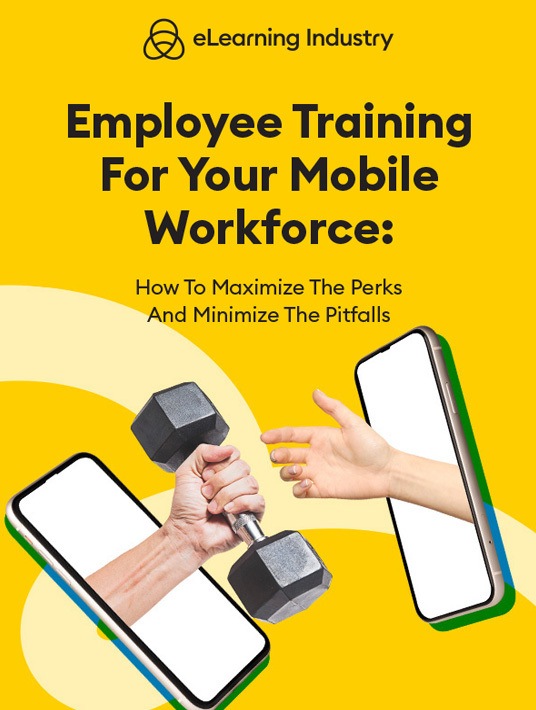 eBook Release
Employee Training For Your Mobile Workforce: How To Maximize The Perks And Minimize The Pitfalls
This eBook can help you create a plan of action and streamline your LMS launch regardless of how many resources you have on hand.
4 Tips To Maximize The Benefits And Downplay The Drawbacks
1. Set A Realistic Budget Before Vetting LMS Vendors
Many organizations dive right into the research process without any clear idea of how much they're willing (or able) to spend. This results in overpriced options on your shortlist, which is a waste of time. Or you invest in the wrong tool that ends up putting you over budget because you didn't account for hidden fees. This is why it's essential to set a realistic budget beforehand and plan ahead for ongoing maintenance. For example, how much will it cost to upgrade the tool in the future or develop additional content? Or do you need to pay extra for advanced support services if you plan to hire less-than-tech-savvy staff members?
2. Every Member Of The Team Has A Part To Play
Every employee that comes into contact with the LMS should play a role in the selection and implementation process. Even if it's as minor as filling out a survey to tell you what features they're looking for or which gaps they must address. Gather information from your team to identify your employee training software must-haves so that you can choose the best tool for your budget. Your L&D team can also disclose which functions they need on the back-end, such as customizable reporting. Another way to maximize the perks is to evaluate your current LMS metrics to pinpoint performance issues. Issues that your new employee training software must help you overcome if you want to get the best returns.
3. Be Choosy About Test Drives (And Come Armed With Evaluation Criteria)
There simply isn't enough time to try out every tool on the market—or even on your top 10 list, for that matter. Make a point to only test-drive online employee training LMS solutions that fall within your price range and can scale to meet your evolving needs. For example, you're able to add on additional users if you expand your staff size during busy seasons. One of the costliest pitfalls to avoid is using the free trial without any criteria. You don't know what to look for. As such, your new system may fall short when it's time to implement it within your organization. Once again, invite key people from every user group or department so they can provide their feedback.
4. Create A Timeline That Maps Out Crucial Sub-Tasks
Time is money. And an employee training LMS implementation schedule helps you break the process into manageable steps and subtasks. Then you can put a monetary sum on every stage of the process, as well as determine how long it will take to launch. For example, you estimate that your team requires about a week to set up the system and get used to its features. You can account for this in your payroll to avoid going over budget. But it will also give you a general idea of the learning curve involved on the front-end so that you can determine how much time to set aside after rollout for the entire workforce to acclimate.
Conclusion
Selecting a new employee training LMS is a team effort. It also calls for you to map out every aspect of the process so you can calculate a realistic timeline as well as look for LMS features that don't just address organizational objectives, but employee preferences. Download our eBook, Employee Training Software Simplified: Your Guide to Choosing the Best Employee Training LMS for Your Budget, before you start vetting LMS candidates to avoid common mistakes and calculate the real costs involved.
Check out our online directory after you get your guide to start perusing your top LMS options. It features the leading vendors, complete with reviews, ratings, and company info. You can also view a side-by-side comparison of your top three solutions to see which aligns with your needs and budget.
Download the eBook Employee Training For Your Mobile Workforce: How To Maximize The Perks And Minimize The Pitfalls to surpass employees' expectations and achieve your objectives.