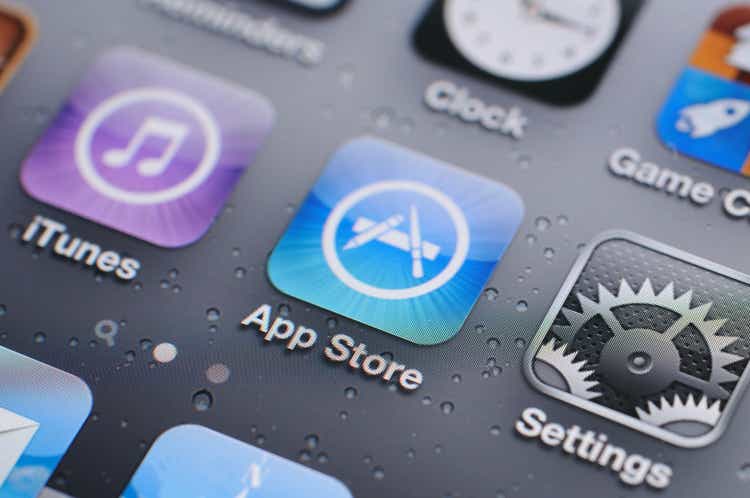 Apple's (NASDAQ:AAPL) services business has been the proverbial apple of Wall Street's eye, seeing double-digit revenue growth for several years and margins estimated to be around 70%.
But, with concerns that the segment is starting to slow, due in part to flatlining growth for the App Store, the tech giant is looking for other ways to boost growth in the valuable arena.
On Friday, Apple (AAPL) announced that Apple Card users can get three months of Apple TV+ free, as part of a promote for Apple's (AAPL) new animated movie, Luck. There has been a considerable amount of buzz surrounding Luck, which is produced by Pixar legend John Lasseter. The movie, which carries a price tag of $140M, has scored well with fans, carrying a 75% audience score on Rotten Tomatoes, though it has fared far worse with critics at 49%.
The offer is applicable for both new and existing Apple TV+ subscribers — though it is not available for Apple One subscribers — highlighting just how important Apple's (AAPL) services business is to the future of the company.
It's unclear how much revenue, if any, Apple (AAPL) generates from Apple Card, but the credit card, issued by Goldman Sachs (GS), certainly helps keep customers locked into the Apple ecosystem.
Apple TV+ has won more than its fair share of critical praise, including winning Best Picture at the 2022 Academy Awards for its heartwarming coming of age story, CODA. But again, it's unclear what level of revenue Apple TV+ drives for the company, just like the Apple Card.
And while these two areas may be a bit of a black box for investors, Apple (AAPL) has continuously updated the total number of subscriptions it has, having ended the most recent quarter with more than 860M subscriptions across its services.
Of these 860M, many include people who buy digital goods and services from the App Store. Investment firm Morgan Stanley recently noted that net revenue growth for the App Store rose just 1% year-over-year in July, with many key markets seeing declines.
Apple's (AAPL) future growth may be tied to how fast it can grow its services business. Last month, Morgan Stanley analyst Erik Woodring said Apple (AAPL) could ultimately be worth $3T if it focused on "a more pronounced shift to a subscription-like model."
Woodring added that when Apple (AAPL) discloses its year-end installed base, likely to occur in January 2023, that will be the "key catalyst" for the market to start moving towards this type of transformation. At the start of this year, Apple (AAPL) said it had roughly 1.8B active users.
However, if Apple (AAPL) were to make a "formal shift" to a subscription model, Woodring said it "would perhaps have an even greater valuation impact."
While that can be achieved in large part by how Apple (AAPL) sells its hardware like iPhones, iPads and Macs, its services business is a significant part of that, especially if it can get "sustained growth in spend per customer," Woodring noted.
Woodring noted that users spend roughly $2 per day on Apple's (AAPL) products and services, or roughly half of the average cell phone bill from carriers like Verizon (VZ), AT&T (T) and T-Mobile (TMUS).
With App Store revenue struggling in light of ongoing economic headwinds, regulatory issues and other factors, Apple (AAPL) has to look elsewhere for growth. And perhaps with just a little bit of Luck, Apple (AAPL) may get what it needs.
Last month, Apple (AAPL) Chief Executive Tim Cook said the tech giant would be able to "accelerate" its sales, even during a time of economic uncertainty.