This post is a round up of the best BBQ restaurants in the USA you HAVE to visit if you're a meatarian like me!
There is nothing like fall-off-the-bone pork ribs or juicy, juicy beef brisket slathered in barbecue sauce but there are so many BBQ restaurants in the US, how do you decide where to roll up your sleeves and dig in?
Guest blogger Britt put a list together of the must-try best barbecue restaurants in 11 states that will have your mouth watering and your tummy rumbling for all of us barbecue aficionados – and those who just love a good feed!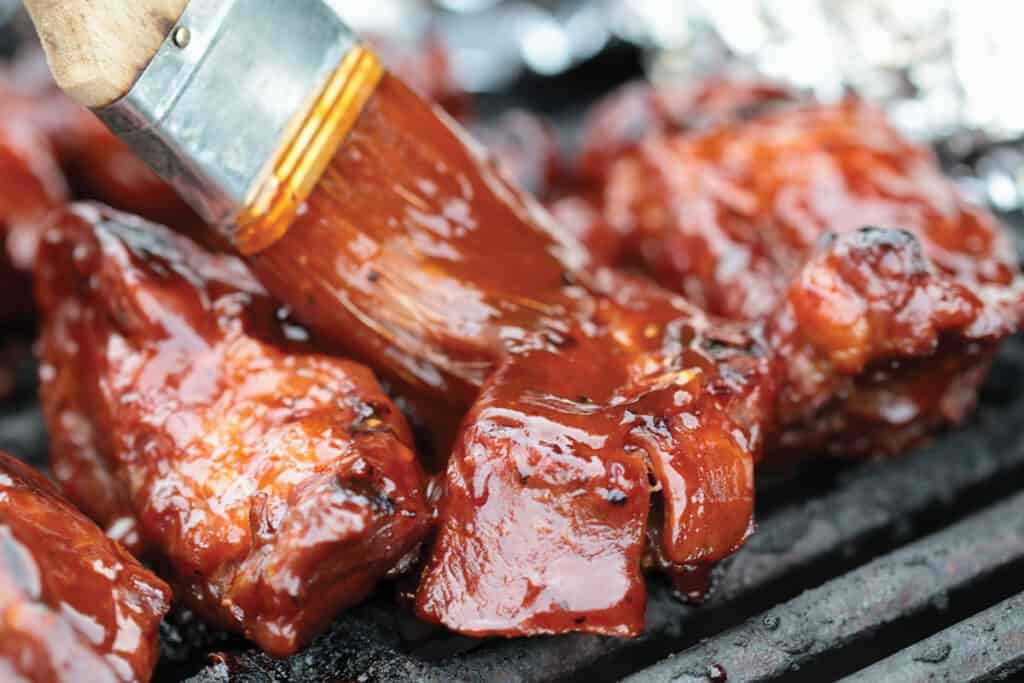 Missouri
Oregon
California
Texas
Kansas
Arizona
Georgia
North Carolina
South Carolina
Kentucky
Tennessee
Where: Kansas City, Missouri
This award-winning BBQ joint has a small menu of just ribs, sandwiches, and burnt ends but we found that they managed to cook everything perfectly.
It may seem like a hole in the wall that is a bit smoky but that just adds to the experience. Plus the smells alone are worth visiting! Try the three meat samplers, it has plenty of food for two people. You get smoked wings, five ribs, and over a pound of burnt ends. 
Where: St Louis Missouri
This unrated BBQ joint is one you have to try! 
Not only are the beef ribs EPIC at this St. Louis barbecue restaurant, they also do a really good turkey sandwich that is also worth trying. If you fancy something a little bit different get the smoked salami and creamed cabbage. 
And if it's nice weather grab your meal and sit out outside under the pergola.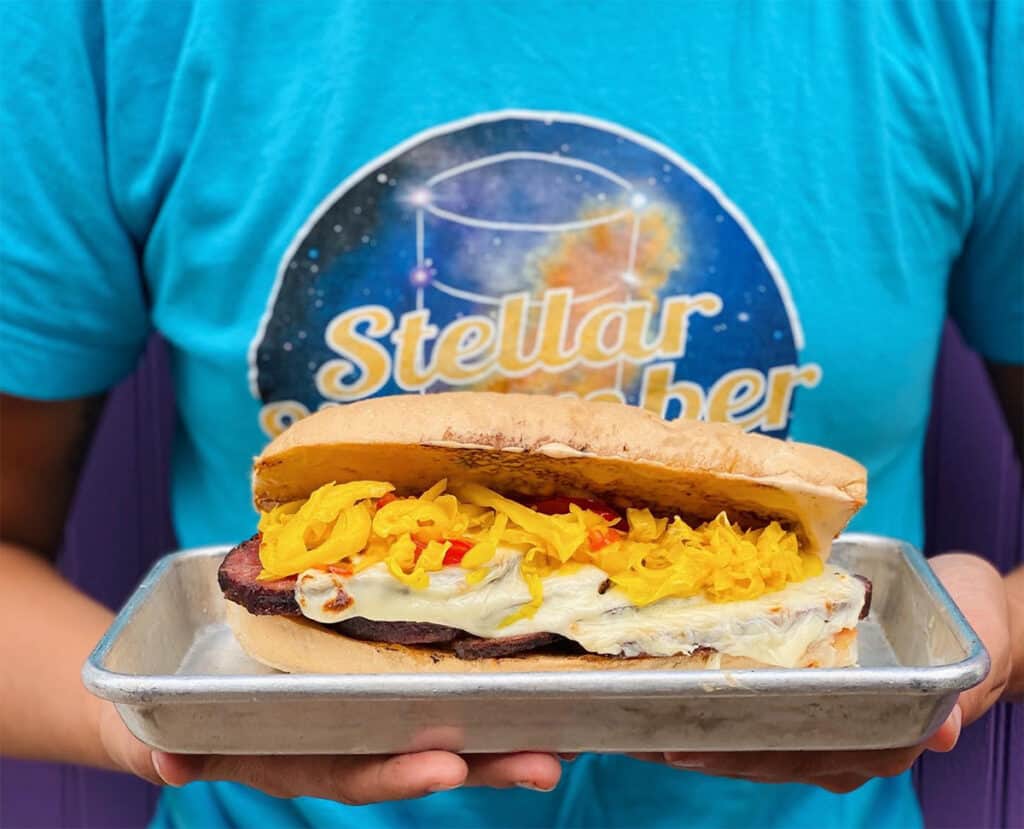 Where: Portland, Oregon
Homegrown Smoker is vegan! But don't let that stop you from making a visit. They're nominated for the Best in Oregon award and they have managed to get the taste and texture as close as possible to what you'd find in a meaty BBQ joint!
One of the best things to try at this vegan BBQ restaurant is the wings. We loved the delicious classic wing sauce flavor and they even molded protein around sugar cane to get that authentic bone-in chicken feel.
Also try the tempeh ribs, they are similar in terms of taste and texture but not quite as good as the wings. You'll forget you're not even eating meat here! 
Where: Los Angeles, California
Bludso is owned by Big Kev Bludso, TV personality and two-time Steve Harvey Hoodie Award Winner.
His restaurant is famous for slow-cooked brisket, tasty ribs, and pulled pork. If you have some leftover pulled pork we recommend making pulled pork tacos at home, it's a perfect way to use any leftovers.
You can even order your Thanksgiving turkey from here. We ordered ours three weeks before Thanksgiving as they can sell out! It was super easy to pick and they seem to have a good system for it.
The turkey came presmoked and already cooled, all you have to do is follow the instructions for reheating. The turkey came out perfectly juicy and flavorful.
You'll find Bludso's in La Brea, near West Hollywood – which also has some great rooftop bars to try too!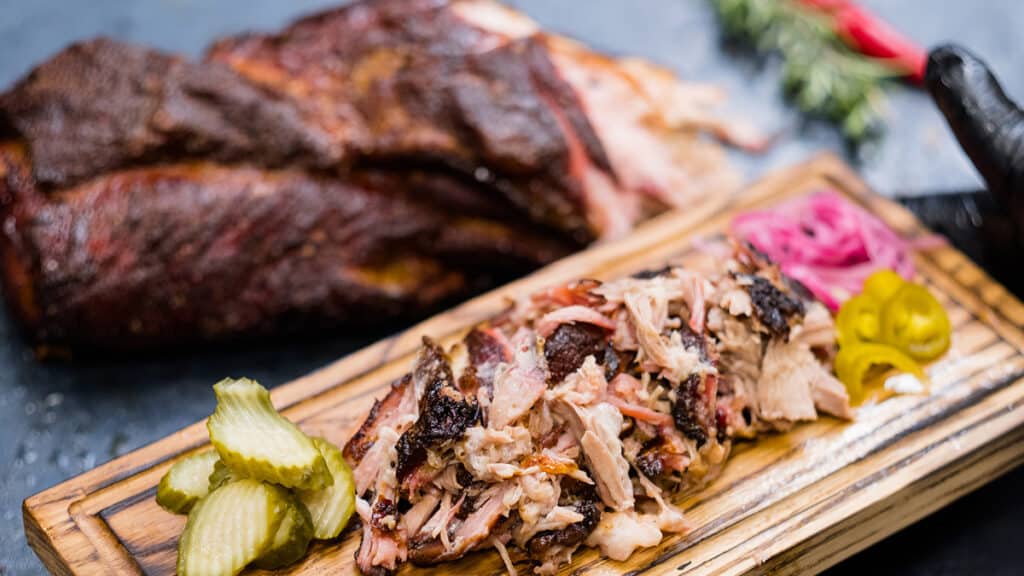 Where: Lexington, Texas
Snow's is maybe one of Texas's best-kept barbecue secrets. It's not just a restaurant, it's an experience. It has multiple awards and won Best BBQ in Texas in 2017.
Known for their long lines, get here early and prepare to meet many friendly folks standing with you. We arrived at 4am and were 65th in line! After opening at 7:45am, it took just over an hour to get inside.
It's worth ordering the ribs, sausages, brisket, and pork steak. The pork steak is like nothing you've ever had before. It is smokey, soft, tender and just melts in your mouth! It's 1000% worth a visit, just make sure you arrive early enough.
Where: Houston, Texas
Gatlin's BBQ is a family-run business and there is also usually a line, but it's well worth the wait. This would make a great dinner on a weekend in Houston!
Make sure you get the two meat plate. It has the most EPIC pulled pork and beef ribs that is super tender and will just fall off the bone. You won't even need sauce with them.
Also get the potato salad and green salad. They both taste like something your mom would make. If you have room, order the famous German chocolate cake to finish.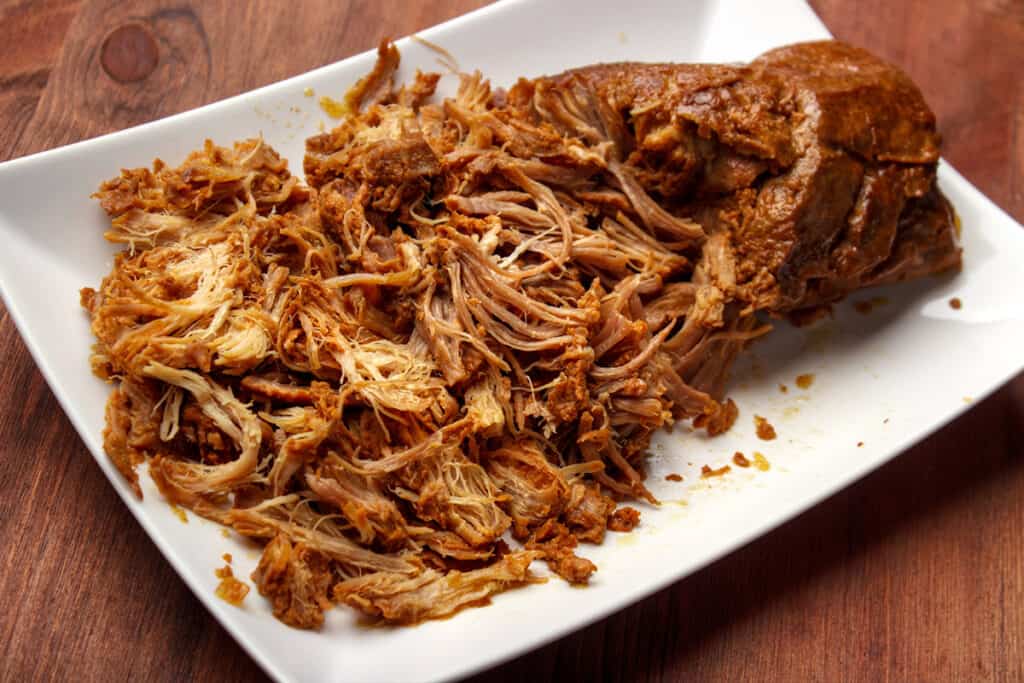 Baileys BBQ
Where: Forth Worth, Texas
These days there are way too many overhyped BBQ joints! 
I think the real gems are the hole-in-the-wall ones. Only locals know about em and you don't have to wait for hours on end to get in inside.
This is exactly what Baileys BBQ is. An unassuming restaurant that doesn't even have a website. The best thing here is the spicy pulled pork sandwich. But if you're really hungry, get the baked potato topped with brisket too.
And if you need other reasons to visit Fort Worth, you can read more in this post. (Megan)
Where: Austin, Texas
If you're looking for the best place for BBQ in Austin, Franklin is an institution here. The brisket regularly sells out by midday and you have to be prepared to wait in line!
Arrive before 10am and you'll hopefully be in the door by lunchtime. Now while brisket is the star of the show at Franklin's but you should also get the pulled pork, potato salad, beans, and slaw.
This Texas barbecue is easily one of the top best BBQ joints in the US, "serving the best barbecue in the known universe" said the Texas Monthly. The brisket is to die for and will melt in your mouth and have you planning your next trip back.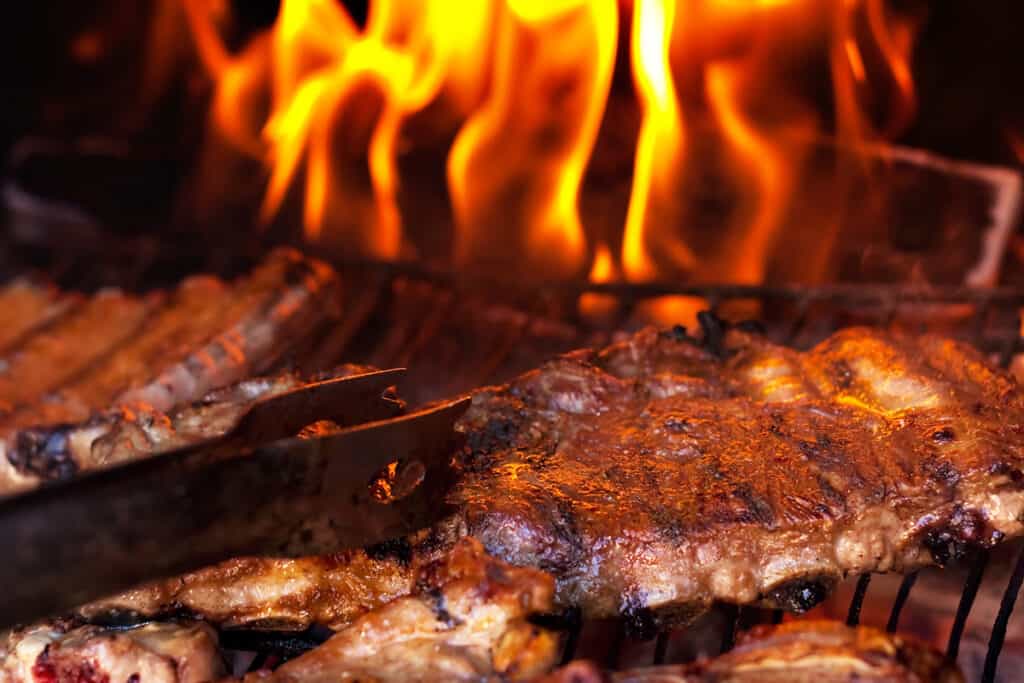 Where: Kansas City, Kansas
While the original joint may have started in a gas station, it now has a loyal following – and two more venues and a swag of BBQ contest wins under their belts.
Make sure you try the brisket and ham, they are both smoked to perfection. The brisket is almost like candy, it will just melt in your mouth!
The sauces that come with the meat are also top-notch. They seem to be made in-house and have a lovely sweet yet spicy flavor.
You should also try the Texas toast, it's perfect for making a sandwich out of your ham or brisket, just make sure you save some sauce for your sandwich.
Another thing to try is the dirty rice. Now, this is what sets them apart. You can tell the sausage in the rice is homemade and packed full of flavor. You won't be able to stop eating it. There is nothing like a place that makes all their items in house, it really shows in the quality of the food.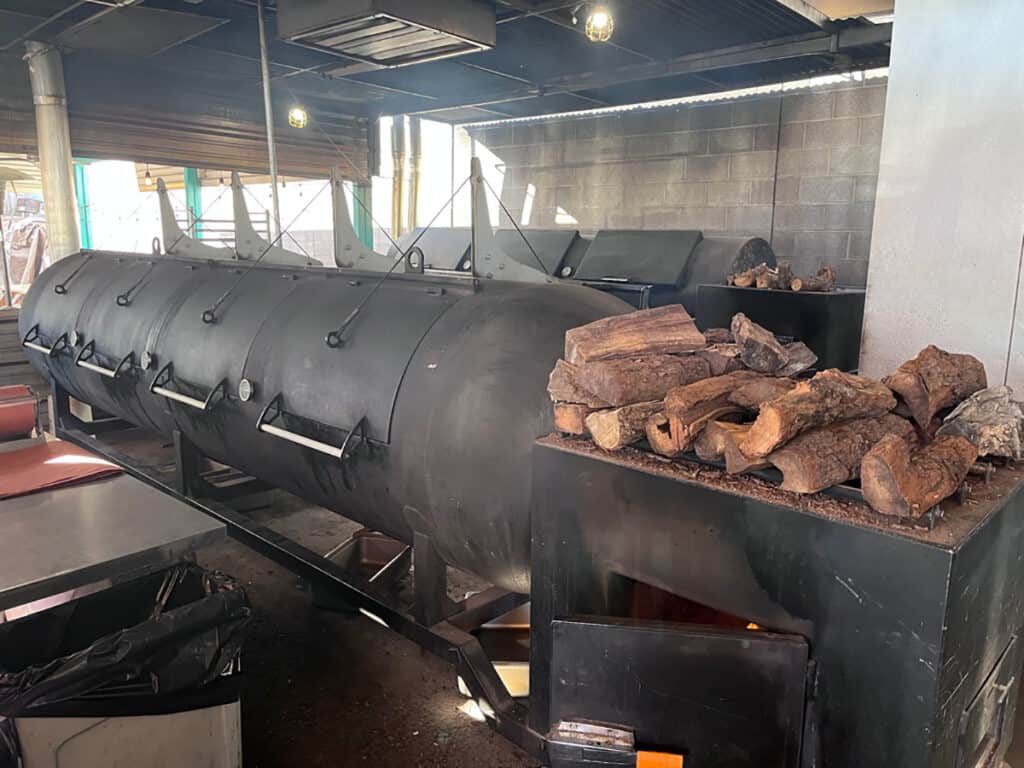 Where: Phoenix, Arizona
Little Miss BBQ specializes is owned by Scott and Bekke who have a passion for central Texas style BBQ. They've been scooping up awards for their brisket and pork and are open from 11am-4pm unless they're sold out earlier! You can order online and add your extras too, like jalapeños and pickles.
As well as incredible smoked brisket with great bark, beef short rib (only on Fridays and Saturdays), they do a delicious BBQ burrito and make and sell their own bottled sauces.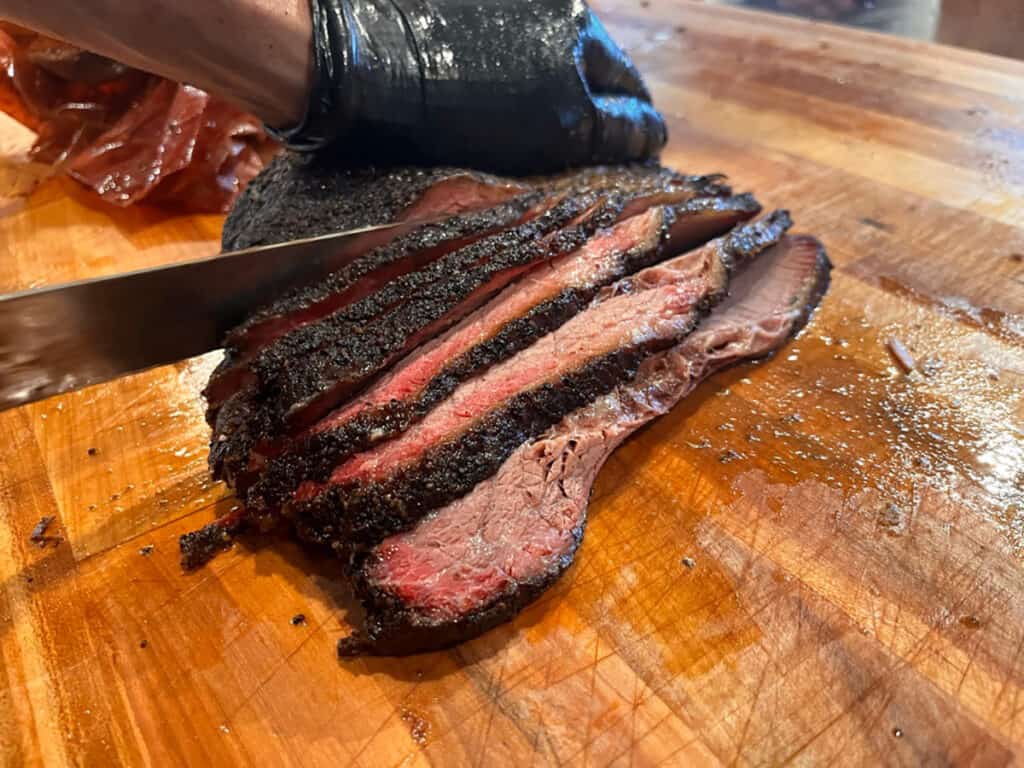 Where: Atlanta, Georgia
This barbecue joint adds a Korean twist to its dishes. Although it's a small space, it's nice to eat at a communal table!
We recommend trying the gochujang marinated pulled pork for something special, or their two meat combo.  Don't worry if you notice your pork is pink that is normal. We also tried the tacos and they were epic.
Where: Charleston, North Carolina
Rodney Scott's pulled pork is famous and it's famous for good reason. He cooked his first hog when he was 11 years old and has never looked back.
This super popular joint also draws the crowds. The top tip to this place is arrive early or late otherwise you'll be waiting in line. Go for the whole hog with fries, spare ribs, brisket chili, and potato salad! 
The ribs are always cooked to perfection with a deliciously smoky wood flavor, plus the ribs came with the tips which were awesome. The seasonings are also bang on, so you might not even need the BBQ sauce.
But we do recommend trying the Rodney sauce which is a tasty vinegar-based sauce. If you're looking to make your own vinegar-based sauce here is a good one. 
The chili is also bomb here, the smoky flavor from the brisket comes thought but its doesn't overpower the chili. Your taste buds will be dancing. If you want some classic BBQ in Charleston (or Birmingham, AL) this is the place to go.
Where: St, Elgin, South Carolina
Another awesome family-owned restaurant. This is the real deal and you gotta support the little guys! 
Make sure you try the BBQ plate as well as the ribs and add a side dish of mac n cheese, I mean that is what we all come here for, they are epic!!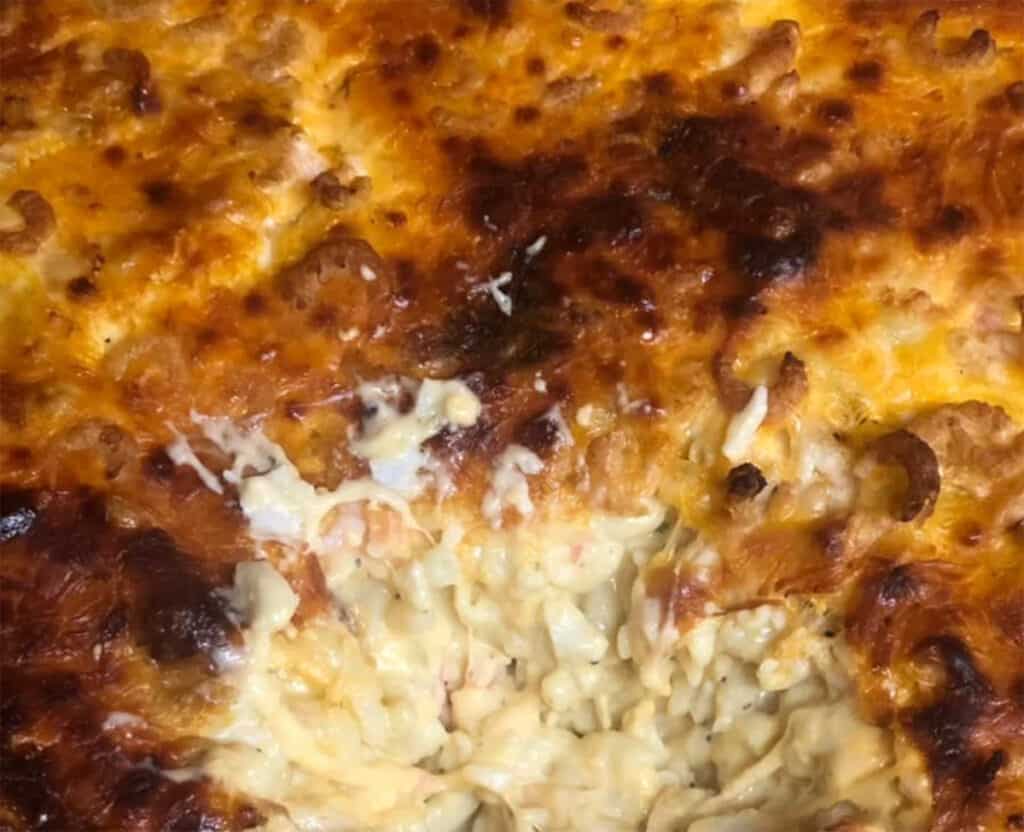 Where: Owensboro, Kentucky
Now this one is a bit different. It's a BBQ buffet and one of the best you can visit – and is not surprising that it's been on so many TV shows and is voted the Best BBQ in Kentucky by readers of Kentucky Monthly.
Famous for their BBQ mutton you should also try are the chicken, ribs, corn, pulled pork, and you HAVE to try the mac and cheese from the side dishes menu.
The BBQ sauce also tastes homemade which is always a plus in my book. Make sure you also save room for the dessert bar. The coconut cream pie and banana pudding are DELICIOUS.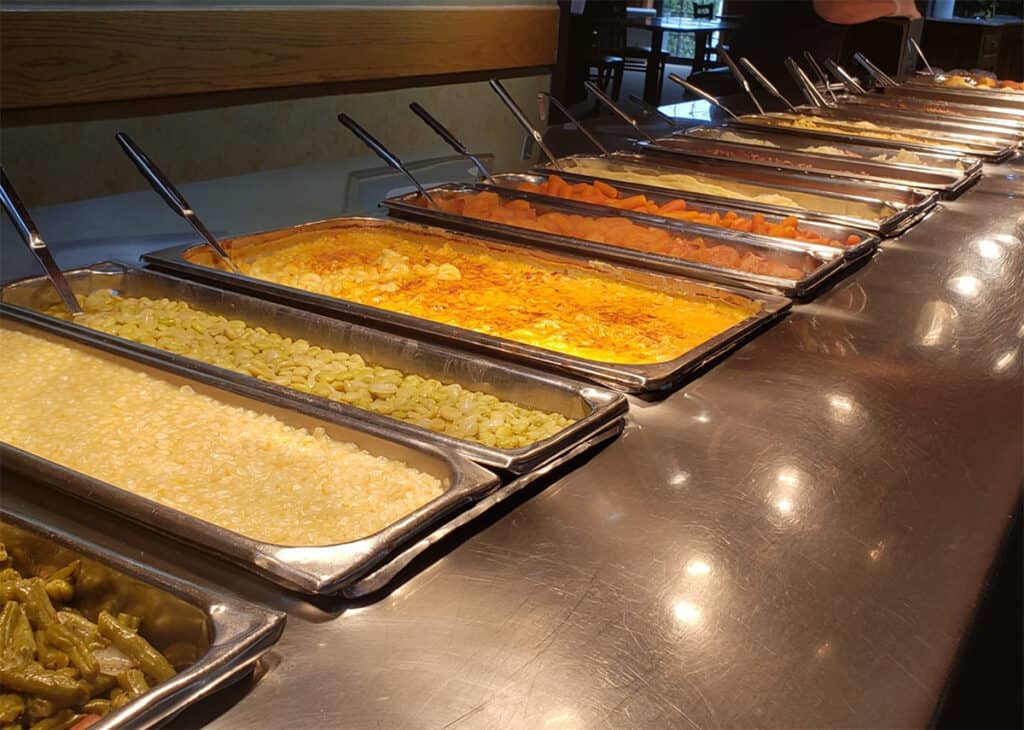 Where: Memphis, Tennessee
Central BBQ has three locations in Memphis. The pulled pork shoulder just falls apart when it comes out of the smoker.
I (Megan) have taken friends to the downtown location, right beside the very moving Civil Rights Museum, which is worth allowing a couple of hours to see.
Get a meat combo with BBQ chicken, beef brisket, sticky ribs and the pulled pork. Add a side dish of mac n cheese, baked beans and slaw – and you'll stagger out not needing to eat again for days!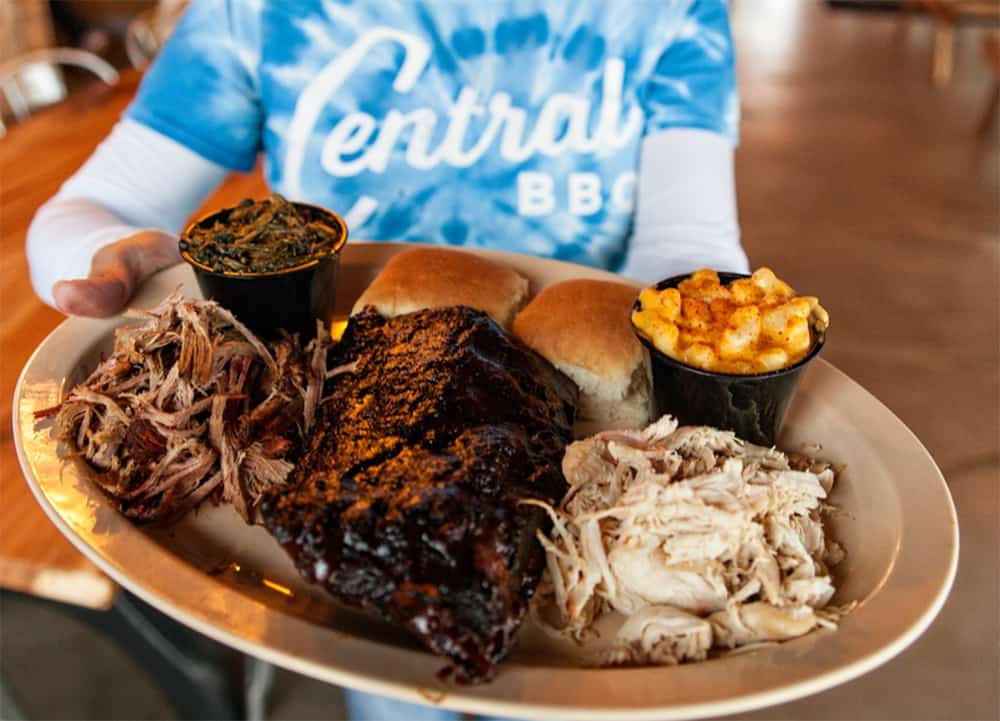 There are so many fantastic barbecue restaurants in the USA and unfortunately we couldn't include them all, but we hope that this list may lead you to many more tasty adventures. 
Give them a try next time you're looking for somewhere different or are on a road trip. 
We're big fans of discovering new places to add to this list of the best barbecue joints, and would love to know what you recommend!