Yves here. Those dark delivery trucks are already bake ovens. And in a place like New York City, the buildings and pavement also radiate heat. The article describes heat-induced driver hospitalizations and even a death. How long will this continue before UPS and Fedex and Amazon are forced to change? It won't come voluntarily. Workplace conditions have been at the bottom of their list of priorities.
By Claudia Irizarry Aponte and Samantha Maldonado. Originally published at THE CITY on July 27, 2022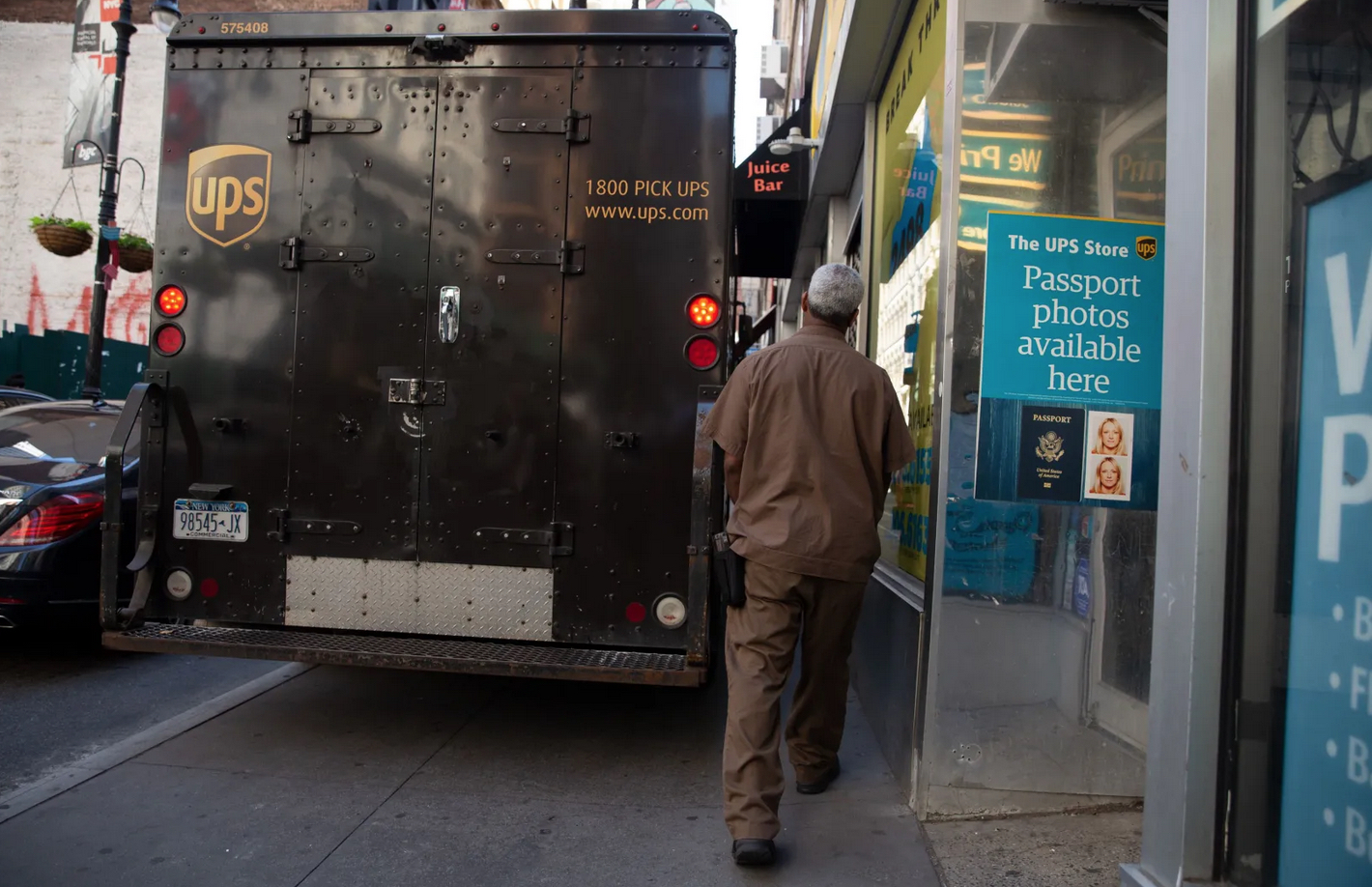 A UPS worker delivers packages in the Financial District, July 27, 2022. Ben Fractenberg/THE CITY
UPS workers are turning up the heat on their employer after their union said at least six package delivery drivers in the New York City region experienced heat-related illness on the job during last week's heat wave.
Chris Cappadonna, 26, says he sought emergency care for heat exhaustion an hour into his shift Thursday morning in Brooklyn. With outside temperatures nearing 100 degrees, he started experiencing difficulty breathing and cramped hands, he told THE CITY.
He said he was moving heavy furniture in Mill Basin and was "about to pass out" when two city sanitation workers, who apparently noticed he was struggling, stopped him and came to his aid.
They let Cappadonna sit in their air-conditioned truck to cool off, and he later went to an urgent care and then the emergency room at Mount Sinai Kings Highway, he said.
"I've been working for two years and I've never felt heat like that. That was crazy," Cappadonna said. "It's just not a good situation for anybody to be working in that heat."
He and other workers say UPS management is not taking needed measures to protect them from the heat, whether that's ensuring their trucks have fans or air conditioning, or giving them adequate breaks during heat waves.
They're steamed that the company has invested in new automation technology, drones, surveillance cameras and tracking devices — but not its employees' comfort One worker told THE CITY a supervisor reprimanded him for taking a 47-second pause for a sip of water — because it was stealing company time.
UPS workers represented by Local 804 and Teamsters Joint Council 16 will protest outside the company's Foster Avenue warehouse in Canarsie, Brooklyn, on Thursday morning, demanding that the company provide air-conditioned trucks — something many drivers for Amazon, FedEx and even the U.S. Postal Service can take for granted.
Their call comes as New York state and federal regulators are taking a closer look at how to protect vulnerable workers from the ever-growing threat of extreme heat.
Atlanta-headquartered UPS remains the largest private parcel delivery company in the United States, with 450,000 delivery drivers.
A company spokesperson says UPS pays attention to keeping its workers healthy in the heat.
"The health and safety of our employees is our highest priority. UPS drivers are trained to work outdoors and to manage the effects of hot weather," UPS spokesperson Matthew O'Connor said in a statement to THE CITY. "Preparation, rest, hydration and maintaining good health practices are key to working outdoors."
'I Can't Take it Anymore'
Prolonged exposure to extreme heat can cause serious health complications and even death. Emissions from burning fossil fuels cause average temperatures to rise, with scientists predicting that heat waves will become longer and more frequent in the future.
"Workers need protection with or without climate change, but climate change is definitely making everything more urgent," said Juanita Constible, senior climate and health advocate with National Resources Defense Council's healthy people and thriving communities program.
Last Thursday afternoon, Brooklyn UPS worker Angelique Dawkins, 50, sought respite at a nail salon after she started hyperventilating while driving her truck down 13th Avenue in Dyker Heights. Exhausted, she said fell asleep for 20 minutes before continuing her shift.
"We're told to cool down, drink water, sit in the shade — when the temperature's that high, there is no shade," she later said in an interview. "You get to the point where you say, 'I can't take it anymore.'"
This month in Pasadena, Calif., UPS driver Esteban Chavez collapsed in his truck shortly after making his final delivery of the day and was later pronounced dead. His family told local media they suspect the 24-year-old died of heat stroke.
Two more UPS workers, one on Long Island and another in Brooklyn, say they were rushed to the hospital with symptoms of heat exhaustion on Thursday and Friday.
Nick Gubell, 26, had delivered more than 200 packages on his route spanning central Long Island by the time he fell ill at around 8 p.m. Thursday, near the end of his shift, with a headache and clammy hands.
He was "panting like a dog," Gubell told THE CITY.
Paramedics called onto the scene ripped open his shirt and covered him in ice packs, he said. He remained in the hospital until 2 a.m. and missed work that day.
Gubell is also the worker who had been scolded for the water break.
And on Friday, a UPS driver in Red Hook who declined to be named out of fear of retaliation, was rushed to urgent care and later to the emergency room by an off-the-clock co-worker and a supervisor after experiencing a dizzy spell while working that afternoon as the temperature reached 95 degrees.
"When it's hot out, those trucks…. It's like walking into hell," he said.
"This is a company that in the past — forever — has always insisted on performance on how fast their drivers and warehouse workers could work," Vincent Perrone, president of Teamsters Local 804, which represents the region's UPS workers, told THE CITY on Wednesday. "It's just production-driven. That's what it is."
O'Connor, the UPS spokesperson, said in a statement: "We never want our employees to continue working to the point that they risk their health or work in an unsafe manner."
From Hot to Not
Under the ​​federal Occupational Health and Safety Act, employers must provide workplaces free from hazards that are likely to cause death or physical harm. Still, nearly 400 workers across the country died from heat exposure between 2010 and 2020.
"We know it's a pretty basic equation in terms of how to keep people safe, and if someone dies on the job because of the heat related illness, it typically was a preventable death, and it's tragic," said Rachel Licker, a principal climate scientist with the Union of Concerned Scientists' climate and energy program, who has done extensive research on heat's dangers to workers.
O'Conner, the UPS spokesperson, said the company had several practices in place to protect workers from extreme heat, including a program developed with OSHA promoting best practices to deal with heat, as well as daily briefings on the day's forecast.
He also added that the company has "studied heat mitigation with our vehicles and installed forced air systems with venting to create air flow around the driver, changed the roof of vehicles to minimize heat in the cargo area, and insulated the roof of the cab."
He also said the company provides fans to drivers upon request. Perrone, the Local 804 president, said that approvals for the fans are in fact "very rare."
OSHA in October began a rulemaking process to create a possible federal workplace heat standard in an attempt to protect people who work in agriculture, construction, factories, warehouses, kitchens and delivery.
A workplace heat standard could mandate workers take paid work breaks as well as have access to sufficient shade and drinking water.
But it may take years for a standard to be created — absent federal legislation to speed up the timeline — and subsequent administrations could overturn or change the standard, Licker said.
States can take the lead on instituting workplace protections related to heat, but New York lacks specific protections. A bill introduced in the state Senate would've required employers to keep their employees safe from extreme heat, but it did not pass.
Still, the federal rulemaking is "shaping" New York's creation of state-level actions and regulations on worker safety during extreme heat, according to a state report of interim recommendations to prepare for extreme heat, released Saturday.
"To really protect workers, we need a statewide temperature standard that sets restrictions on dangerously low and dangerously high temperatures for workers," said Charlene Obernauer, executive director of the New York Committee for Occupational Safety and Health.