Demystifying The Metaverse And Immersive Learning
The tricky thing about the metaverse and immersive learning, as a whole, is that they seem to be shrouded in so much mystery. Sure, some of us have welcomed VR into our everyday lives, whether it's slipping on an Oculus headset or losing ourselves in an AR app. However, the concept of using immersive learning tech in training is still a bit elusive. Fortunately, this eBook is about to change all that.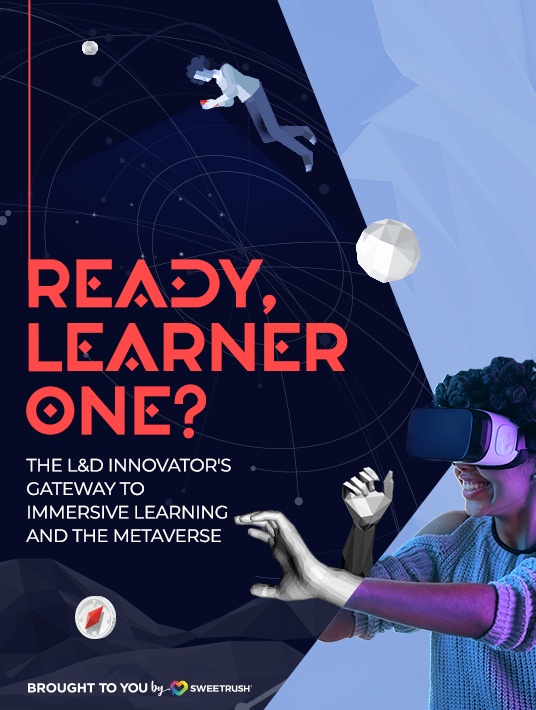 eBook Release
Ready, Learner One? The L&D Innovator's Gateway To Immersive Learning And The Metaverse
Discover who (and what) lives in the metaverse, four strong use cases for immersive learning, and what the future holds for virtual reality and augmented reality technology.
Leveraging Tomorrow's XR Technologies Today
Virtual Reality was once the stuff of sci-fi dreams. However, today, it's an integral part of many L&D programs. You can use it to impart real-world experience without the risk, build employee self-confidence, and bring your geographically dispersed teams together. The possibilities are endless when it comes to XR applications in online training and employee development. One of the most notable benefits is being able to foster an emotional connection with your learners. They aren't just reading about scenarios or core company values, they're living them in the virtual environment.
Thankfully, you don't have to have coding or programming know-how to create immersive learning experiences. This eBook shows you how to choose the best partner for your needs and embark on your XR journey. You'll learn how to make the most of immersive learning to move from theory to practice and develop contextual learning programs for your teams.
About This eBook
How can you use the metaverse to your L&D advantage? What are the different types of reality you should consider? Where do you even begin? Here's a sneak preview of what you'll find in this eBook. It covers everything from XR examples and metaverse myths to immersive learning forecasts.
Tutorial: What's the metaverse? – More importantly, what's in the metaverse for L&D?
How do I get started? – Follow this step-by-step guide to gauge your organization's readiness to set off on an epic immersive learning quest.
Take me to your L&D use cases – Immersive learning shouldn't feel like a plunge into the unknown.
Forecast the future – The experts share what's ahead for XR technology and immersive learning—and how it can help L&D influencers create more engaging learning experiences.
Help me find The One – Ready to meet your perfect-match immersive learning partner?
Conclusion
Download the eBook Ready, Learner One? The L&D Innovator's Gateway To Immersive Learning And The Metaverse to unlock the full potential of immersive learning for your organization.