Lambert and I, and many readers, agree that Ukraine has prompted the worst informational environment ever. We hope readers will collaborate in mitigating the fog of war — both real fog and stage fog — in comments. None of us need more cheerleading and link-free repetition of memes; there are platforms for that. Low-value, link-free pom pom-wavers will be summarily whacked.
And for those who are new here, this is not a mere polite request. We have written site Policies and those who comment have accepted those terms. To prevent having to resort to the nuclear option of shutting comments down entirely until more sanity prevails, as we did during the 2015 Greek bailout negotiations and shortly after the 2020 election, we are going to be ruthless about moderating and blacklisting offenders.
–Yves
P.S. Also, before further stressing our already stressed moderators, read our site policies:
Please do not write us to ask why a comment has not appeared. We do not have the bandwidth to investigate and reply. Using the comments section to complain about moderation decisions/tripwires earns that commenter troll points. Please don't do it. Those comments will also be removed if we encounter them.
* * *
560 million-year-old tentacled creature may be the animal kingdom's first known predator
Science Daily. Cthulhu?
Baffled scientists discover 'perfectly aligned' holes punched into the ground 1.7 miles below the surface of the Atlantic Ocean that look like human-made excavations Daily Mail. R'lyeh?
Climate
The energy system transformation needed to achieve the US long-term strategy Joule. Final sentence: "Creating better alignment between models and the on-the-ground realities of specific national contexts is key to supporting long-term strategies to achieve emissions reductions goals."

Unprecedented Heat And Stressed Grids Make Dangerous Power Outages Increasingly Likely HuffPo

Colonial Pipeline now says it spilled 2 million gallons of gasoline in NC — 31 times greater than original estimates The Pulse
#COVID19
Still vax only, but with functional vax:

 

At White House Summit on Future of COVID Vaccines — many impressive science and biotech leaders presenting on promising new approaches to vaccines that could block COVID transmission – eg nasal, mucosal, transdermal patch, moderated by Francis Collins 1/x pic.twitter.com/LmFCIAGjC6

— Tom Inglesby, MD (@T_Inglesby) July 26, 2022

But:

 

Great takeaway at the end was: we need a transmission-blocking vaxx, which gets us ahead of new variants & stops transmission. My only disappointment w/ this otherwise inspiring panel is disuse of easy, effective NPI of masks to stop the very transmission vaccines are aiming for.

— Pantea Javidan, JD, PhD (@pjavidan) July 26, 2022

* * *

The Huanan Seafood Wholesale Market in Wuhan was the early epicenter of the COVID-19 pandemic Science. With handy maps. "We show the earliest known COVID-19 cases from December 2019, including those without reported direct links, were geographically centered on this market. We report that live SARS-CoV-2 susceptible mammals were sold at the market in late 2019 and, within the market, SARS-CoV-2-positive environmental samples were spatially associated with vendors selling live mammals. While there is insufficient evidence to define upstream events, and exact circumstances remain obscure, our analyses indicate that the emergence of SARS-CoV-2 occurred via the live wildlife trade in China, and show that the Huanan market was the epicenter of the COVID-19 pandemic."


* * *

Some schools hit hard by virus make few changes for new year AP

43% of parents with young kids say their children will 'definitely not' get COVID vaccine ABC

* * *

Assessing the effectiveness of public health interventions for Covid-19 in Greece and Cyprus European Policy Analysis. A model for NPI effectiveness. From the Discussion: "Our model shows that NPIs work. They have the desired effect, lowering the number of new cases, but their effects only show up in the medium to long term (4–6 weeks). That is good news from a public health point of view but not from a political perspective. Politicians know well that NPIs that 'save' lives also economically 'harm' them. NPIs are unpopular, especially long-lasting ones, because of the severe impact on a country's economy and social life, and the potential political costs involved. We show that the tradeoff is very harmful because the country bears the economic cost first before it sees the public health benefits. As the pandemic lingers, the tradeoff becomes less beneficial because of 'NPI fatigue' and citizens may comply less. Our study shows economies are resilient, and they do, on average, bounce back, but that assumes public aid, for now, and similar levels of compliance to NPIs. If NPIs are significantly relaxed, the public health benefits may dissipate with unpredictable economic consequences.:

Increasing ventilation reduces SARS-CoV-2 airborne transmission in schools: a retrospective cohort study in Italy's Marche region (preprint) arXiv. From the Abstract: "We need high ventilation rates (> 10 L s−1 student−1) to protect students in classrooms from airborne transmission; this is higher than the rate needed to ensure indoor air quality. The excellent agreement between the results from the retrospective cohort study and the outcomes of the predictive theoretical approach makes it possible to assess the risk of airborne transmission for any indoor environment."

Workplace Perceptions and Experiences Related to COVID-19 Response Efforts Among Public Health Workers — Public Health Workforce Interests and Needs Survey, United States, September 2021–January 2022 Morbidity and Mortality Weekly Report, CDC. From the Abstract: "Approximately 40% of the workforce intends to leave their jobs within the next 5 years…. Purposeful succession planning and focused attention on recruitment and retention that promotes diversity will be critical as the workforce rebuilds ." Please join us, we're time-serving losers who permanently infected a continent.
Biogen agrees to $900 million drug kickback settlement on eve of trial and Prosecutors say FBI trainee stole tips from lawyer-girlfriend to trade on Merck deal Reuters. Sensing a pattern here.
Monkeypox
U.S. Leads Globally in Known Monkeypox Cases, CDC Says WSJ USA! USA!
China?
George Gao Fu, head of China's CDC who helped lead coronavirus pandemic response, stepping down South China Morning Post

Senate report: Chinese officials attempted to infiltrate the Fed for over a decade Axios
Myanmar
Research highlights the institutional abuse of Myanmar foot soldiers as root cause of human rights crisis Mizzima

More violence in Myanmar feared as junta's executions send 'ruthless' message to Asean South China Morning Post
Addiction and crime – How the "Okinawa System" harmed island's residents Okinawa Times
Syraqistan
Now is the time to save the Iran nuclear deal FT

The law professor who set out to dismantle Tunisia's democracy WaPo
UK/EU
London's Square Mile Struggles to Find Its Way in Brexit Britain Bloomberg
Sunak vs Truss: a battle between two failed economic policies Mainly Macro
Hungary's economic woes force Viktor Orbán to bow to EU and investors FT
New Not-So-Cold War
Russian Breakthrough in Donetsk, August Decisive Month in War, Russia Dials Down Gas Flow to Europe (video) Alexander Mercouris, YouTube. Shoutout to NC at 14:31.

* * *

Oligarch Ihor Kolomoisky, under FBI probe, stripped of Ukraine citizenship Pittsburgh Post-Gazette. Seems like a desperate move, just as the plot to steal a Russian airplane was a desperate stunt. Exciting times at the House with Chimeras! For more on Zelensky, Kolomoisky and his Azov goons, see NC here.

Servant of the Corrupt Consortium News

* * *

Black Sea and three musketeers Indian Punchline

21st Century Order Patrick Lawrence, Consortium News. Moscow/Teheran meeting: "[P]art of a long-in-the-making project that will connect Russia, Iran, and India by sea, road, rail, and, eventually, a very significant Iran–to–India oil pipeline."

Nato's latest expansion plan could be beginning of the end as waning West targets 'Russia threat' South China Morning Post (Re Silc).

* * *

Risks, mined waters slow rush to extract grains from Ukraine AP

Can Europe get through winter? Hellenic Shipping News

* * *

Russia says it will leave the International Space Station after 2024 Space.com

Portrait of Bravery: Ukraine's First Lady, Olena Zelenska Vogue. Surely Zelenskx?
Biden Administration
US military making plans in case Pelosi travels to Taiwan AP

Biden administration working behind the scenes to convince Pelosi of the risks of traveling to Taiwan CNN. Not very effectively, it would seem:

 

Who are they to say that @SpeakerPelosi shouldn't go to Taiwan? The Chinese Communist Party doesn't get to dictate the travel schedule of the Speaker of the House. pic.twitter.com/lRns82b476

— Rep. Ro Khanna (@RepRoKhanna) July 25, 2022

>
Capitol Seizure
Justice Dept. Asking Witnesses About Trump in Its Jan. 6 Investigation NYT

Why Trump Can't be Prosecuted for "Dereliction of Duty" Counterpunch
Healthcare
How Polio Crept Back Into the U.S. ProPublica
Big Brother Is Watching You
National Security Search Engine: Google's Ranks Are Filled with CIA Agents Mint Press
Sports Desk
He's Baseball's Only Mud Supplier. It's a Job He May Soon Lose. NYT
Zeitgeist Watch
5-year-old in a Chucky costume terrorizes unsuspecting people in an Alabama neighborhood Today

Chess Robot Grabs And Breaks 7-Year-Old Boy's Finger During Match Science Alert. And so it begins.
Guillotine Watch
Fear and loathing in Aspen Politico and Aspen's World War III Rumblings (excerpt) Julia Ioffe, Puck. Puck is pay-walled, but I don't think I need to read any more.
Class Warfare
Behind the investigative report on child labor allegations at Hyundai Alabama plant NPR

Francis Fukuyama Is Right: Socialism Is the Only Alternative to Liberalism Jacobin
Scholars: In Lieu Of Hell, Unbelieving Introverts Will Be Sent To A Business Networking Event That Lasts Forever Babylon Bee. Unmasked.
Antidote du jour (TS):
Phoebe is lovely little girl that came to visit several years ago and decided to stay. Her favorite hobby is to make a racket at 3 am on anything she can bang on. A door, a box, a bedroom dresser and she's on it. After she wakes everyone she goes back to bed to finish her sleep.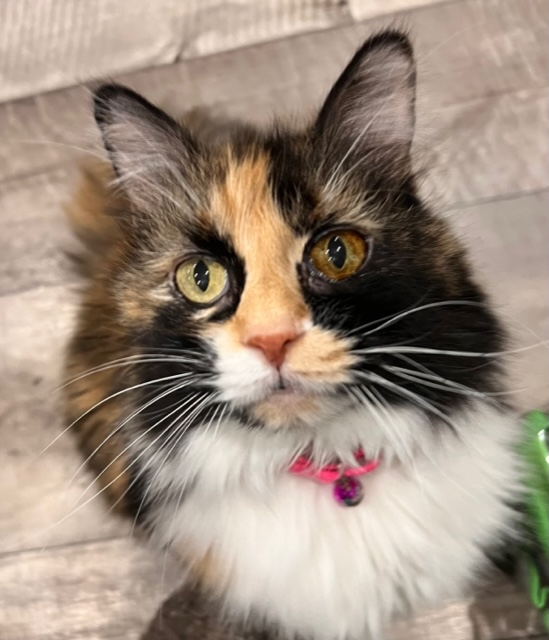 See yesterday's Links and Antidote du Jour here.