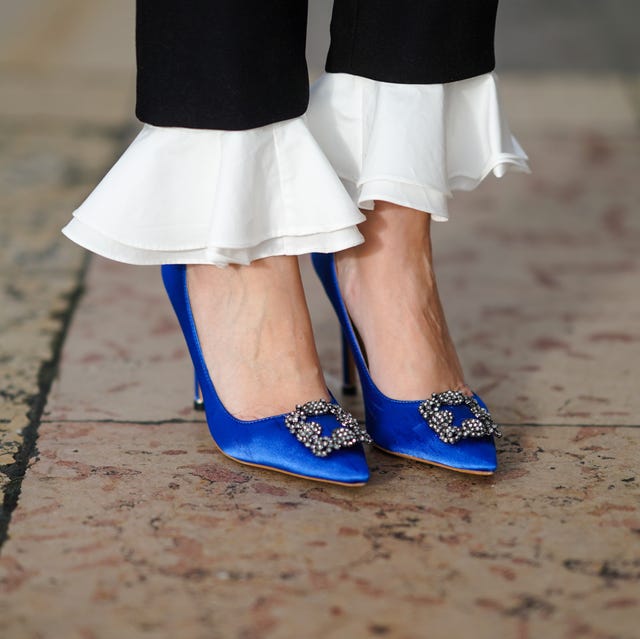 Edward BerthelotGetty Images
Every now and then, a rare sale comes along that we have no choice but to take advantage of it. Currently, Saks Fifth Avenue is offering up to 40 percent off select Manolo Blahnik (and Jimmy Choo!) styles, thanks to an exclusive offer from the retailer. From July 25 to July 27, must-have heels, mules, boots, and sandals are all for taking. All you'll need to access this rare deal is to make sure you use the promo code JULY40 at checkout.
If you've ever dreamed of having a Carrie Bradshaw Hangisi moment, now's your chance. And if you're just looking to invest in quality shoes on a budget for a quick wardrobe refresh, what better time to snag designer classics than during this limited-time deal? From sparkly mules perfect for your next wedding guest outfit to neutral flats and the iconic Manolo BBs, these steep discounts provide ample opportunity to get yourself a pair of celebrity-approved shoes for less.
A sale this grand won't be around for long. Ahead, shop our favorite discounted Manolo Blahnik styles on sale at Saks Fifth Avenue. Saving has never looked so chic.
Advertisement – Continue Reading Below
Hangisi 70 Embellished Satin Mules
Manolo Blahnik
$955 $573 (40% off)
Never underestimate the power of a pair of mules. They elevate any outfit just like that. (See what we did there?)
Haribalmu 55 Leather Mules
Manolo Blahnik
$765 $459 (40% off)
Found: the perfect day-to-night shoe.
Martamod Embellished Satin Mules
Manolo Blahnik
$945 $567 (40% off)
Toughen up your go-to linen dress this season with these statement mules, or keep it chill with the classic white T-shirt and jorts combo.
Lurum 90 Embellished Satin Mules
Manolo Blahnik
$1,295 $777 (40% off)
Your heel collection just got a whole lot more sparkly.
$695 $417 (40% off)
All this pair of sandals is missing is your favorite bikini and scintillating beach read in hand.
Martanew 50 Embellished Satin Mules
$985 $591 (40% off)
A block heel gives you the height you know and love without the infamous pain most heels are known for.
Hangisi 105 Embellished Buckle Pumps
Manolo Blahnik
$995 $597 (40% off)
Since its introduction in 2008, the Hangisi has garnered admirers from royals to pop culture icons. With style influences from Napoleon I, Josephine, and Pauline Bonaparte, the Hangisi is as iconic as its design inspirations.
Calasso 90 Ruched Leather Boots
Manolo Blahnik
$1,095 $657 (40% off)
Fall will be here before you know it. Just how good would these mid-calf boots be with your favorite warm coat?
Hangisi 25 Embellished Satin Flats
Manolo Blahnik
$955 $573 (40% off)
When it comes to office dressing, go big or go home, right? This blue sparkly flat is as bold as it gets.
Campanillasan 105MM Satin Sandals
Manolo Blahnik
$1,495 $598 (60% off)
A design with all the bells and whistles (pun intended).
Lucecry 50 Satin Embellished Slingback Sandals
Manolo Blahnik
$1,095 $438 (60% off)
Wedding season is in full swing. Brighten up your trusty LBD with this dazzling neon pair.
Lasistalo 75 Leather Mules
Manolo Blahnik
$695 $278 (60% off)
Whether it be for the office or date night, a classic black pair of mules are built for any and every occasion.
This content is created and maintained by a third party, and imported onto this page to help users provide their email addresses. You may be able to find more information about this and similar content at piano.io
Advertisement – Continue Reading Below